Main content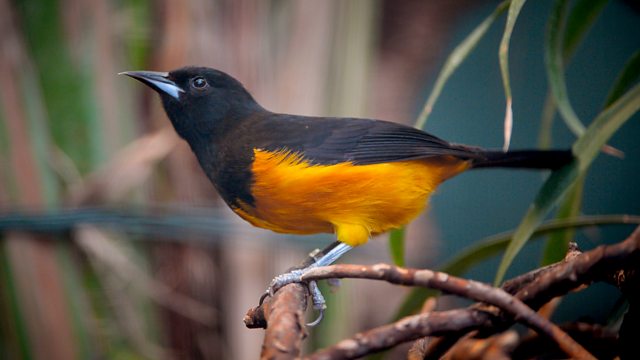 Montserrat Oriole
Liz Bonnin presents the Montserrat oriole from the Caribbean island of Montserrat.
Tweet of the Day is the voice of birds and our relationship with them, from around the world.
Liz Bonnin presents Montserrat oriole from the Caribbean island of Montserrat. In 1995, after being dormant for over 300 years, a volcano on erupted. The eruption not only destroyed Montserrat's capital but much of the wildlife couldn't escape, and one bird, the Montserrat oriole was almost silenced forever. The male is a colourful bird with coal-black head, wings and tail and underparts the colour of egg-yolk. It is one of the most endangered birds in the world, a bird caught between a rock and a hard place. Its forest home had already been reduced by cultivation and introduced predators. It was reduced to living in fragmented pockets of forest, two thirds of which were destroyed in the 1995 and later eruptions. This threatened to wipe out an already endangered bird. So, conservationists from Jersey Zoo moved 8 orioles into captivity to avoid natural extinction and now a captive breeding programme is successfully underway, such as this oriole specially recorded for Tweet of the Day at Chester Zoo.
Montserrat oriole (Icterus oberi)
Montserrat oriole conversation project
Specially captured recording of Montserrat oriole
The sound recordings of the Montserrat oriole featured in this programme where specielly recorded by Andrew Dawes for BBC Natural History Unit; with the kind permission of Chester Zoo.
Podcast
Discover birds through their songs and calls. 265 programmes of 90 seconds, over a year