Main content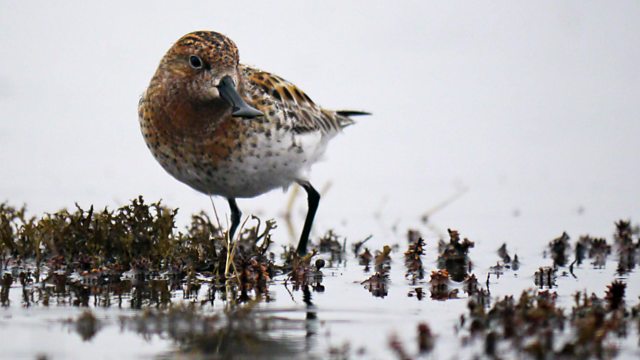 Spoon-billed Sandpiper
Liz Bonnin presents the diminutive spoon-billed sandpiper of the high Russian tundra.
Tweet of the Day is the voice of birds and our relationship with them, from around the world.
Liz Bonnin presents the diminutive spoon-billed sandpiper of the high Russian tundra. Spoon-billed sandpipers are wading birds, no bigger than a house sparrow. They have rust-coloured feathers and a black, spoon-shaped bill for sifting tiny creatures from the mud or catching insects on the tundra of eastern Russia, where they breed. In winter they fly down to south-east Asian estuaries. Here they are increasingly threatened by the reclamation of mudflats for development and by local people who trap the waders in fine nests to eat. Today, there may be fewer than a thousand birds left. Now conservationists have taken some birds into captivity to establish a breeding stock, but others are being helped on their breeding grounds by headstarting, whereby adults are encouraged to lay a second clutch of eggs after the first are removed. Its hope that this work, plus encouraging local hunters in Asia to release any sandpipers caught in nets, will secure the spoon-billed sandpiper for future generations.
Last on
Spoon-billed sandpiper (Eurynorhynchus pygmeus)
Spoon-billed sandpiper conservation breeding programme
The spoon-billed sandpiper conservation breeding programme is a collaboration between WWT, Birds Russia, Moscow Zoo and the RSPB working with colleagues from the BTO, BirdLife International, ArcCona and the Spoon-billed Sandpiper Task Force.
The project is supported by WWT, RSPB, Darwin Initiative and Save our Species, with additional financial contributions and support from BirdLife International, the East-Asian Australasian Flyway Partnership, the Convention on Migratory Species, Heritage Expeditions, the Australasian Wader Study Group of Birds Australia, the BBC Wildlife Fund, Avios, the Olive Herbert Charitable Trust, the Oriental Bird Club, British Airways Communities & Conservation Scheme, Leica Camera AG (exclusive optic partner for the spoon-billed sandpiper project) and many generous individuals.
More information about WWT's involvement in the project can be found here.
Recording of spoon-billed sandpiper provided by WWT
This programme contains some wildtrack recordings of the 
spoon-billed sandpiper
 kindly provided by WWT (Wildfowl & Wetlands Trust).
Broadcasts

Podcast
Discover birds through their songs and calls. 265 programmes of 90 seconds, over a year