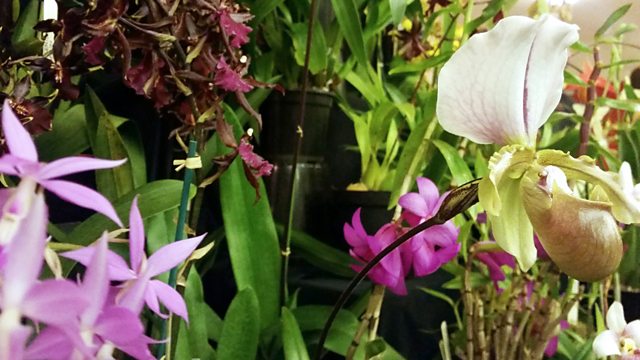 Bournemouth
Eric Robson hosts the horticultural panel programme from Bournemouth. Chris Beardshaw, Matt Biggs and Christine Walkden answer questions from an audience of local gardeners.
Produced by Howard Shannon
Assistant Producer: Hannah Newton
A Somethin' Else production for BBC Radio 4
This week's questions and answers:
Q. I can't work out why I can't get my Pansies to continue flowering through the seasons, please help!
A. They flower better in warmer temperatures so after the autumnal equinox even deadheading won't be able to keep the plants flowering through the colder months. Stick with Violas if you want flowers in poorer conditions.
Q. Some of our neighbour's trees have been removed and this has exposed our garden. Could the panel recommend some tall, evergreen, colourful and quick-growing varieties that will restore our privacy?
A. Elaeagnuses are all good, things like the 'Quick Silver' could work, especially if some of the sprawling branches were removed and the others taken up. The variegated Eleagnuses have good evergreen foliage and small scented flowers. The Photinia 'Red Robin' would provide colour. Stransvesia would also work. It's also worth considering growing climbers up through those plants.
Q. My young Spring Cabbages have been chewed, what is it?
A. This looks like a caterpillar has nibbled the edges - you can tell by the crisp nature of the damage. The holes in the middle look like slugs have been at it but the majority of the damage is due to cabbage white caterpillars.
Q. What else could be grown in a prairie garden with very sandy soil that would add colour?
A. Digitalis Lutea would work and the Lisa Macchias are well worth a try, but avoid Nummularia and go for Atrapo Perera. Eupatoriums 'purple bush' would work well. Don't be afraid to throw in a few annuals like Leucanthemums.
Q. Is there any way I can restrict the growth of a Koelreuteria Paniculata 'Golden Tree' to 15 feet (4.57 metres)?
A. They don't take pruning very well, so just 'tip-prune'. Just as the buds are swelling but before they have burst prune back the principal boughs by a couple of inches (5cm). Enjoy it while it lasts, but remove it when it is really getting too big. Get something smaller that will do well in that space.
Q. I'm confused - should we be digging in egg shells and grit to encourage drainage or digging in compost to retain moisture?
A. Both are correct depending on the situation. Gardeners want good structure, good air concentration and good drainage. Those qualities are largely aided by the addition of organic matter. However, if the basic structure of the soil is heavy use coarse materials to open up the soil.
Q. I have a Magnolia Grandiflora in my garden. It's in magnificent health but doesn't flower - can you
help me?
A. They can take a while to get flowering but they sometimes need the extra shelter and warmth of a south-facing wall to get flowering.
8.Q. Do members of the team have a favourite orchid, and if so, why?
A. Christine adores the Cypripedium Calceolus 'Lady's Slipper Orchid' and the orchids of Patagonia. Matt loves the tiny Neo Falcata Orchid, known as the 'Japanese Wind Orchid'. Chris loves the Pyramidal Orchid and the Common Spotted Orchid as well as Cymbidiums.
Last on
Chris Beardshaw and Stewart Milburn coppicing trees in the RSPB's Garston Wood