Main content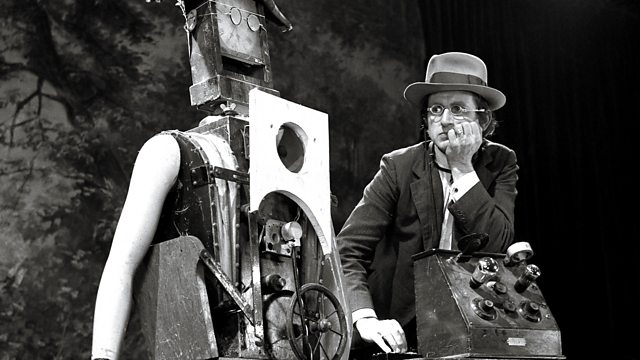 Catacombs of the Mind
Bruce Lacey is a mischievous and radical presence in British culture - an artist, performer and film-maker. Now aged 87, he reflects on his life, including work with the Goons.
Bruce Lacey has been a mischievous and radical presence in British culture for more than six decades. Now aged 87, he reflects on his life and work.
He's made an epic breadth of work as a satirical performer, assemblage artist, filmmaker and creator of earth rituals.
After studying painting at the Royal College of Art in the 1950s, he made props for TV comedy - combining a love of variety theatre and mechanical know-how to create effects like Footo the Wonder Boot Exploder for The Goons and Michael Bentine's performing fleas.
He became part of London's satire boom, performing with neo-Dadaist jazz band The Alberts in the hit madcap cabaret show, An Evening of British Rubbish. Lenny Bruce was so impressed he tried to become their manager.
Later Lacey created assemblages like The Womaniser, which expressed feelings about the dehumanising effects of Cold War society. His robot Rosa Bosom still has pride of place in his parlour - she was 'best man' at his wedding and was once crowned the Alternative Miss World.
Moving to Norfolk, Lacey concentrated on performance work from the late 70s, committing himself to becoming a transmitter of nature's force in almost shamanistic community arts and ritual action performances. He still lives in the same Norfolk farmhouse, surrounded by his extraordinary personal archive and collections.
Contributions from Jeremy Deller, Andrew Logan, Julian Spalding, Lynda Morris, William Fowler, Jonny Trunk and Ashley Hutchings of Fairport Convention, who wrote the song "Mr Lacey" about him.
Produced by Caroline Hughes
A Whistledown production for BBC Radio 4.