Main content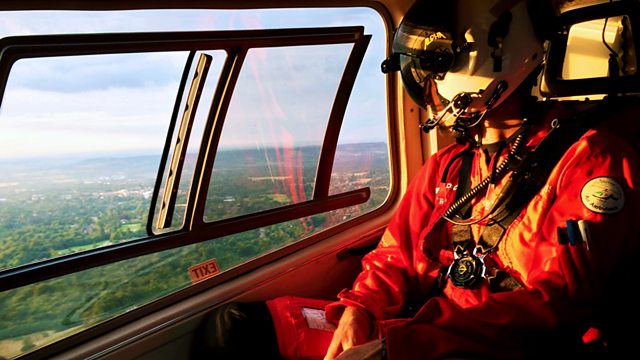 Dr Kevin Fong explores the development of modern trauma medicine and discovers how the lessons from conflict and catastrophe have equipped us to deal with even the worst disasters.
In the first of two programmes Dr Kevin Fong looks at how wars and conflicts have helped to drive emergency medicine in the 21st century, both on and off the battlefield. Drawing on his own experiences as a junior doctor at the scene of a terrorist bombing in 1999, through to his current job, flying on the UK's air ambulance service, Kevin discovers how the challenges of the past continue to shape the future.
Kevin meets one of the fathers of emergency medicine - James Styner, an American orthopaedic surgeon, now in his 80s. His realisation - in the 1970's - that trauma care was in desperate need of revolution didn't come out of research or clinical trials, but in the wake of tragic and terrifying events. It began with a plane crash: Jim as pilot, his wife beside him and his four young children sleeping in the rear. When bad weather caused him to lose altitude, the plane crashed into trees at 168 miles per hour. The resulting scene was horrific: His wife was killed on impact, three of his four children lay unconscious and Jim himself was badly injured. In the dark and with temperatures dropping rapidly, Jim dragged his kids out of the plane, searched for his wife's body and then made his way through the woods to the road where he eventually flagged down a passing car.
However, as Randy and James explain, once at the local hospital, their problems continued. Horrified to discover that the local doctors were largely unprepared to deal effectively with the traumatic injuries his children had suffered he vowed there and then to make amends. "When I can provide better care in the field with limited resources than my children and I received at the primary facility, there is something wrong with the system and the system has to be changed". James Styner went onto develop the first systematic approach for dealing with severe injuries - ATLS or Advanced Trauma Life Support. This approach has transformed trauma medicine and is now taught in over 50 countries. It has undoubtedly saved countless lives and was what Kevin, as a junior doctor, relied upon to get him through the shock of attending the scene of the London Soho pub bombing, 15 years ago.
It was those experiences that again came to mind when Kevin met medical workers in Boston who attended to the victims of the marathon bombing in 2013. One of those on duty that day was Ricky Kue of Boston Medical Center: "After the blast, I had this gut-wrenching moment where everything just sank in my body and I realised what we'd always trained for and what we thought would never happen, just did".
In the course of the programme, Kevin speaks to other trauma specialists who have attended horrific events, such as terrorist bombings or major railway disasters. What becomes clear is that whilst these incidents as awful as they are, don't always drive the evolution of trauma care as in Styner's case, they do nevertheless, serve a purpose. They benchmark the system, revealing its strengths and weaknesses, showing us from a medical standpoint, what the state of the art in trauma care at that time is capable of and asking whether we have learnt the difficult lessons of the past.
Please note: both programmes in this series have been re-versioned and were originally broadcast on the BBC World Service earlier this year.
More episodes
Previous
You are at the first episode