Main content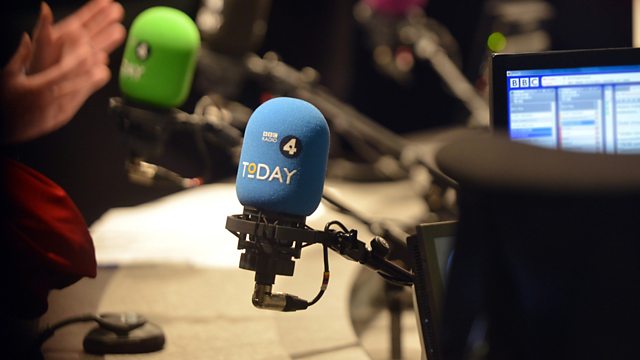 02/12/2014
Morning news and current affairs. Including Sports Desk, Yesterday in Parliament, Weather and Thought for the Day.
Last on
Clips

Today's running order
0655

Britain's oldest living Christmas tree, a 158-year-old Wellingtonia tree in the grounds of Wrest Park, Bedfordshire, will be decorated for the first time in a century this week. English Heritage is asking the public to contact them if they know of an earlier surviving tree. John Watkins is the head of Gardens and Landscape at English Heritage.

0710

It's another day of pre-autumn statement spending announcements. The Treasury is detailing projects that will receive a share of the £2.3 billion already earmarked for capital spending on flood defences over the next six years to improve protection for 300,000 homes. James Winslade is a farmer from the Somerset Levels, who spoke to Today after his farm was flooded in January. Anne McIntosh is a Conservative MP and chairwoman of the Environment, Food and Rural Affairs Committee.

0715

A new generation of the European Space Agency's Ariane rocket is expected to be approved on Tuesday by ministers meeting in Luxembourg. France and Germany are the main players but the hope is that other countries including the UK will offer ongoing support to European activity at the International Space Station.Alice Bunn is Director of Policy for the UK Space Agency.

0720

More than a hundred women have been prosecuted in the UK in the last five years for making false allegations of rape, some end up going to prison after being convicted of perverting the course of justice. A campaign launched today wants police and prosecutors to take the context of these cases into greater account when making their decisions. Lisa Avalos is a professor of law at the University of Arkansas.

0730

Attempts to measure whether immigration is on balance good or bad for the country are usually hijacked by the different political interests in the debate. What is clear is that some parts of the country have undoubtedly experienced problems as large numbers of people have moved in over a relatively short space of time. Yorkshire is no stranger to migrants. It witnessed huge immigration during the industrial revolution. Last century, large numbers of Asians moved in. And now it's the turn of eastern Europeans. Our chief correspondent Matthew Price has been examining the impact of this latest migration. Professor Ian Goldin, director of the Oxford Martin School at Oxford University.

0745

The FBI has warned U.S. businesses that hackers have used malicious software to launch destructive attacks in the United States, following a devastating cyber-attack last week at Sony Pictures Entertainment. Suspicion has fallen on North Korea, which threatened action over a forthcoming Sony film about a CIA plot to kill Pyongyang's leader, Kim Jong-un. Aarik Hesseldahl, senior editor at ReCode.

0750

The government has protested to China after the refusal to grant visas to members of the foreign affairs select committee to visit Hong Kong, wracked by pro-democracy demonstrations. Beijing says Hong Kong's affairs are an internal Chinese affair; David Cameron says that the attitude is 'counter-productive'. The Commons will debate the row on Tuesday. Anson Chan was Hong Kong's top civil servant at the end of British rule. Martin Jacques is author of 'When China rules the World'.

0810

Foreign ministers from the NATO member countries are meeting in Brussels on Tuesday, with the future of Afghanistan one of the main subjects of discussion. The Afghan president, Ashraf Ghani, will also be at the talks. The last week has seen a surge in Taliban attacks which has increased concerns about security in Afghanistan. General Sir Mike Jackson is former head of the Army.

0820

Gordon Brown has announced he will step down as an MP at the next election.  We assess his political career. Alistair Campbell is former director of Communications and Strategy.

0830

The Coalition parties are bombarding us with big spending announcements ahead of Wednesday's Autumn Statement, but councils who've had to bear the worst of the Government's spending cuts since 2010 are braced for more cuts to their funding after the election. David Hodge is Conservative leader of Surrey County Council.

0835

How can young people with learning difficulties be helped into work? Government figures suggest that only 7% of those with a learning disability are in paid employment. A few months ago, Lord Freud sparked a furious row when he appeared to say that some disabled people were not worth the minimum wage. Reporter Hannah Barnes has been to Bradford to see a project trying to tackle that sort of assumption.

0845

Nicola Sturgeon has been outlining her plans for Scottish land reform to business leaders in Glasgow, and they're not popular amongst landowners.  One of the main proposals is to impose business tax rates on estates which generate sporting income. David Johnstone is landowner in the Scottish borders.

0850

How useful is economics when you navigate financial markets? Not very, according to the billionaire investor George Soros, interviewed for a programme on Radio 4 Tuesday night that questions how economics is taught. Soros thinks theories about risk are flawed because they don't take uncertainty into account. John Van Reenen is Professor of economics at LSE. Stephanie Flanders is the Chief Market Strategist for UK and Europe at J P Morgan Asset Management.


All subject to change.






Broadcast