Main content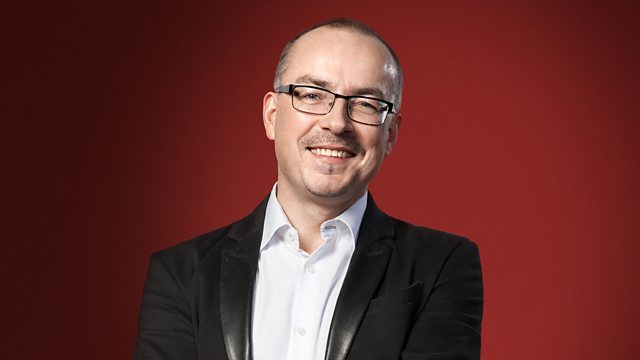 Building a Library: Schumann: Symphony No 2
With Andrew McGregor. Including Building a Library: Schumann: Symphony No 2; new releases: Bach, Beethoven, Haydn; Disc of the Week: Caldara: La concordia de' pianeti.
09.00am
BACH, J S: Brandenburg Concertos Nos. 1-6 BWV1046-1051 (complete)
Florilegium
CHANNEL CCSSA35914 (2Hybrid SACD mid-price)
Byrd: Infelix ego
BYRD: Emendemus in melius; Infelix ego; Ave Maria; Mass for five voices
FERRABOSCO, A I: Peccantem me quotidie
MONTE, P: Miserere mei a 5
Collegium Vocale Gent, Philippe Herreweghe (conductor)
PHI LPH014 (CD)
Portraits: Dorothea Roschmann
SCHUBERT: Heiss mich nicht reden, D877/2; So lasst mich scheinen, D877 No. 3; Nur wer die Sehnsucht kennt, D877/4; Kennst du das Land (Mignons Gesang), D321; Der Konig in Thule, D367; Gretchen am Spinnrade, D118; Gretchens Bitte D564 (Goethe)
SCHUMANN: Gedichte der Konigin Maria Stuart Op. 135
STRAUSS, R: Die Nacht Op. 10 No. 3; Morgen Op. 27 No. 4; Schlechtes Wetter Op. 69 No. 5; Befreit Op. 39 No. 4
WOLF, H: Mignon I 'Heiss mich nicht reden' (No. 5 from Goethe-Lieder); Mignon II 'Nur wer die Sehnsucht kennt' (No. 6 from Goethe-Lieder); Mignon III 'So lasst mich scheinen' (No. 7 from Goethe-Lieder); Mignon IV 'Kennst du das Land' (No. 9 from Goethe-Lieder)
Dorothea Roschmann (soprano), Malcolm Martineau (piano)
SONY 88883785852 (CD)
Yannick Nezet-Seguin conducts organ works by Poulenc & Saint-Saens
POULENC: Concerto in G minor for Organ, Strings & Timpani
SAINT-SAENS: Symphony No. 3 in C minor Op. 78 'Organ Symphony'
James O'Donnell (organ), London Philharmonic Orchestra, Yannick Nezet-Seguin (conductor)
LPO LPO0081 (CD)
09.30am Building a Library
Richard Wigmore compares recordings of Schumann's second symphony and makes a recommendation 
Schumann: Complete Symphonies and Das Paradies und die Peri
SCHUMANN: Symphonies Nos. 1-4 (complete); Das Paradies und die Peri Op. 50; Symphony in G minor 'Zwickau'; Overture, Scherzo, and Finale Op. 52; Konzertstuck for four horns Op. 86; Requiem fur Mignon Op. 98b; Nachtlied for chorus & orchestra Op. 108; Symphony No. 4 in D minor Op. 120
Barbara Bonney, Alexandra Coku, Bernarda Fink, Neill Archer, Gerald Finley, Cornelius Hauptmann, Christoph Pregardien, Roger Montgomery, Susan Dent, Gavin Edwards, Robert Maskell (horns), Orchestre Revolutionnaire et Romantique, Sir John Eliot Gardiner (conductor)
DG ARCHIV 4792515 (5CD budget)
10.25am Piano Panel
Andrew referees a discussion of new piano releases between Roger Vignoles and Jessica Duchen. They have been listening to Bach from Piotr Anderszewski and Vladimir Ashkenazy, Beethoven from Alessio Bax and Haydn from Denis Kozhukhin. 
JS Bach: English Suites Nos. 1, 3 & 5
BACH, J S: English Suite No. 1 in A major, BWV806; English Suite No. 3 in G minor, BWV808; English Suite No. 5 in E minor, BWV 810
Piotr Anderszewski (piano)
ERATO 2564621939 (CD)
JS Bach: Italian Concerto & French Overture
BACH, J S: French Overture in B minor, BWV831; Aria Variata in A minor, BWV989 'alla Maniera Italiana'; Keyboard Concerto in D minor (after Marcello), BWV974; Italian Concerto, BWV971
Vladimir Ashkenazy (piano)
DECCA 4786773 (CD)
Alessio Bax plays Beethoven
BEETHOVEN: Piano Sonata No. 14 in C sharp minor Op. 27 No. 2 'Moonlight'; Piano Sonata No. 29 in B-flat major Op. 106 'Hammerklavier'; The Ruins of Athens -Turkish March; The Ruins of Athens: Chorus of Dervishes
Alessio Bax (piano)
SIGNUM SIGCD397 (CD)
Aaron Pilsan plays Beethoven & Schubert
BEETHOVEN: Piano Sonata No. 16 in G major Op. 31 No. 1; Eroica Variations Op. 35
SCHUBERT: 16 German Dances D783; Fantasie in C major, D760 'Wanderer'
Aaron Pilsan (piano)
NAIVE V5385 (CD)
Haydn: Piano Sonatas Nos. 38, 39, 47, 59
HAYDN: Piano Sonata No. 38 in F major, Hob.XVI:23; Piano Sonata No. 39 in D major, Hob.XVI:24; Piano Sonata No. 47 in B minor, Hob.XVI:32; Piano Sonata No. 59 in E flat major, Hob.XVI:49
Denis Kozhukhin (piano)
ONYX ONYX4118 (CD)
11.20am
Szymanowski: Symphonies Nos. 1 & 3
SZYMANOWSKI: Symphony No. 1 in F minor Op. 15; Symphony No. 3 'The Song of the Night' Op. 27; Hafiz' Love-Songs Op. 26
Ben Johnson (tenor), BBC Symphony Chorus BBC Symphony Orchestra, Edward Gardner (conductor)
CHANDOS CHSA5143 (Hybrid SACD mid-price)
VILLA-LOBOS: Symphony No. 10 'Amerindia'
Leonardo Neiva (baritone), Saulo Javan (bass), Sao Paulo Symphony Orchestra and Choir, Isaac Karabtchevsky
NAXOS 8573243 (CD budget)
ORFF: Carmina Burana
Yeree Suh (soprano), Yves Saelens (tenor), Thomas Bauer (baritone), Anima Eterna Brugge, Collegium Vocale Gent, Cantate Domino, Jos van Immerseel (conductor)
ZIGZAG ZZT353 (CD)
11.45am Disc of the Week
CALDARA: La concordia de' pianeti
Veronica Cangemi, Delphine Galou, Ruxandra Donose, Franco Fagioli, Daniel Behle, Carlos Mena, Luca Tittoto, La Cetra Barockorchester, Andrea Marcon (conductor)
DG ARCHIV 4793356 (2CD mid-price)