Main content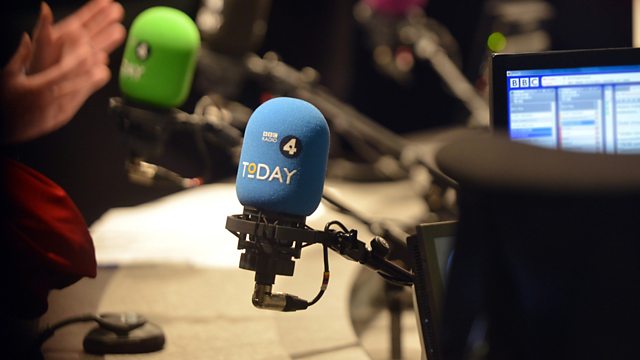 01/12/2014
Morning news and current affairs. Including Sports Desk, Weather and Thought for the Day.
Last on

Clips

Today's running order
0650

The Chancellor announced an extra £2bn for the NHS on Sunday, although it quickly became apparent that £700m of that is money the NHS has already been given. The extra funds were welcomed by the Chief Executive of NHS England Simon Stephens. So who was responsible for the idea? There were a few people claiming the credit yesterday. Hugh Pym is our health editor.

0710

The UN says there is still a danger that Ebola could spread around the world, although it says that progress has been made in the effort to fight it in West Africa. Anthony Banbury, head of the UN mission for emergency Ebola response, spoke to our world affairs correspondent Mark Doyle. Plus, Jane Cocking is the Humanitarian Director for Oxfam.

0715

A new tunnel by Stonehenge is among dozens of new road schemes being announced by the government this morning, in what ministers are calling a roads revolution. They are promising to spend fifteen billion pounds to ease some of the country's worst bottlenecks. John Glen is Conservative MP for Salisbury. Ralph Smyth is Senior Transport Campaigner for the Campaign to Protect Rural England.

0720

Immigration is gearing up to be front and centre of next year's elections. Despite the government's promise to limit the numbers of people coming into the country, figures continue to rise and targets are being missed. The public's concern about the pressure on public services is fuelling the rise of UKIP, taking support away from all of the mainstream parties.  All this week we are going to be looking at immigration and its impact. We start on Monday with the story of an illegal migrant who made a three month journey to the UK from Eritrea. Matthew Price is Today programme's chief correspondent.

0735

Breck Bednar, a 14-year-old school boy from Surrey, was stabbed to death last February by a 'predator' he met playing online games. Nineteen year old Lewis Daynes has admitted murdering Breck and is due to be sentenced in January. Breck's mother Lorin LaFave has established a foundation to promote awareness of the dangers of online relationships. She speaks to us on Monday.

0745

Accents are tough for actors. Commons examples include mangled American accents and terrible cockney.  There also always seems to be a particular problem with Scottish voices. Jude Law has been brushing up on his Aberdonian accent for his latest role as a submariner in the film "Black Sea". We speak to Barbara Berkery, a voice and dialect coach, she is currently working on the film Bastille Day with Idris Elba & Richard Madden.

0750

One of the great constitutional tensions of our time comes to a head again in both houses of parliament today, as MPs and Lords debate amendments to the Criminal Justice and Courts Bill which are aimed at changing some aspects of judicial review. Judicial review is the process by which ordinary people and organisations can apply to the courts to challenge the lawfulness of decisions of public bodies. The government says it's being abused by campaign groups for publicity, but the legal establishment and Labour are lined up against it, with Lord Woolf describing the risk of limiting judicial review as creating an "an elective dictatorship". We speak to Lord Woolf on Monday.

0810

Government accouchements on health spending and roads are designed to pep up the Chancellor's Autumn Statement this week, in which he'll argue that he's keeping his promises on investment in public projects. However, he won't be able to say that his borrowing target is being met. The government has borrowed 10% more so far this year than it did last year. Nick Robinson is our Political Editor and Nick Clegg is deputy Prime Minister.

0820

The Turner Prize is announced tonight. Runners and riders this year are Duncan Campbell, Ciara Phillips, James Richards and Tris Vonna-Michell - who will come out on top? Will Gompertz is BBC Arts Editor.

0830

Our Chief Correspondent Matthew Price has been speaking to one man who made the journey from Eritrea to the UK. After weeks spent hiding terrified in apartments, in lorries, and in boats he finally made it to Calais where he was smuggled onto a lorry headed for Kent. Guy Platten is the Chief Executive of the UK Chamber of Shipping.

0835

What is it like to be conned? To have someone who you thought was your friend steal your life savings and rob you of your peace of mind and security? The author Hanif Kureishi explores these questions in his new essay. Called 'A Theft: My Conman', it tells the true story of how he was defrauded out of thousands by a man he had trusted. We hear from Mr Kureishi on Monday.

0845

After the by-election victory and gains in the polls by the UK Independent Party last month, the costs and benefits of Britain being in the European Union are once again being hotly debated. Yet one familiar rationale for membership is that in the 21st century only a bloc as large as the EU can deal with rising powers like China. We sent our China Editor Carrie Gracie to Brussels to examine how well the relationship is working.


All subject to change.







Broadcast