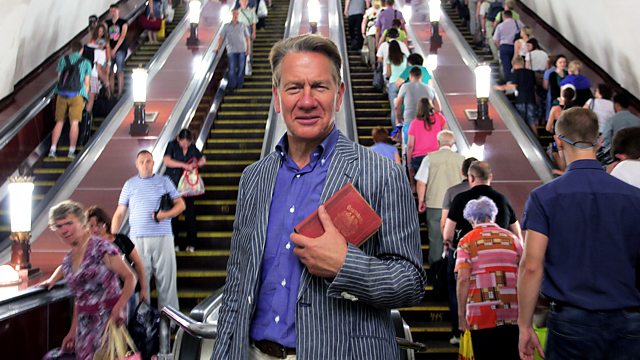 With his 1913 Bradshaw's in hand, Michael Portillo journeys deep into central Europe to explore a country where east meets west: Poland.
Beginning in Warsaw, Michael is puzzled by how a city famously razed to the ground after the Second World War can appear so beautifully preserved. He hitches a ride in a 1913 carriage to discover one of the secrets of its restoration. Inspired by the music and story of Poland's national icon Frederic Chopin, Michael takes to the floor to dance the polonaise with high school students rehearsing for their leavers' ball.
Heading south west from Warsaw, Michael's fellow passengers come to his rescue with a crash course in Polish pronunciation. Arriving in Lodz, he discovers how the former industrial heartland - the Manchester of Poland - supplied the vast Russian Empire of the early 20th century and marvels at how the region today has been transformed into a breathtaking version of 'Hollywoodzh'. Michael makes his movie debut.
In Poznan, at the heart of former German Poland, Michael takes in the view from the kaiser's balcony before climbing aboard what is possibly the last steam-powered commuter train. Michael is in his element, stoking the boiler on the footplate of the enormous locomotive.
Arriving in Wroclaw, Michael heads for a giant train factory, where they continue to manufacture car bodies for locomotives today. A spot of on-the-job training as a welder is a salutary lesson to stick with the day job.
From Wroclaw it's on to the ancient capital of Poland, Krakow, where Michael lunches in a milk bar and takes a tour in an iconic vehicle of the communist era.
Last on
Credits
| Role | Contributor |
| --- | --- |
| Presenter | Michael Portillo |
| Executive Producer | John Comerford |
| Series Producer | Alison Kreps |