Main content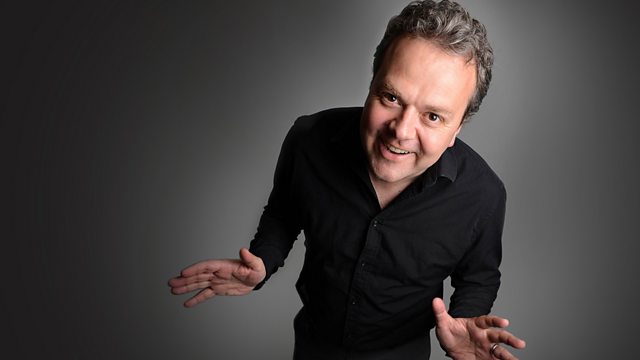 The stay-at-home husband and Dad becomes a victim of car crime and gets unwanted security help. Stars Hal Cruttenden. From 2014.
Hal Cruttenden stars as a 40-something husband and father who, years ago, decided to give up his job and become a stay at home father. His wife, Sam, has a successful business career, which makes her travel more and more. His children, Lilly and Molly, are growing up fast, and his role as their father and mentor is diminishing by the day.
So what can Hal to as he reaches a crossroads in his life? Help is (sort of) at hand in the form of his eager mates - Doug, Fergus and Barry - who regularly meet at their local curry house for mind expanding conversations that sadly never give Hal the core advice he so desperately needs.
Hal is confused even further as he regularly has visions of his long dead and highly macho father, who he's forced to engage in increasingly frustrating conversations.
In this episode, Hal becomes the latest victim to a series of car crimes that have happened near his home. Not only has his own personal car space been invaded, but his beloved CD collection has been stolen - including Abba, Dolly Parton and The Pet Shop Boys.
How can Hal survive this tragedy?
In the process of trying to cope with this crime, Hal also tries to find the real man in himself - but in attempting to do this, only scares his young daughters and reduces them to tears.
The cast includes co-writer Dominic Holland, Ed Byrne, Ronni Ancona, Anna Crilly, Gavin Webster, Dominic Frisby, Samuel Caseley and Emily and Lucy Robbins.
Produced by Paul Russell
An Open Mike production for BBC Radio 4 first broadcast in November 2014.
Credits
| Role | Contributor |
| --- | --- |
| Hal | Hal Cruttenden |
| Actor | Dominic Holland |
| Actor | Ed Byrne |
| Actor | Ronni Ancona |
| Actor | Anna Crilly |
| Actor | Gavin Webster |
| Actor | Dominic Frisby |
| Actor | Samuel Caseley |
| Actor | Emily Robbins |
| Actor | Lucy Robbins |
| Writer | Hal Cruttenden |
| Writer | Dominic Holland |
| Producer | Paul Russell |