Main content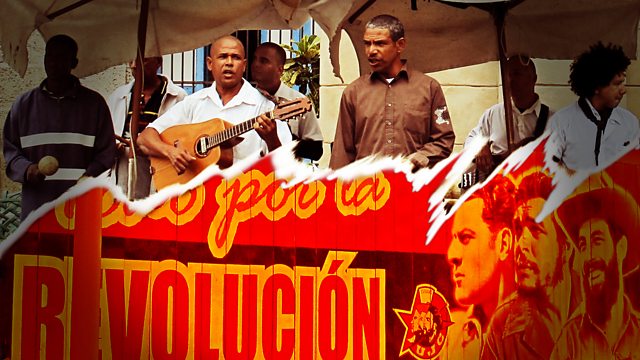 Conde is firmly out of his comfort zone when a man is found strangled in Havana Woods wearing a red dress. Stars David Westhead.
by Leonardo Padura
adapted by Jennifer Howarth
Lieutenant Mario Conde's fondly held prejudices are tested by this case involving a man found strangled in Havana Woods wearing a beautiful red dress. A dramatisation of the third story in the Havana Quartet.
Cast:
Mario Conde ..... Zubin Varla
Rangel ..... David Westhead
Manolo ..... Lanre Malaolu
Fatman/ Salvador K ..... Shaun Mason
Miki ..... Jude Akuwudike
Matilde ..... Elaine Claxton
Dulcina ..... Lorna Gayle
Alberto Marques ..... Michael Cochrane
Father Mendoza ..... David Acton
Faustino ..... Sam Dale
Alquimio/ Lab Man ..... Ian Conningham
Polly ..... Roslyn Hill
directed by Mary Peate
Leonardo Padura is a novelist and journalist who was born in 1955 in Havana where he still lives. He has published a number of short-story collections and literary essays but he is best known internationally for the Havana Quartet series, all featuring Inspector Mario Conde.
In 1998, Padura won the Hammett Prize from the International Association of Crime Writers and in 2012 he was awarded the National Prize for Literature, Cuba's national literary award.
Introducing the cast from Leonardo Padura's award-winning Cuban detective series.
Credits
| Role | Contributor |
| --- | --- |
| Mario Conde | Zubin Varla |
| Rangel | David Westhead |
| Manolo | Lanre Malaolu |
| Fatman | Shaun Mason |
| Salvador K | Shaun Mason |
| Miki | Jude Akuwudike |
| Matilde | Elaine Claxton |
| Dulcina | Lorna Gayle |
| Alberto Marques | Michael Cochrane |
| Father Mendoza | David Acton |
| Faustino | Sam Dale |
| Alquimio | Ian Conningham |
| Lab Man | Ian Conningham |
| Polly | Roslyn Hill |
| Author | Leonardo Padura |
| Adaptor | Jennifer Howarth |
| Director | Mary Peate |