Main content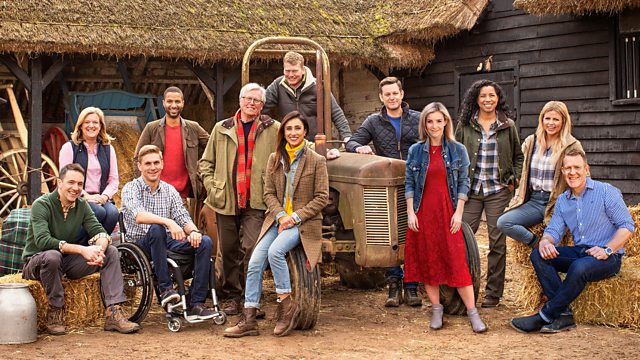 Crafts of the Countryside
Ellie Harrison looks back through the Countryfile archive to revisit the crafts of the countryside. She also visits Acton Scott, a historic working farm.
Ellie Harrison takes a look back through the Countryfile archive to revisit the crafts of the countryside. She also visits Acton Scott, a historic working farm, to try her hand at some of the traditional skills people are still practising today. She also has a go on a pole lathe crafting a wooden plate and helps make a cob oven with a group of children, before getting stuck in with the age-old craft of blacksmithing by making a poker. Along the way she learns the importance of keeping rural skills alive. The programme culminates in Ellie and the other craftspeople and children coming together to feast on the ultimate artisan sandwich - served on hand-crafted wooden plates, made with bread warmed in a traditional cob oven and stoked with her own forged poker.
Clips from the archive include Matt Baker learning the craft of wheelwrighting and Helen Skelton turning her hand to crafting rakes. The programme meets plenty of the characters who have honed and perfected their skills over many years and are keeping these crafts of the countryside alive.
Shropshire crafts
Ellie Harrison is in Shropshire meeting the master craftsmen and women who are keeping countryside crafts alive and joining the next generation of apprentices who are forging their future. She spends the day at Acton Scott, a farm with a difference. It takes its inspiration from the past and still uses traditional techniques to work the land. But this historic working farm is also looking to the future, ensuring that these valuable skills are passed on for generations to come. Ellie hones her skills under the watchful eye of some of our country's best craftspeople, creating unique items by hand using a diverse range of tools and materials.
Find out more about traditional crafts in the UK
Southport shrimping
Matt Baker is on the tranquil coastline of Southport on Merseyside searching for a local delicacy that's hiding in the sand - the famous Southport shrimp. The easiest way to catch them is to go fishing with a local shrimper, like Christian Peet in his old Leyland tractor! In the industry's heyday horse-drawn carts would be used instead of tractors to pull the nets. The only traditional shrimping cart left in Southport is now on show at The Atkinson museum. This cart is being given a new lease of life thanks to local lad and master wheelwright Phill Gregson. Matt helps him create some new wooden wheels before the cart goes back to the beach for one last shrimping trip.
The Sperrin blacksmith
Shauna Lowry grew up in Northern Ireland and is passionate about her homeland. However there is a part of the country which she has never explored and that you've suggested we should visit - the spectacular Sperrin Mountains. Perhaps the reason Shauna has never been there is because there are next-to-no established walking routes, meaning that it's only accessible to experienced hikers. At the foot of the Sperrins she meets living legend Barney Devlin, whose blacksmith shop was the inspiration for Seamus Heaney's powerful poem The Forge.
Royal hedgelaying
They've come from all over the UK with their billhooks and sharp axes. Their mission? To lay 10 yards of perfect hedge.  Hedgelaying is one of Prince Charles' biggest passions and his Highgrove Estate hosts an annual competition to find the very best layers. But they're not all hotshots here. Matt and Adam have joined their ranks and are going head to head with each other.
How to make a rake
These days most of us buy mass-produced rakes from our local garden centre. But as Helen Skelton discovers there are still people out there with the skills to produce a wooden rake from scratch – people like John Rudd. John is the latest in a long line of rake makers and Helen joins him in his workshop in Cumbria to see how it is done. She also has the chance to get stuck in herself, but has she got what it takes to make a rake?
Credits
| Role | Contributor |
| --- | --- |
| Presenter | Ellie Harrison |
| Presenter | Matt Baker |
| Presenter | Helen Skelton |
| Executive Producer | William Lyons |
| Series Producer | Joanna Brame |