Main content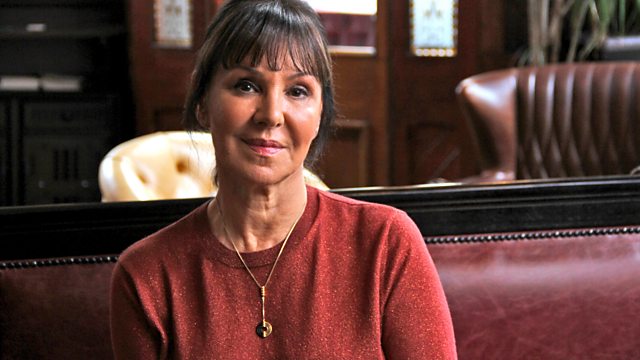 Alzheimer's Research UK
Choreographer Arlene Phillips makes an appeal on behalf of Alzheimer's Research UK, a charity that funds important research into dementia.
Choreographer Arlene Phillips makes an appeal on behalf of Alzheimer's Research UK, a charity that funds important research into dementia, focused on finding ways to treat or prevent the condition altogether. It's a subject close to Arlene's heart as she cared for her father when he was diagnosed with Alzheimer's and watched him slowly become a shadow of his former self.
The film features Roz and her husband Jeremy. Roz recently retired, but started to experience the symptoms of Alzheimer's disease. The couple talk about how they are coping as they face a very difficult future - there is currently no cure for the disease. Their one source of hope is the work of research scientists like Dr Heledd Haf Griffiths, whose research is unravelling the mysteries of the disease and searching for new treatments. Research that wouldn't be possible without funding from Alzheimer's Research UK.
Donate to Alzheimer's Research UK
To find out more about Alzheimer's Research UK please go to: www.alzheimersresearchuk.org
Or write to: Alzheimer's Research UK, 3 Riverside Granta Park, Cambridge CB21 6AD
Or call: 0300 111 5333
Arlene Phillips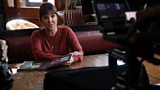 My dad, Abraham, began showing signs of Alzheimer's disease a number of years before he was diagnosed. It started off with him being a bit vague but then he began getting lost and would frequently need help finding his way back to the north London home he had lived in for years. As the disease advanced, the situation became more dangerous – he started brewing tea in an electric kettle and would put pans on the stove with no water in them.
I helped care for Dad for a number of years until eventually it became too much – and too dangerous – for him to stay in his home and he went into full time care.
Dad had worked as a barber. He was a clever and independent man who took great pride in his appearance. Alzheimer's changed this. He looked like the man I loved - the man who had enjoyed a great passion for literature and the man who had taken me to the ballet as a child, inspiring my passion for dance - but he no longer acted like him. He was like an outer shell sitting in an armchair. It was utterly heartbreaking.
It's over 10 years since Dad passed away, but now, just like then, there is still no cure for dementia and no treatments to fight the spread of the disease. But there is hope. Alzheimer's Research UK is the UK's leading dementia research charity investing in vital research into preventions, treatments and a cure for dementia. Receiving a dementia diagnosis and being told there is no effective treatment to fight the diseases that cause the condition is terrifying. This Lifeline Appeal will help us to change that. Please donate what you can to help us invest in more life-changing research so there is hope for the hundreds of thousands of people facing dementia now and in the future.
Alzheimer's Research UK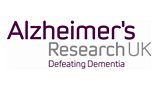 Alzheimer's Research UK is the UK's leading dementia research charity. Its priority is to invest in the research projects that hold the best hope of finding preventions, treatments and a cure for dementia.
Dementia is our greatest health challenge and is the most feared condition among the over 55s. Around 830,000 people are affected by dementia in the UK and 44 million across the world. As our population ages, these figures continue to rise.
Since Alzheimer's Research UK formed in 1992, it has invested over £58 million in over 540 research projects. It has also established the UK's only network of dementia research scientists, connecting 15 centres of excellence and over 800 scientists at leading UK universities.
Alzheimer's Research UK has helped shape the current understanding of dementia but there is much still to do. While current treatments can help relieve the symptoms, there are still no drugs that can halt the spread of damage in the brain caused during the disease process.
Alzheimer's Research UK is determined to change this and in the next five years the charity is focused on bringing significantly more scientists into the dementia research field, launching a network of Drug Discovery Institutes and driving development of new treatments to cure or slow progress of the condition.
With your support, we can put treatments in the hands of those who need them sooner. Every £20 raised through the BBC Lifeline Appeal will pay for another hour of pioneering research that will fund research towards better diagnosis, new treatments and preventions to give hope to thousands of families affected by the condition.
For more information, go to their website
here
 or follow on
Facebook
or
Twitter
.
Roz and Jeremy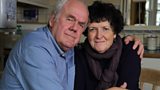 Dementia can affect anyone. It's caused by a range of diseases, with Alzheimer's by the far the most common. A couple of years ago Roz Underwood retired from her busy job as a student councillor, and was looking forward to carefree years with husband Jeremy.
Roz said, 'I'm pretty bouncy, you know. I get – get up, go out, have a nice time, you know, whatever we're going to do. And enjoy – enjoy things.'
But out of the blue, she started to experience some confusing symptoms.
Roz said, 'My mind was sort of went wrong, you know. Sort of went wrong and I couldn't really think the word. There were times when you – when you had to just say 'Well I'm sorry, I can't think what I'm thinking of at the moment, what am I doing at the moment?' you know. You have to think about that. I can't think why it all suddenly went Pear-shaped. Why should I have this? Anyway, there we are.'
An MRI scan confirmed their worst fears, it was Alzheimer's disease. Roz and Jeremy now have to think about their future in a very different way.
Roz said, 'The future's so awful. But I suppose I just keep thinking by day by day, you know, there's nothing else you can do. And it's incredibly sad, you know, but, I have to keep going.'
Jeremy said, 'As time progresses and whatever problems occur, being here for her is going to be the most important thing in my life. Even if she's lost her memory, even if she doesn't recognise me, she'll still be at home.'
Heledd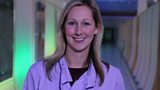 Alzheimer's Research UK has provided funding of more than £58 million for over 540 research projects across the UK. One of those researchers is Dr Heledd Griffiths, who leads a team based at the University of Manchester cracking the mystery of what causes Alzheimer's, in the hope of finding new treatments. And there's a special reason why Heledd has dedicated her life to this line of work.
Heledd said, 'Losing my Dad to the disease it was difficult for us as a family. I've seen how it can change a person, but I think it really motivates me to want to do my utmost to try and help other families and stop this happening so much to other people.'
And Alzheimer's Research UK is right there supporting scientists like Heledd, by funding cutting edge research.
Heledd said, 'We've already made leaps and bounds in the understanding of the disease. We just really need that last final push, that final bit of research to really get us underway to find those right treatments. Doing the kind of research that I do is very costly, so funding from Alzheimer's Research UK is really vital to help us make these discoveries. Without them then I wouldn't be here doing the research that I'm doing.'
Violet and Sophie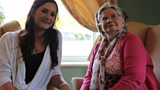 Around 23 million people in the UK have a close friend or family member with dementia. People like 27 year old Sophie, and her much loved grandmother Violet.
Sophie said, 'I've always felt close to my gran, for as long as I can remember. She felt like another parent. There's a brilliant photo of my gran sat on the grass next to a motorbike drinking a cup of tea. It really sums up what she's like, just cool, and just, she's really lived her life, really lived her life.
As she entered her 80s, Violet began experiencing some of the symptoms of dementia.
Sophie said, She would do things that were really dangerous. For example, draping clothing over the fire. She also began to hallucinate which was a massive shock for me because I had absolutely no idea that this would be a symptom of dementia, and I think the biggest thing I remember feeling was this sense of fear about what does this mean.
When Violet was diagnosed with Vascular Dementia, Sophie put her career on hold and moved in with Violet to care for her.
Sophie said, I kept seeing less and less of the gran that I knew and she was slowly being replaced with somebody else. I felt completely powerless knowing that there was there was nothing that could be done for her dementia, and all I could do was be there for her to look after her on a daily basis, but it did feel like there was no hope.
Violet has now moved in to a care home. The progression of dementia is a grim certainty, but there is one thing that still gives Sophie hope.
Sophie said, I've definitely accepted that it's too late for us for a cure, but it might not be too late for everyone else who is yet to find out they're diagnosed with dementia. The research that's being done now could mean a future with no people being diagnosed with dementia, or a future where there's something that could slow it down and actually give you more time with that person, time that was taken away from me.
Credits
| Role | Contributor |
| --- | --- |
| Presenter | Arlene Phillips |
| Executive Producer | Ruth Shurman |
| Series Producer | Alex Steinitz |