Main content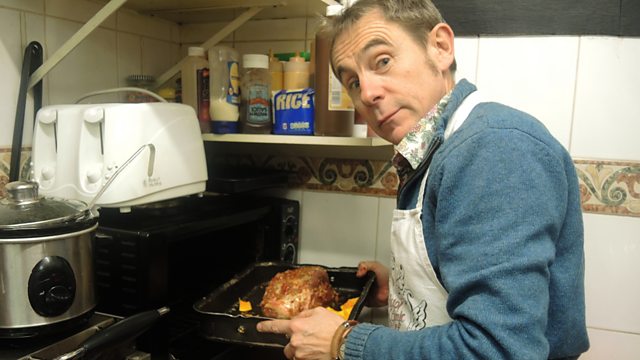 Spiced Roast Lamb with Pumpkin and Sultanas
Nigel Barden cooks a meal of spiced roast lamb with pumpkin and sultanas, and the team ponder another listener confession.
Nigel Barden cooks a hearty meal for the team, tonight it's spiced roast lamb with pumpkin and sultanas (yes, sultanas). Will it be culinary delight or fright?! There's another delightfully daft listener confession for the gang to ponder over but will they forgive? Plus great music, Homework Sucks, sports news with Matt, money news with Rebecca, and Bobbie with the all important travel updates.
Spiced Roast Lamb with Pumpkin & Sultanas (Run-e bareh)
by Greg & Lucy Malouf from Saraban – A Chef's Journey Through Persia (Hardie Grant) 
Persian spice mixes range from simple combinations of one or two flavours to complex creations that include esoteric spices such as angelica, dried rose petals & lime powder.  This is an easy Persian-inspired spice blend that's turned into a paste with the addition of garlic & oil & features a touch of chilli heat.  The pumpkin & sultanas really bring out the underlying sweetness of the meat.
Serves 6
Prep time 20 mins
Cooking time 1hr
Ingredients
1 x 2.5kg leg of lamb
80ml olive oil
600g peeled pumpkin, cut into chunks
2 red onions, cut into quarters
¼ cup (50g) sultanas
splash of verjuice (Nigel says you can substitute lemon juice, white wine vinegar or a touch of dry sherry)
rice & yoghurt, to serve
Spice paste
2 cloves garlic, roughly chopped
1 shallot, roughly chopped
1 long red chilli, roughly chopped
1 tsp sea salt
1 tsp caraway seeds, ground
1 tsp freshly grated nutmeg
½ tsp ground cardamom
½ tsp ground cinnamon
½ tsp freshly ground black pepper
50ml olive oil
Method
Preheat the oven to 200C.
To make the spice paste, combine the garlic, shallot, chilli & salt in a mortar & pound to a paste. 
Add the remaining spices & pound again to incorporate thoroughly.  Stir in the oil. 
Use your fingers to rub the paste all over the lamb, working it in thoroughly.
Pour half the oil into a heavy-based roasting pan, then add the lamb & cook in the centre of the oven for 20 mins. 
Turn the oven down to 180C & cook for a further 20 mins.  Remove the pan from the oven & add the remaining oil. 
Scatter in the pumpkin, onion & sultanans, tossing them around in the spicy oil to coat.
Return the pan to the oven & cook for a further 20 mins.
Check from time to time & turn the vegetables to ensure they cook evenly.
Check for doneness – at this stage, the lamb should be cooked medium-rare. 
Return to the oven for a little longer, if you prefer it less pink. Allow the meat to rest for at least 15 mins before carving – the vegetables can be kept warm in the oven if they are done. 
Serve with the pan juices & vegetables, your choice of rice & lots of yoghurt.