Main content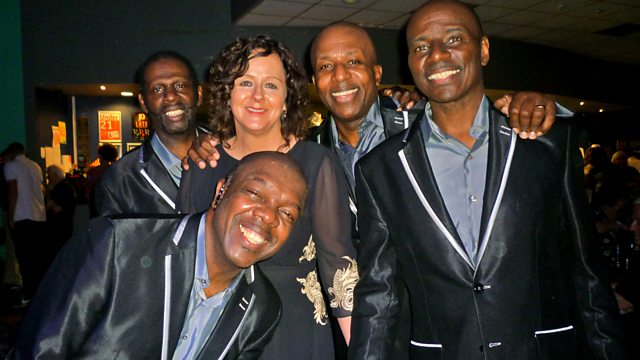 Listener Week: Tribute Bands; Review of the Week.
Listener Week Finale: Karel Lush on the joy of live music and tribute bands, while two listeners, who regularly tweet their opinions, join Jenni Murray to review the week.
The Listener Week finale. Karel Lush got in touch wanting to share her passion for live music. She missed out on seeing her idols first time around and now spends her spare time going to see tribute bands. Karel's favourite are the Stylistics tribute Sing Baby Sing, were playing at a Soul and 60s legends weekend at Brean Sands in Somerset. We sent our reporter Felicity Finch to join Karel as she got ready for her big night out.
Jane contacted the programme because she is unsure how to talk to her 15 year-old daughter about sex. She would also like to know how to protect her daughter from sexual exploitation and whether it's possible to ensure her daughter uses contraception once she is an adult. Jane puts her questions to child psychologist Laverne Antrobus and family solicitor Elspeth Thomson.
Angela has raised the issue of helping people with dementia with personal grooming, which can help raise their self esteem. Jenni is joined by the Guardian's beauty editor Sali Hughes and by Kathryn Smith from the Alzheimer's Society, to hear the suggestions.
Plus advice for a mum who's now in a same sex relationship and wants to tell her daughter.
Plus two of our listeners, who regularly tweet their opinions, join Jenni in the studio to review the week.
Chapters
Talking to an autistic teenager about sex and puberty

Duration: 10:06

Tribute Bands

Duration: 09:51

Dementia and Personal Grooming

Duration: 07:25

Listener's Dilemma

Duration: 03:24

Listener Week Review

Duration: 06:09

Talking to an autistic teenager about sex and puberty

Listener Jane contacted Woman's Hour because she is unsure how to talk to her autistic 15 year-old daughter about sex.  She would also like to know how to protect her from sexual exploitation and whether it's possible to ensure her daughter uses contraception once she is an adult. Jane puts her questions to child psychologist Laverne Antrobus and to family solicitor Elspeth Thomson.

Tribute Bands

Karel Lush got in touch wanting to share her passion for live music.  She missed out on seeing her idols first time around and now spends her spare time going to see tribute bands. Karel's favourite are the Stylistics tribute band, Sing Baby Sing, who were playing at a Soul and 60's legends weekend at Brean Sands in Somerset.  We sent our reporter Felicity Finch to join Karel as she got ready for her big night out.

 

Dementia and Personal Grooming

Listener Angela has raised the issue of helping people with dementia with personal grooming, which can help raise their self esteem.  Jenni is joined by the Guardian's beauty editor Sali Hughes and also by Kathryn Smith from the Alzheimer's Society, to hear their suggestions. 

Listener Week Review

Two of our listeners, Jane Woods and Nicola Rollock, who regularly tweet their opinions, join Jenni to review the week.

Listener's Dilemma

A listener Sarah got in touch and told us that she has came out of a long term relationship and has a daughter who is nearly 7. For the last 18 months she has been in a relationship with a woman. They are very happy and living together. But she is concerned about telling her daughter, who is a particularly sensitive child. 'She is not aware of our relationship, but I think she may be beginning to work it out. I'm not sure how to handle the situation, how to go about it and what is the right time?' Psychologist Laverne Antrobus will be in the studio to advise and we also want to hear your views.

Credits

| Role | Contributor |
| --- | --- |
| Presenter | Jenni Murray |
| Interviewed Guest | Sali Hughes |
| Interviewed Guest | Kathryn Smith |
| Interviewed Guest | Jane Woods |
| Interviewed Guest | Nicola Rollock |
| Interviewed Guest | Laverne Antrobus |
| Interviewed Guest | Elspeth Thomson |
| Producer | Beverley Purcell |