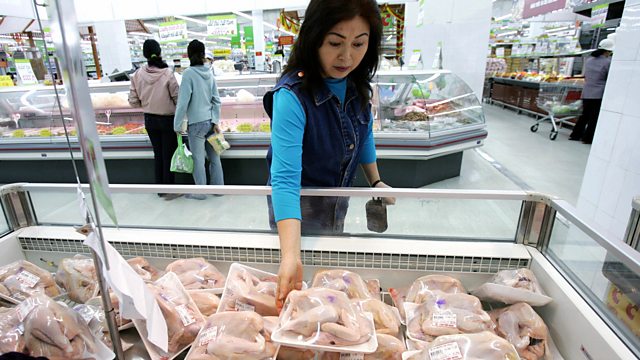 Supermarket Chickens; Fixed Odd Betting; Global Moving Systems
A report names supermarkets with high levels of campylobacter in its chickens, councils demand a crackdown on 'fixed odd' betting machines, and a global removal firm goes missing.
The poisonous bug campylobacter has been found in 70% of all fresh whole supermarket chickens. For the first time, the Food Standards Agency names the shops with the highest rates of contamination, and the British Retail Consortium tells us what the supermarkets are doing to clean up the problem.
Nearly 100 councils in England are demanding the Government reduce the stake gamblers can place on fixed-odd betting machines. Currently a single roulette spin can cost £100, councils want to reduce that to £2.
And missing belongings: the company that promised to help customers move abroad fails to deliver. Peter White finds out what they can do now.
Presenter: Peter White
Producer: Natalie Donovan.
Chapters
Faulty Meters

1.5 million pre-pay gas meters have been overcharging customers for as long as 7 years

Duration: 02:31

Global Moving Systems

Removal company goes missing with customer's belongings

Duration: 08:44

Black Friday

How significant an event is Black Friday and why do retailers think it's worth doing?

Duration: 02:08

Supermarket chicken and the Food Standards Agency

FSA to name supermarkets selling chicken with high levels of campylobacter

Duration: 06:02

Party Wall Surveyors

The companies offering free legal advice if your neighbour is having an extension

Duration: 06:24

Bananas

Call for end to supermarket banana price war

Duration: 07:09

Betting Machines

Councils calling for stakes to be limited to £2 a spin

Duration: 05:47