Main content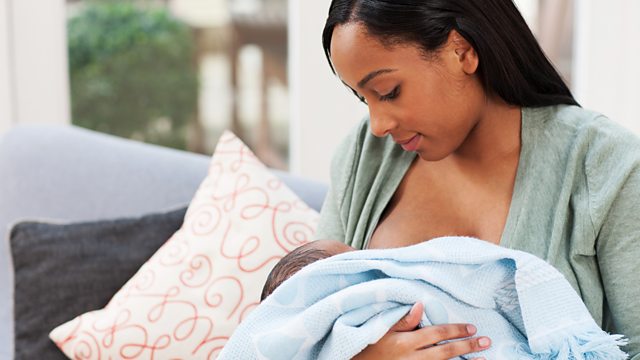 Listener Week: Breastfeeding
Listener week day 3: Is there too much pressure to breastfeed? Listeners interview Queen of Slapstick Miranda Hart. Dilemma - how should people without family plan for their old age? What the best and most cost effective way to keep fit over 50? Lawyer turned Country singer Rebecca Bains.
Last on
Chapters
Planning for Old Age

Duration: 09:25

The pressure to breastfeed

Duration: 08:00

Miranda Hart

Duration: 05:31

Rebecca Bains

Duration: 08:26

Older people and fitness

Duration: 06:50

Planning for Old Age

At some point in our lives we may need to make the decision to enter a care home, but what do you do if you don't have any family to help you make that decision? Jenni talks to Peter Bridgeman, an 82 year old living on his own, and Samantha Nicklin from Age UK, to discuss his options. 

The pressure to breastfeed

Listener Natalie Natalie Casali is French but lives in London and gave birth to her first child in the UK. She wrote in dismayed at what she experienced as the huge and unexpected pressure to breastfeed. Jenni is joined by Sasha Howard who also feels unhappy about the emphasis on breastfeeding and has set out to look at the research around its claimed benefits over bottle-feeding, and by Dr Clare Relton, who is leading a scheme in Sheffield giving out vouchers to mothers to incentivise breastfeeding.

'Guilt-Free Bottle Feeding: Why Your Formula-Fed Baby Can be Happy, Healthy and Smart' by Madeleine Morris, Sasha Howard.

Miranda Hart

The queen of slapstick comedy Miranda Hart answers listeners' questions.  And you can more of Miranda in this edition of Woman's Hour

Rebecca Bains

Rebecca Bains spent 15 years as legal aid criminal defence lawyer in Yorkshire before deciding to quit her job to become a Country singer. Rebecca tells Jenni why a bad night in the cells led to her turning a hobby into a career.

Older people and fitness

Listener Rosemary Mallace contacted the programme wanting to spread the word about the importance of exercise in combating the stresses of old age – not just physical ill health but also depression and loneliness. Rosemary retrained as a fitness instructor in her 60s and is trying to get everyone to take the 6K challenge – to walk six thousand steps a day which has proven health benefits. Rosemary met Jenni Murray for a walk around Salford Quay to expand her philosophy – you don't need a gym membership, expensive equipment or lycra to get fit – you just need to be able to put one foot in front of the other.

Over Fifty Fitness

Credits

| Role | Contributor |
| --- | --- |
| Presenter | Jenni Murray |
| Producer | Eleanor Garland |

Broadcast

Podcast

Women's voices and women's lives - topical conversations to inform, challenge and inspire.