Main content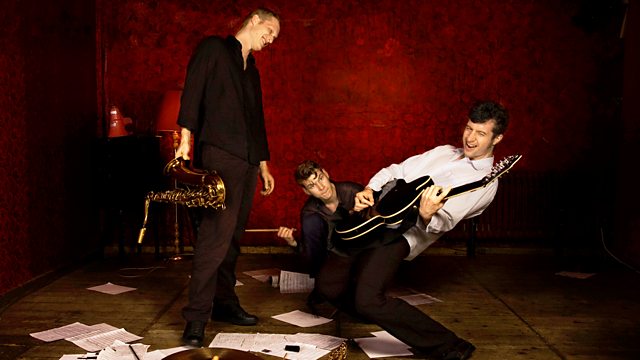 Hyperactive Kid and Starlight
Jez Nelson presents Berlin groups Hyperactive Kid and Starlight performing at the Vortex jazz club as part of the 2014 EFG London Jazz Festival.
Hyperactive Kid and Starlight perform at the 2014 EFG London Jazz Festival in a double-bill that shows off the vibrancy of today's jazz scene in Berlin.
Underpinning the sounds of this week's programme is drummer Christian Lillinger - one of Germany's most exciting and energetic young players, who also featured recently on Jazz on 3 with his large ensemble Grund. Here taking to the stage at London's Vortex, it's a focus on the trio setting that allows his prowess at the kit to shine.
Lillinger is joined by Philipp Gropper on saxophones and Ronny Graupe on 7-string electric guitar in Hyperactive Kid - a band together now for over a decade, who tackle free-flowing and agile music with a typically restless spirit. And in Starlight, the drummer is met in the low frequencies by Swedish-born bassist Petter Eldh - known for causing a stir in groups such as Django Bates' Belovèd. With alto saxophonist Wanja Slavin completing the line-up, they explore spiralling grooves and layered rhythmic interplay with the intent to "mess with people's heads and give the jazz mainstream an alternative".
Presenter: Jez Nelson
Producer: Miranda Hinkley.
Music Played
Starlight in concert at the Vortex, London on 15 November 2014

Hyperactive Kid in concert at the Vortex, London on 15 November 2014
Line ups:
Starlight: Wanja Slavin (saxophones); Petter Eldh (double bass); Christian Lillinger (drums)

Hyperactive Kid: Philipp Gropper (saxophones); Ronny Graupe (electric guitar); Christian Lillinger (drums)