Main content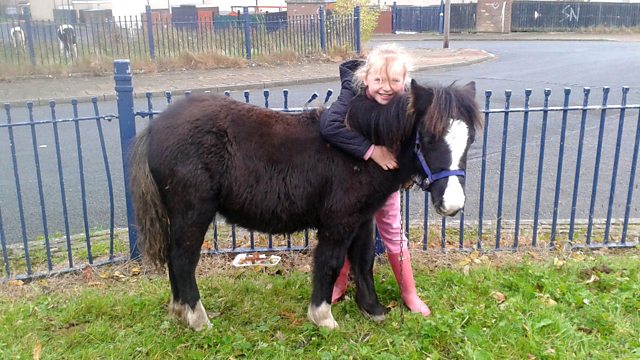 Horses on Housing Estates; The UK Bicycle Industry; Unlimited 3G
Shari Vahl looks at mobile phone customers with no 3G access, Billy the Horse, who is kept in a garden in Bradford, and the current state of the UK bicycle industry.
Some mobile phone customers are being misled into taking out contracts which leave them with no internet service. We investigate how some "unlimited" services and not what they seem.
The RSPCA is concerned about the health of horses kept in gardens on housing estates and is working with local communities to make sure they're being properly looked after.
Chances are if you owned a bike before the 1980s, it was a British made. The UK was once the innovation and manufacturing hub of the cycling world. But what's the current state of the industry?
If you drive an electric car in London you're probably having difficulties getting from one side of the capital to the other. Despite millions of pounds in government grants, we report on why nearly a third of charging points are faulty.
Presenter: Shari Vahl
Producer: Samantha Fenwick.
Chapters
Supermarket Price War

Are supermarkets responsible for food suppliers going bust?

Duration: 05:04

Limited Data

Mobile networks are selling unlimited data tariffs but capping usage

Duration: 04:54

The Food Crime Unit

The specialist unit has made its first arrest just two months after it was launched

Duration: 04:39

British Bikes

The rising popularity of bespoke British-made bicycles

Duration: 06:34

Healthy vending machines

Vending machine companies are hoping to change their image

Duration: 04:33

Horses On Housing Estates

The RSPCA are concerned about the condition of horses being kept on housing estates

Duration: 06:08

Electric Vehicle Charge Points

Charge points for electic vehicles are hard to find & are often broken

Duration: 04:59