Main content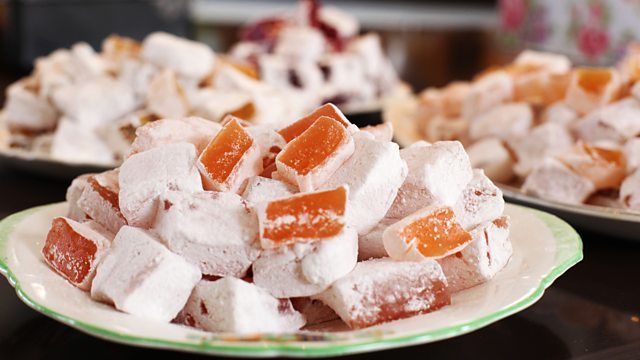 Get Ahead Treats for Christmas
Diana Henry provides a guide to an Eastern Christmas with Bee Wilson and Sally Butcher, looking at 'get ahead' treats, and finding out why foods from the east feature at Christmas.
Sheila Dillon invites Diana Henry to provide a guide to an Eastern Christmas. With experts Bee Wilson and Sally Butcher on hand, Diana looks at 'get ahead' treats, and finds out why certain foods from the east feature so prominently at Christmas.
They also explore some of the symbolism of 'exotic' food stuffs like dates and pomegranates that have become so much part and parcel of the Christmas feast. All of the recipes are featured on The Food Programme website.
Producer: Sarah Langan.
Last on
Recipes from Diana Henry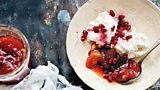 A note on sterilising jars and bottles...
Wash them with soapy water – lids as well - and dry them, then put them into a roasting tin in an oven preheated to 120 C. Leave the jars there while you make your jam, then pot straight into the jars. The other thing you can do is to put the jars through the dishwasher. Leave them there while they dry and use them straight from the dishwasher (the jars do have to be hot).
FIG AND POMEGRANATE JAM
From Salt, Sugar, Smoke published by Mitchell Beazley
Makes 3  270g jars
Unfortunately it's impossible to retain the jeweled seeds of pomegranates in a jam; the sweet, juicy part dissolves and you are left with a lot of chewy seeds. But with this jam you can capture its flavour without the seeds. The recipe makes a small quantity – I never have such an abundance of figs that I can make lots of it - but it's a special treat, and you still get 3 jars out of 500g of figs which is pretty good.
When you are shopping for pomegranate juice, find one that is pure juice; anything called 'pomegranate juice drink' will be sweetened and diluted.
I like to serve this jam with labneh (a Middle Eastern yogurt cheese, made by draining Greek yoghurt in cheesecloth or a brand new J-cloth overnight). Spread some of the labneh on toast then spoon the jam on top and sprinkle with fresh pomegranate seeds. If you don't have labneh then good butter is fine, or mascarpone. That's a pretty good Christmas Day breakfast.
500g figs, stalk tips removed, fruit quartered 

finely grated zest of 1 unwaxed lemon and juice of 2 

1 small cooking apple, peeled, cored and chopped 

125ml (4fl oz) apple juice 

125ml (4fl oz) pomegranate juice 

400g (14oz) granulated sugar with pectin ('jam sugar') 

2 tbsp pomegranate molasses
Put a small plate in the freezer.
Place the figs, lemon zest and juice and the apple in a heavy-based saucepan with the apple and pomegranate juices. Cook on a low heat until the fruit is very soft (about 12 minutes). Don't add the sugar before the fruit has softened or it will make the fruit hard.
Add the sugar and cook gently until dissolved, stirring to help it along. Now bring to a boil and cook, stirring occasionally, for about 15 minutes, skimming off any scum that rises.
When it is near the setting point (104.5°C on a sugar thermometer), stir in the molasses. Check for the setting point on the thermometer and then by doing the 'wrinkle' test: get the plate out of the freezer and spoon on some jam, put back in the freezer for a minute, then push it with your finger to see if it 'wrinkles' (take the pan off the heat while you are doing this test). If it isn't ready to pot put it back on the heat. Skim the surface and ladle into warm, dry, sterilised jars. Seal. This keeps for a year; refrigerate once opened.
 POMEGRANATE VODKA
Makes about 1 litre
You can't tell from looking at a pomegranate whether its seeds are pale pink or crimson so go to a greengrocers (or a Middle Eastern or Turkish shop if you have one nearby) and ask the shopkeeper. He or she might be willing to split one open to check – or may already know. You need deep crimson seeds for this, otherwise your vodka will be very pale.
Use a sterilized jar for making the vodka, and sterilized bottles for bottling the result.
You can drink this neat – I like it chilled – or add to sparkling wine to make a pomegranate kir.
200g granulated sugar
75ml water
750ml vodka
2 broad strips orange rind
½ tbs pomegranate molasses
seeds from 2 ripe pomegranates (preferably with dark crimson rather than pale seeds)
Put the sugar into a saucepan with the water and heat gently until the sugar has dissolved. You should have a very thick syrup. Add the vodka and orange rind to it.
Put the seeds into a big preserving jar (big enough for them and the liquid) and pour on the vodka, syrup and orange mixture. Add the pomegranate molasses. The molasses will make the mixture a bit brown and murky but that will disappear as the seeds turn the liquid crimson. You can leave this for as long as you like – it will be fine from now to Christmas – or you can strain and bottle the mixture after a week. Basically the drink is good when it has taken on a pomegranate flavour that you are happy with. 
Strain the vodka and seeds through a muslin (or J-cloth) lined sieve into a big jug. Put a funnel in the neck of clean bottles and pour the vodka through it.
If you're giving the vodka as a present put some fresh pomegranate seeds in the bottom of each bottle and add the pomegranate vodka. 
Recipes from Sally Butcher
DATE PICKLE (torshi-ye-khormah)  
This is a little treasure, as it is a pickle without vinegar or brine. I use it hot and cold as a garnish to rich meats and rice dishes, in sandwiches, even as a stuffing for fish. Bizarrely it is particularly nice with fried eggs. It is in fact a recipe one of my customers gave me pursuant to several months' discussion about the multifarious uses of dates, but I think it is largely ascribable to the great Persian cook-book writer Rosa Mantasami.
Ingredients:
2 generous tablespoons ground sumac
1 teaspoon salt
½ teaspoon ground black pepper
2 teaspoons ground cinnamon
1 teaspoon ground cardamom
200ml tamarind paste
juice of 3 lemons/limes
700g pitted Iranian dates (soft, fresh) – or use Medjool
Mix the spices, tamarind and lemon juice together and then stir in the dates. Pack into clean, dry jars or airtight plastic tubs. This should be ready after about a week, but is at its gooiest best after about a month.
THE SNACKISTAN PATENT BARBERRY AND LIME COULIS/JUS
A great make-ahead recipe that will get your festive guests oohing and aahing and trying to guess what's in your 'special sauce'.

Ingredients:
200g barberries, picked through and washed (or use redcurrants, or cranberries)400ml water
2 tablespoons sugar
juice and grated zest of 2 limes
1 heaped teaspoon ground fennel seeds OR use a handful of fresh mint, julienned
2cm knob of ginger, peeled and chopped
Put the barberries in a pan together with the water and all the other ingredients. Bring the contents of the pan to the boil and reduce by roughly half, stirring from time to time. Strain and press through a sieve and allow to cool. Drizzle artistically over faloodeh (Persian noodle sorbet) or tarts, or roast meats, or anything you like really. Probably goes quite well with turkey. Beats using shop bought squirty sauces.
And a Christmas breakfast extra....
FRIED EGGS WITH DATES (Beid bil Tamriya)
To feed 4 hungry traders
Ingredients:
1 knob butter
500g pitted dates (fresh are best but any will do)
4 eggs
1 level teaspoon ground cardamom (optional fancy extra)
Melt the butter in a frying pan. Toss in the dates and mash them up a bit with a wooden spoon, stirring all the while. After a couple of minutes, break the eggs in, continuing to stir. Cook for a couple of minutes more or until the eggs are cooked, before taking off the heat and sprinkling with cardamom.
Serve immediately with fresh warm bread, and alongside hot black tea.
Credits
| Role | Contributor |
| --- | --- |
| Presenter | Sheila Dillon |
| Interviewed Guest | Diana Henry |
| Interviewed Guest | Sally Butcher |
| Interviewed Guest | Bee Wilson |
| Producer | Sarah Langan |
Broadcasts