Main content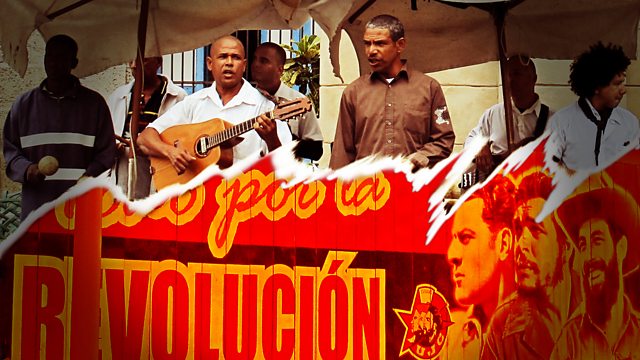 Lieutenant Conde is visiting his childhood haunts when a schoolteacher at his old school is murdered. Starring Lorna Gayle.
by Leonardo Padura
dramatised by Joy Wilkinson
Lieutenant Conde goes on a trip through his childhood Havana haunts when a young female schoolteacher at his old school is murdered. And could it be that Conde has finally met the woman of his dreams? Dramatisation of the second novel in the Havana Quartet series.
Cast:
Mario Conde ..... Zubin Varla
Rangel ..... David Westhead
Manolo ..... Lanre Malaolu
Josefina ..... Lorna Gayle
Skinny ..... Ben Crowe
Karina ..... Tanya Franks
Caridad ..... Elaine Claxton
Andres ..... Ian Conningham
Dagmar ..... Jane Slavin
Pedro/ Rabbit ..... Monty d'Inverno
Lando ..... Sam Dale
Lazaro ..... Shaun Mason
Red ..... Jude Akuwudike
Jose Luis ..... Paul Heath
Headteacher ..... Michael Bertenshaw
directed by Mary Peate
Leonardo Padura's series, published in English as the Havana Quartet, is set over the course of 1989.
Leonardo Padura is a novelist and journalist who was born in 1955 in Havana where he still lives. He has published a number of short-story collections and literary essays but he is best known internationally for the Havana Quartet series, all featuring Inspector Mario Conde.
In 1998, Padura won the Hammett Prize from the International Association of Crime Writers and in; 2012, he was awarded the National Prize for Literature, Cuba's national literary award.
Introducing the cast from Leonardo Padura's award-winning Cuban detective series.
Credits
| Role | Contributor |
| --- | --- |
| Mario Conde | Zubin Varla |
| Rangel | David Westhead |
| Manolo | Lanre Malaolu |
| Josefina | Lorna Gayle |
| Skinny | Ben Crowe |
| Karina | Tanya Franks |
| Caridad | Elaine Claxton |
| Andres | Ian Conningham |
| Dagmar | Jane Slavin |
| Pedro | Monty d'Inverno |
| Rabbit | Monty d'Inverno |
| Lando | Sam Dale |
| Lazaro | Shaun Mason |
| Red | Jude Akuwidike |
| Jose Luis | Paul Heath |
| Head Teacher | Michael Bertenshaw |
| Author | Leonardo Padura |
| Adaptor | Joy Wilkinson |
| Director | Mary Peate |