Main content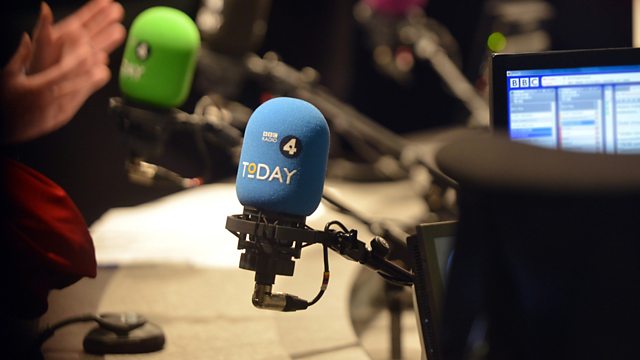 22/11/2014
Morning news and current affairs. Including Yesterday in Parliament, Sports Desk, Thought for the Day and Weather.
Last on
Today's running order
0734
Protestors  took to the streets of Mexico this week to vent their anger over the disappearance last month of 43 student protestors after police handed the students over to a drug gang.  It highlights the extraordinary extent of violence and corruption in the country much of which has been aimed at women in recent years.  It's estimated that as many as 120,000 women were raped in Mexico last year and another 4,000 disappeared after being kidnapped.  Many were later found dead. Womens' rights groups claim that only a small fraction of these cases were ever investigated by police. The result, they say, is a culture of impunity for violence women in Mexico. Our Correspondent, Mike Thomson, reports from Mexico City
0743
There is a homecoming parade today for an army medical team that ran what became one of the best hospitals in the world for trauma care. It was in Camp Bastion in Afghanistan. The people who ran the hospital are based at Strensall barracks in York.  Reporter Zoe Conway is there.
0749
It's three decades since we heard talk of 'breaking the mould' of British politics. At that time it was the Liberals, in alliance with the SDP, the Social Democrats, who had a string of by-election successes and seemed to threaten the dominance of two-party politics. Now it's UKIP, with Nigel Farage saying after the Rochester and Strood success that it could get as many as 40 seats.  Ukip is threatening to make the coming general election a wildly unpredictable affair. Paul Nuttall is Ukip deputy leader and David Owen is one of the founders of the SDP, when it broke from the Labour Party.
0810
The first organised group of NHS volunteers trained to tackle the Ebola crisis leaves for Sierra Leone today. More than thirty of them will complete their training in the country before starting work in British-built treatment centres. One of them is Gareth Ross, a paramedic from Yorkshire. Joanna Reid is head of DIFD Ebola response team in Sierra Leone.
0817
So-called bed blockers are a big  problem for the NHS. They're usually old people who can't leave hospital quite simply because there's nowhere for them to go and no-one to look after them. The number of people in that state is the highest it's been for three years. Now some hospitals are threatening to take legal action against people who refuse to have their elderly  relatives back home. One of them is Bournemouth and Christchurch and Katie Whiteside is their clinical manager for discharge.
0823
The first opera in Richard Wagner's Ring cycle has been the basis of an experiment to try to find out more about how we hear and understand music. Researchers used the Ring - the four operas usually take more than 13 hours - to measure unconscious indicators of excitement, engagement.....and perhaps the turn-off factor too. It's happening at the Being Human festival. Sir Colin Blakemore is Professor of Neuroscience and Philosophy at University of London, part of the research team. 
0831
People who know Ed Miliband say they've never known him as angry as he was yesterday after the by-election in Rochester and Strood.  And when you look at the papers this morning you can see why.  Because the big story is not about the Tories losing a safe seat to UKIP... it's about the class war and Labour's part in it. It was sparked off by one of his shadow ministers, Emily Thornberry, who'd  tweeted a photo of a house decorated with English flags and a white van outside it. She seemed to be sneering at the house's owner. She resigned from the front bench in double-quick time. But the damage had been done and Labour was being presented as an elitist party that's simple no longer in touch with the working class from which it sprang. A party of snobs.  Has the party really changed that much? Hazel Blears is a  former Labour minister.
0837
The father of a man shot dead by police in Ferguson, Missouri, has appealed for peace ahead of a grand jury decision against the officer. Aleem Maqbool reports.
0841
Plans to close the Imperial War Museum library have been opposed in a petition signed by 9,450 people.  The Prospect union said a £4m cut in annual government funding left the institution facing the closure of the library and the loss of around 80 jobs. An Imperial War Museum spokesman said the plans were in response to the need to "reduce costs" and "respond to challenges and opportunities". A consultation is currently underway.  Else Churchill is from the Society of Genealogists.
0847
How is OFSTED dealing with the problem of radicalisation in schools? This week it said pupils at six Muslim private schools in east London were 'at risk', and a Church of England school in the same area was criticised for failing to monitor a sixth-form Islamic society. The action was taken after a series of snap inspections. Baroness Perry, a Conservative peer, is a former chief inspector of schools and Jonathan Simons is head of education at the think tank Policy Exchange.

Broadcast