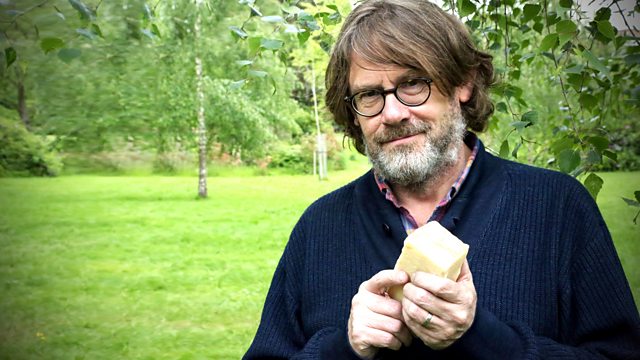 Nigel Slater's Icing on the Cake
Nigel Slater takes us on a nostalgic, funny and heartwarming journey back in time exploring the earliest origins of cake in Britain, charting the ways in which Neolithic man used to munch on flat compacted handfuls of grain, through to the ways in which Elizabethan cooks discovered the magical raising agent that is the egg white and the impact of developments in kitchen technology on our cake consumption.
Cake has come a long way from its earliest manifestations and Nigel brings this tastiest of culinary histories to life. He finds out about the ancient rituals surrounding the baking and eating of cake and the ways in which buns were once considered too risque for us common folk and so were banned.
He goes back to school to learn about the science behind a successful bake, explores whether our desire to eat cake really is just a question of mind over matter, examines the rise and popularity of the cupcake and comes face to face with some grisly cakes created by bakers hoping to revolutionise what we mean when we refer to a cake.
Reflecting on the cakes of his youth and childhood, Nigel examines the mass appeal of a culinary creation that can be defined by that most appropriate of phrases 'naughty but nice'. Whether it be homemade cakes courtesy of Auntie Marjorie or a battenberg bought from the corner shop, for Nigel a cake is all about sharing and so here he shares the story of British cake.
Credits
| Role | Contributor |
| --- | --- |
| Presenter | Nigel Slater |
| Executive Producer | Jane Merkin |
| Director | Mark Adderley |
| Production Company | Doghouse Media Ltd |