Main content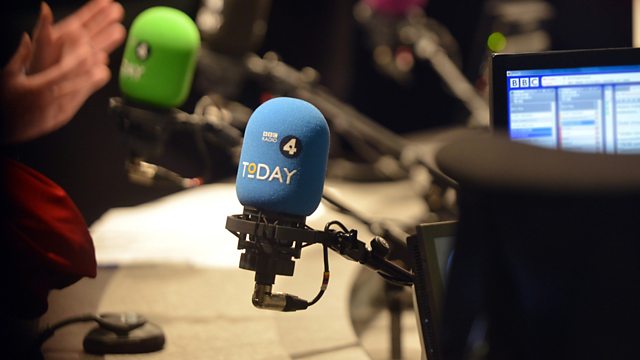 21/11/2014
Morning news and current affairs. Including Sports Desk, Yesterday in Parliament, Weather and Thought for the Day.
Last on
Clips

Today's running order
0645
Fans of online game Minecraft will be able to enter three-dimensional versions of some of the artworks at Tate Britain from Monday. The project is designed to stimulate an interest in art for a new generation by letting players immerse themselves in block-work versions of the images. Jane Burton is creative director of Tate Media
0710
The UK Independence Party has its second elected MP at Westminster after Mark Reckless won the Rochester and Strood by-election by 2,920 votes. Our Assistant Political editor Norman Smith spoke to him immediately after the result was declared. We are also joined by Labour MP John Mann.
0715
Barack Obama has decided to give around five million illegal immigrants the right to stay in the United States. He is bypassing congress, where he couldn't win the vote to do it. Our correspondent Nick Bryant is in Washington.
0720
A group of journalists, all members of the national union of journalists, are taking legal action because they think the Metropolitan Police is monitoring them and keeping information on a database that deals with extremists.  One of them is the comedian and writer Mark Thomas.
0730

We speak to UKIP leader Nigel Farage following the party gaining its  second elected MP at Westminster after Mark Reckless won the Rochester and Strood by-election by 2,920 votes.
0740
The north-eastern United States is in the grip of an extreme weather emergency. Transport has been very badly affected as have power supplies. Kevin O'Neill is a reporter and meteorologist with the WGRZee television channel in Buffalo, New York.
0750

Ofsted is publishing the results of inspections in seven east London schools on Friday. Six Islamic schools are expected to be issued with improvement notices and one Church of England school, Sir John Cass, which has a majority of Muslim pupils of Bangladeshi heritage, will be placed in special measures. Our reporter Sima Kotecha has been speaking to pupils outside the school.
0810
The UK Independence Party has its second elected MP at Westminster after Mark Reckless won the Rochester and Strood by-election by 2,920 votes. We speak to our chief correspondent Matthew Price who's in Boston, one of the other Conservative seats seen as most under threat from UKIP. We also hear from the Leader of the House of Commons William Hague and political correspondent Nick Robinson.
0820
James Dyson is announcing a £1.5bn investment in the UK and will start building a new factory at the Dyson HQ in Malmesbury, Wiltshire. It will eventually provide 3,000 new engineering jobs and he hopes will lead to hundreds of new products being developed there. We speak to James Dyson.
0830
What does Labour make of the Rochester and Strood result? There are some Labour seats that UKIP are also targeting, including Grimsby, from where Zoe Conway reports. We also speak to shadow Foreign Secretary Douglas Alexander.
0840
One year ago today, Ukrainians gathered on Kiev's Independence Square to denounce corruption, and demand closer ties with the EU. It was the start of a string of mass protests that would spark the ousting of President Viktor Yanukovych and Russia's annexation of Crimea. Our Moscow correspondent, Steve Rosenburg, has been to eastern Ukraine.
0843
Age related macular degeneration is the commonest cause of blindness among older people. A cheaper treatment to stop elderly people losing their sight should be made available to everyone on the NHS. The Royal College of Ophthalmologists has released a report arguing that Avastin has been found in government funded clinical trials to be safe and effective. We hear from Carrie McEwen, President of the Royal College of Ophthalmologists and author of the report
0847
What does the Rochester result mean for the political landscape? With less than six months to go before the general election, there has been speculation that two more Conservative MPs were ready to switch sides even before the result. We speak to Nick Watt, the Guardian's chief political correspondent, alongside Isabel Hardman, assistant editor of the Spectator.


All subject to change.
Broadcast