Main content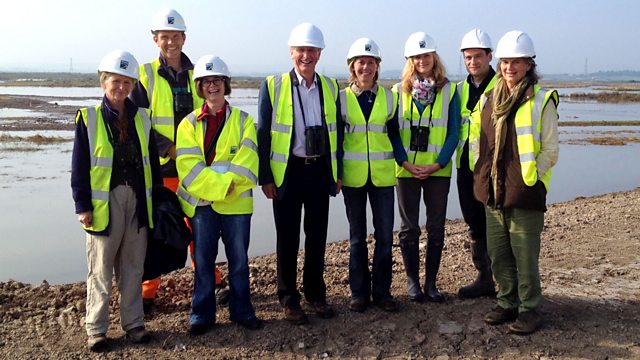 Steart Peninsula, Somerset
Felicity Evans visits Steart Marshes in Somerset, just as the sea wall is breached, and the landscape is transformed forever.
Felicity Evans visits Steart Marshes on Somerset's Steart Peninsular just as the sea wall is breached to transform this landscape.
Rising sea levels are putting the squeeze on wildlife along the coast and also leaving coastal villages under threat of flooding, but earlier this year, The Wildfowl and Wetlands Trust (The WWT) and the Environment Agency began the creation of the UK's largest new wetland reserve. The sea wall was purposely breached to create an inter-tidal range that will see the development of salt marsh - a habitat that is currently under threat. As WWT Warden Alys Laver explained, in making the breach, Steart Marshes will create safe habitats for rare species whilst also offering a flood defence for the nearby villages. It will also provide an accessible nature reserve for the local community right on their doorstep.
For PhD student Adam George of the local Bridgwater College, it's a unique opportunity to study the effects - and possible benefits - of salt marsh creation whilst for Steart's dedicated volunteers - including 14 year old Jo - it's a chance to watch a whole landscape change in their lifetime.
Last on

Broadcasts

Podcast
Countryside magazine featuring the people and wildlife that shape the landscape of Britain