Main content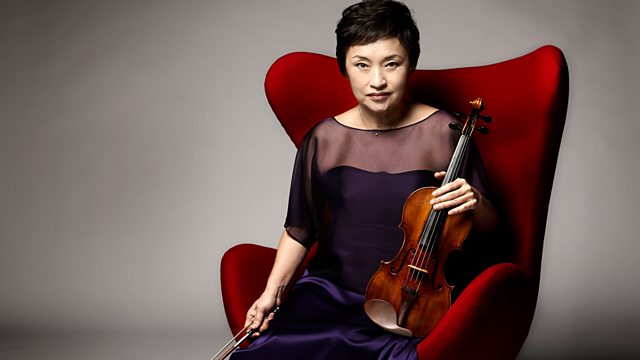 Violinist Kyung Wha Chung; Michael Pattemore, widower of Lynda Bellingham
Violinist Kyung Wha Chung on her much awaited comeback. The widower of Lynda Bellingham talks about her new novel and life without her. Plus the CEO of Refuge Sandra Horley.
The legendary violinist Kyung Wha Chung will be joining Jenni to discuss her much awaited London comeback, after more than a decade away.
With the England v Germany match at Wembley selling 55,000 tickets - is this a turning point for the women's game.
Michael Pattemore - Lynda Bellingham's widower will be here to talk about her new novel - The Boy I love - that celebrates life in the theatre.
We continue our series looking at refuges and domestic abuse talking to the CEO of Refuge Sandra Horley
And the Irish academic following in her grandmother's footsteps.
Presented by Jenni Murray
Producer Beverley Purcell.
Chapters
Refuge Cuts

With cuts to specialist domestic violence services, Jenni speaks to the CEO of Refuge.

Duration: 11:25

Kyung Wha Chung

The violinist discusses her life and career ahead of a series of comeback performances.

Duration: 08:46

Gender Discrimination

Jenni talks to Dr Micheline Sheehy-Skeffington after her Equality Tribunal success.

Duration: 05:50

The Boy I Love

Lynda Bellingham's widower Michael Pattemore talks about Lynda's final novel.

Duration: 08:16

Woman's Football

55,000 tickets have been sold for Sunday's England v Germany match at Wembley.

Duration: 06:07

Refuges for domestic violence

On Thursday a series of vigils organised by Women's Aid will be held around the country to mark the loss of specialist domestic violence services. As part of our series looking at refuges and domestic abuse, Sandra Horley, CEO of Refuge, joins Jenni to discuss the situation facing refuges and why Refuge believes there is a need for more gender specific legislation.

Kyung Wha Chung

Kyung Wha Chung returns to London for the first time in 12 years, performing on December 2nd at The Royal Festival Hall. Why has she decided to come back and how has injury affected her career?

Tribunal triumph

The National University of Ireland Galway has been instructed by an Equality Tribunal to immediately promote a female academic and pay her 70,000 Euros in damages. The ruling comes after the tribunal found that the college had discriminated against her on the grounds of her gender.

Jenni talks to Dr Micheline Sheehy-Skeffington - the granddaughter of one of Ireland's renowned suffragettes – about why she decided to pursue the case.

Michael Pattemore

Michael Pattemore, actress Lynda Bellingham's widower, talks about her last novel The Boy I Love.  It's a celebration of theatrical life at a cash-strapped theatre in Crewe and heavily autobiographical. Last month she talked movingly to the programme about the impact of her battle with cancer on her family and how she hoped she'd live long enough to celebrate one more Christmas. 

Women's football

The England V Germany match at Wembley has sold 55,000 tickets. Is this a turning point for the women's game?

Credits

| Role | Contributor |
| --- | --- |
| Presenter | Jenni Murray |
| Producer | Beverley Purcell |
| Interviewed Guest | Kyung Wha Chung |
| Interviewed Guest | Michael Pattemore |
| Interviewed Guest | Sandra Horley |
| Interviewed Guest | Micheline Sheehy-Skeffington |