Main content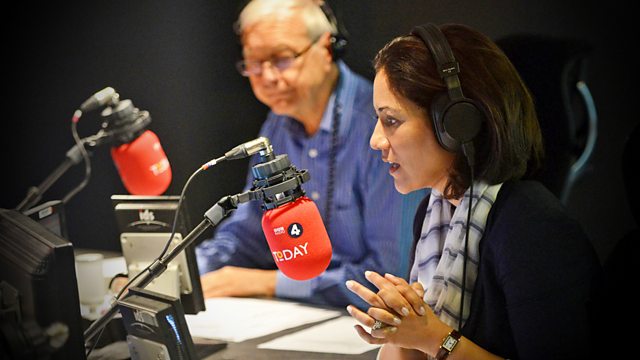 20/11/2014
Morning news and current affairs. Including Sports Desk, Yesterday in Parliament, Weather and Thought for the Day.
Today's running order
0710
Royal Bank of Scotland is expected to be fined this morning for a computer failure in 2012 that left millions of its customers shut out of their accounts for several days.  RBS, which is 80 percent-owned by the government, was one of six banks fined a total of two billion pounds last week following an investigation into the rigging of the foreign exchange market.
0713
There are real concerns about deteriorating flood defences in the UK and Britain will make a pledge to the Green Climate Fund at a conference in Berlin today. The Fund's Executive Director is Hela Cheikhrouhou.
0720
Brain tumours kill more people under 40 than any other cancer, but receive less than one percent of cancer research funding. The charity Brain Tumour Research is trying to change that and is launching a new "Centre of Excellence" at Plymouth University's School of Medicine.  Our science correspondent Tom Feilden has been to see it.
0730
James Naughtie has visited David Hockney in his California home for an exclusive interview ahead of a new documentary about him out that is out next week.
0745
The American actor and comedian Bill Cosby is under huge public pressure over allegations of sexual assault from a number of women going back thirty years. He's been a much-loved figure on American television for three decades, but the allegations have reduced him to unaccustomed silence. We're joined by the Hollywood journalist Jeanne Wolf.
0750
Northern Ireland's most prominent anti-abortion activist is facing a possible jail sentence after being convicted of harassment. Bernadette Smyth leads the anti-abortion group Precious. We speak to Ann Furedi, chief executive of the British Pregnancy Advisory Service, and Andrea Williams, from the Christian Legal Centre.
0810
David Cameron will allocate £720m to a global "green climate fund" today, risking the wrath of some Conservative MPs and the UK Independence party. Britain will make the offer at a "pledging conference" in Berlin on Thursday. Ukip has campaigned against green energy and Britain's overseas aid programme, while many Tory MPs share those objections. We speak to Sir Edward Leigh, Conservative MP for Gainsborough, and Ed Davey, Secretary of State for Energy and Climate Change.
0820
When the IT systems at RBS collapsed two years ago, millions of people couldn't get to their bank accounts. The consequence is that RBS, having been fined last week as one of the banks involved in foreign exchange market rigging, is having to pay up. We speak to Tracey McDermott, an executive board member of the financial conduct authority.
0822
The Italian tenor Andrea Bocelli, a man with the "voice of god", according to one of his musical contemporaries, is the biggest selling artist in the classical world. He is credited with helping to popularise opera, although some purists are rather sniffy over his use of a microphone. Andrea Bocelli is in the UK at the moment and he's been speaking to our reporter Tom Bateman.
0830
Thursday is the day when Mexicans celebrate their revolution of 1910, but this year it's going to be an occasion for mass protest. The reason is the disappearance and probable murder of 43 students seven weeks ago which has brought to a boil public anger at corruption and the power of the drug cartels. Our correspondent Wyre Davies has been speaking to some of the friends and relatives of the missing students.
0840
More than one hundred thousand people in the UK are living with the HIV virus, the data from Public Health England amounts to the highest figure ever reported. New cases are, on the whole, falling, except among gay men where new cases are going up in all age groups. Dr John Frater is a consultant in infectious diseases and associate professor at the University Oxford.
0845
The BBC has revealed its drama plans for the next two years, as it seeks to build on the success of some popular series. The plans include a successor to Waterloo Road, a two part Luther special, a remake of Ronald Harwood's The Dresser, and a dramatisation of Len Deighton's SSGB. Ben Stephenson is commissioner of BBC Drama.
0855
A pub in Cumbria holds a lying competition. We are joined by Charles Maudling and Matt Eley, to see which of them can tell the most convincing lie. 
All subject to change.