Main content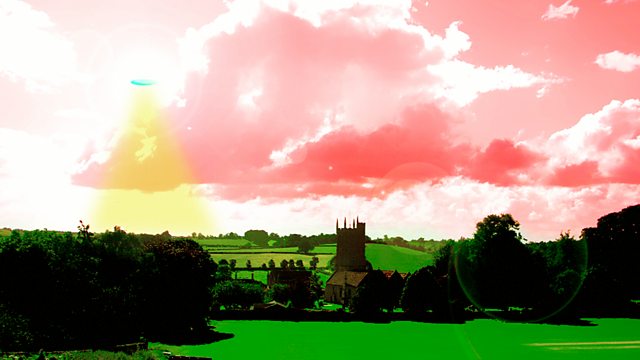 Uljabaan is determined to fail his annual inspection, but he will need help to make it work. With Hattie Morahan. From 2014.
Uljabaan is determined to fail his annual inspection, in order to be sent to a better posting.
But he'll need Kat and Lucy's help in order to make it work - and he can do without any surprises, such as the identity of the Zone Commander who'll be conducting the inspection...
The conclusion of series two of Eddie Robson's sitcom about an alien race that have noticed that those all-at-once invasions of Earth never work out that well. So they've locked the small Buckinghamshire village of Cresdon Green behind an impenetrable force field in order to study human behaviour and decide if Earth is worth invading.
The only inhabitant who seems to be bothered by their new alien overlord is Katrina Lyons, who was only home for the weekend to borrow the money for a deposit for a flat when the force field went up.
So along with Lucy Alexander (the only teenager in the village, willing to rebel against whatever you've got) she forms The Resistance - slightly to the annoyance of her parents Margaret and Richard who wish she wouldn't make so much of a fuss, and much to the annoyance of Field Commander Uljabaan who, alongside his unintelligible minions and The Computer (his hyper-intelligent supercomputer), is trying to actually run the invasion.
Katrina Lyons ...... Hattie Morahan
Richard Lyons ...... Peter Davison
Margaret Lyons ...... Jan Francis
Lucy Alexander ...... Hannah Murray
Field Commander Uljabaan ...... Charles Edwards
The Computer ...... John-Luke Roberts
Zone Commander Ravella ...... Nina Sosanya
Script-edited by Arthur Mathews.
Producer: Ed Morrish
First broadcast on BBC Radio 4 in November 2014.
Last on
Credits
| Role | Contributor |
| --- | --- |
| Katrina Lyons | Hattie Morahan |
| Richard Lyons | Peter Davison |
| Margaret Lyons | Jan Francis |
| Lucy Alexander | Hannah Murray |
| Field Commander Uljabaan | Charles Edwards |
| The Computer | John-Luke Roberts |
| Zone Commander Ravella | Nina Sosanya |
| Writer | Eddie Robson |
| Producer | Ed Morrish |
Broadcasts