Main content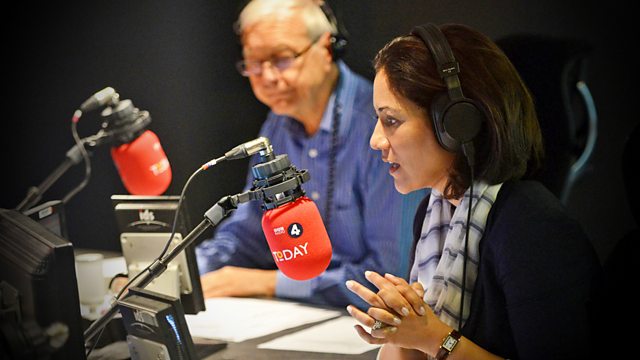 18/11/2014
Morning news and current affairs. Including Sports Desk, Yesterday in Parliament, Weather and Thought for the Day.
Running Order
0650
Another damning report into prisons has been published this morning.  HMP Hewell in Worcestershire is said to be facing real difficulties and significant levels of violence. Our reporter Sima Kotecha asked the Chief Inspector of Prisons, Nick Hardwick, about the latest report.
0652
One of America's most notorious mass murderers, Charles Manson, has been granted a licence to get married. He's 80. Manson was convicted more than forty years ago of murdering seven people including the actress Sharon Tate.  Scott Smith reports from the home of Elaine Burton, the woman who's taken out a licence to marry him.
0655
The Patients Association has criticised the health ombudsman for England and says it no longer recommends that people complain to it. It's meant to be the final port of call for anyone with a grievance or complaint about the NHS. So what's it doing wrong? Liz McAnulty is trustee of the Patients Association.
0710
The Supreme Court will this morning begin hearing the case of a suspected Al Qaeda supporter which could determine the limits of the Home Secretary's power to strip naturalised British terror suspects of UK citizenship. We speak to barrister QC Hugh Southey.
0713
Foreign officials from Iran and the six world powers will be meeting in Vienna today to try to reach a final deal on limiting Iran's nuclear capabilities. In theory their deadline for doing so is Monday. We hear from Mark Fitzpatrick, who works for the think tank the International Institute for Strategic Studies.
0717
Business with Tanya Beckett.
0720
Next year is the 800th anniversary of the signing of the Magna Carta. In Runnymede a special tapestry is planned to depict the eight centuries of British history.  Rhoda Nevins is an embroiderer who's been commissioned to design and create it.
0723
At some point in the next fortnight a grand jury in the states will decide whether to indict the police officer Darren Wilson for the killing of 18 year old Michael Brown. His death prompted violent protests in the suburb of Ferguson in St Louis. Patricia Byne is a democratic committeewoman in Ferguson and became a familiar sight at the protests trying to calm people down.
0730
The EU's foreign ministers have failed to agree on imposing more sanctions on Russia, despite concerns about escalating violence in Ukraine. During a meeting yesterday they agreed to move towards placing more Ukrainian separatists under sanctions -- a day after pro-Russian rebels in eastern Ukraine reportedly killed at least nine members of the Ukrainian security forces. Today the German Foreign Minister Frank-Walter Steinmeier is scheduled to travel to Moscow later today for talks on the conflict. Andrii Kuzmenko, Ukraine's Charge d'Affaires in London.
0737
We hear a lot about the scramble for school places in areas which have seen their population's boom in recent years. But in Shropshire they're having the opposite problem; the number of children living in the county has fallen by ten per cent in the last ten years, and school rolls are expected to fall further in the next five years. Our Education Correspondent Gillian Hargreaves reports.
0745
It's now six months since the famous library at Glasgow School of Art was gutted by fire and at last it's safe enough for forensic archaeologists to venture in and see what has survived. Our Correspondent Colin Paterson reports from inside the building.

0752
The British Medical Association has accused the Care Quality Commission of unnecessarily scaring the public by publishing data on GPs practices, which they say are no reflection on the quality of care offered to patients.  Dr Chaand Nagpaul, Chair of the BMA's GP Committee.
0810
Over a quarter of sexual offences (26%), including rape, and a third of violent crime are NOT recorded as crimes because of "unacceptable failings" by police, according to a new report by Her Majesty's Inspectorate of Constabulary. We hear from Tom Winsor, Her Majesty's Chief Inspector of Constabulary, and Jeff Farrar, chief constable of Gwent Police.
0820
UKIP could be on course to win another seat in Westminster. Mark Reckless who left the Tories to stand in the Rochester and Strood by election as a UKIP candidate is set to win. Our Assistant Political Editor Norman Smith reports.
0830
Dementia experts are demanding better training and awareness among care home staff on issues around intimacy and sex between the people they look after. The Alzheimer's Society has told Five Live that staff caring for people with dementia are having to tackle sensitive and often difficult situations on a daily basis, and that all care homes should have a specific sex and intimacy policy in place. We speak to Kathryn Smith, Director of Operations at Alzheimer's Society.
0836
The number of lives lost to terrorist attacks around the world has jumped by 61 percent in a single year, according to a study published today. The Global Terrorism Index says terrorism last year was dominated by just four organisations and lists Iraq as the country most impacted. It says at least 13 other countries face a greater risk of significant terrorist activity in the coming years. Our security correspondent Frank Gardner reports.
0842
Later this week the Wellcome Collection will open the doors of its new £17.5m gallery with an exhibition dedicated to the pioneers of the study of sex. The Institute of Sexology will look at key sexologists through history including Sigmund Freud, Marie Stopes and Alfred Kinsey. It features over 200 erotic objects, many collected by Henry Wellcome, founder of the Wellcome Trust charity. Presenter Sarah Montague went to see the exhibition.
0850
The new Band Aid song will raise a lot of money to help the victims of Ebola in west Africa. There's not much doubt about that. So why do some people object to it? We hear from Robtel Neajai Pailey, who is from Liberia and works as a researcher at the School of Oriental and African Studies, as well as Harvey Goldsmith, one of the world's great producers and concert promoters.
All subject to change.