Main content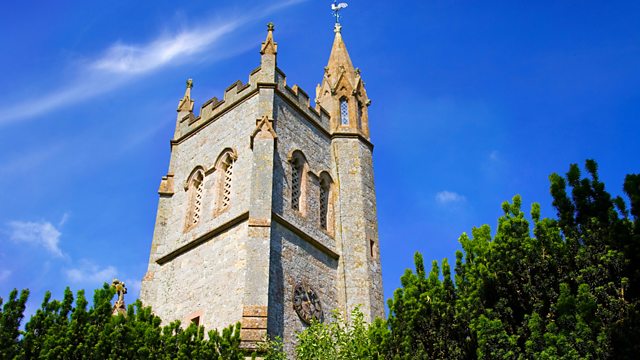 16/11/2014
Live from Cannon Street Memorial Baptist Church, Birmingham, celebrating 200 years of partnership that established some of the earliest multiracial Baptist churches in the world.
Two hundred years ago Baptist missionary John Rowe sailed from England for Jamaica. This service, live from Cannon Street Memorial Baptist Church in Birmingham, tells the story of an extraordinary 200 years of partnership at the start of which white Baptists migrated from the UK to join enslaved Black Christians to establish some of the earliest multiracial Baptist churches in the world. In 1814, John Rowe was the first to answer that call. In later years the partnership reversed as black Baptists travelled to the UK to found what are now some of Britain's biggest churches. Leader: Pastor Patrick Adetuwo. With the Revd Lynn Green, General Secretary of the Baptist Union of Great Britain. Preacher: The Revd Karl Johnson, General Secretary of the Jamaica Baptist Union. Producer: Rowan Morton-Gledhill.
Cannon Street Memorial Baptist Church
Please note:
This script cannot exactly reflect the transmission, as it was prepared before the service was broadcast. It may include editorial notes prepared by the producer, and minor spelling and other errors that were corrected before the radio broadcast.
It may contain gaps to be filled in at the time so that prayers may reflect the needs of the world, and changes may also be made at the last minute for timing reasons, or to reflect current events.
BBC RADIO 4 ANNOUNCER
There aren't many relationships that can survive 200 hundred years, and shape the course of history - but that's the depth of the connections being marked this morning in the bicentenary celebrations between Jamaican and British Baptists, on Sunday Worship now, which comes live from Cannon Street Memorial Baptist Church in Birmingham.  The Service is introduced by Pastor Patrick Adetuwo and the music is led by the Birmingham's Town Hall Gospel Choir, directed by Colin Anderson and beginning with the hymn, Blessed Assurance…
MUSIC 1 – HYMN – BLESSED ASSURANCE

REVD PATRICK ADETUWO
INTRODUCTION
Good morning!
This IS our story – and WHAT a story we're celebrating this morning! A relationship which was born out of the horrors of the transatlantic slave trade, an alliance that has worked over two centuries, to bring justice and reconciliation in the face of one of history's great atrocities.
In 1814 English Baptist Pastor, The Revd John Rowe and his wife answered a call for support issued by Jamaican Baptists in Kingston.  Now, in 2014, the Jamaica Baptist Union and British Baptists are joining together here in Birmingham, one of the cities so many people came to from the Caribbean in the 1950s and 60s, to remember the past, celebrate the present and look forward to our shared future. 
I'm delighted that our preacher is the Revd Karl Johnson, General Secretary of the Jamaica Baptist Union.  Also joining us this morning is the Revd Lynn Green, General Secretary of the Baptist Union of Great Britain. 
So let us pray:
God of justice and hope:
As we gather here this morning in your name, Jamaicans, British and many other nationalities, we offer you our thanks for our shared journey together, over many generations.
We pray that, as we reflect on the past and celebrate the present, you will help us not to repeat the sins of the past but embody a relationship that reflects hope and justice - ensuring that 'no one is a stranger.'
ALL: AMEN
And that's the theme of our worship this morning 'Let no one be a stranger.' The story of this unique, cross-cultural friendship begins in times when different races were indeed strangers: Slavery was enshrined in Law, and even most Christians regarded racism as part of the natural order...
At that time the Baptist Church in Jamaica was predominantly black. It had been started not by a Jamaican or a British missionary, but by the African American freed slave, George Lyle, who, after escaping the aftermath of the American Revolution, began work in the Jamaican capital in 1783.
The church thrived. Thousands heard the Gospel and many were baptised, despite great opposition from the plantation owners, who used their influence to have a Law passed, prohibiting Christian teaching and preaching on slave plantations...
And it was in the face of such repressive legislation and hostility that the Jamaican Baptists wrote to the Baptist Missionary Society in England, asking for their support in building chapels and providing education on the island.  And so it was in February, 1814, that Englishman John Rowe and his wife answered that call, and arrived in Jamaica's Montego Bay.
The Reverend Lynn Green, takes our story onwards...
REVD LYNN GREEN
GENERAL SECRETARY
BAPTIST UNION OF GREAT BRITAIN
In the years that followed, the quest for justice for enslaved Africans in Jamaica was taken up by successive Baptist missionaries and Abolitionists who supported the Jamaican national hero, Baptist Deacon Samuel Sharpe.  They - black slaves and a few white missionaries together - rallied thousands to challenge the evils of slavery through what is now described as the 'Jamaican Baptist War' slave rebellion of 1831.

Sam Sharpe was a convert to the Baptist Church.  Records of his sermons are few, but a Methodist minister stationed in Jamaica at the time, interviewed Sharp in prison after the slave rebellion…
DELEYAN SMITH
I had much conversation with him whilst he was in confinement; and found him certainly the most intelligent and remarkable slave I have ever met with.
He thought that he learnt from his Bible that the whites had no more right to hold black people in slavery, than the black people had to make the white people slaves and, for his own part, he would rather die than live in slavery.
REVD LYNN GREEN
Sharpe was a sound interpreter of the scriptures, and established himself as a pastor.  Sharpe's perspective was unique in that he understood the scriptures from within slavery. He interpreted the Bible to argue that no one can serve two masters and, therefore, an enslaved person should only have God as master.
Sharpe's last words make reference to the crucifixion of Christ:
REVD PATRICK ADETUWO
'I depend for salvation upon the Redeemer, who shed his blood upon Calvary for sinners'.
REVD LYNN GREEN
Sam Sharpe was executed for his role in the rebellion and never lived to taste the freedom his protests contributed to winning - the eventual abolition of slavery across the British Empire.  But lest we forget, throughout this painful experience Jesus held the hands of the enslaved and the free alike, and so, we sing our next hymn – Blessed Jesus Hold My Hand.
MUSIC 2 – HYMN - BLESSED JESUS HOLD MY HAND

EBONY SCOTT
Let us pray.
God of justice and hope:
We are grateful to you that from the horrors of the transatlantic slave trade and over the course of two centuries Jamaican and British Baptists together have worked towards justice.  We thank you for the positive legacy passed down to us by Sam Sharpe, George Lyle, and John Rowe – and for those who have forged a partnership rooted in mission with the establishment of a Baptist theological college and a school for boys, Calabar High School, whose education has been so influential on those who have developed the Christian faith in Jamaica and beyond.
And so we give you thanks for the goodness of your wonderful provision. In Christ's name we pray.
ALL: AMEN
Calabar College was founded in 1842, and the High School in 1912, sponsored jointly by the Jamaica Baptist Union and the Baptist Missionary Society. The College has influenced Jamaican theologians over the years, including the Baptist World Alliance's first ever Jamaican General Secretary, The Revd Dr Neville Callam, who recorded our first reading for us:
REVD NEVILLE CALLAM
GENERAL SECRETARY
BAPTIST WORLD
PRE-REC - OLD TESTAMENT READING - AMOS 5:18-24 (NIV)
Good morning – as General Secretary of the Baptist World Alliance, and a son of Jamaica myself, on this day of celebration, I extend to you the greetings of the whole Baptist family worldwide.
Our Old Testament reading is from Amos chapter 5 beginning at verse 18. It is a reminder that God cares passionately about justice more than the performance of religious rituals:
Woe to you who long for the day of the Lord!  Why do you long for the day of the Lord? That day will be darkness, not light. It will be as though a man fled from a lion only to meet a bear, as though he entered his house and rested his hand on the wall only to have a snake bite him. Will not the day of the Lord be darkness, not light – pitch-dark, without a ray of brightness? 'I hate, I despise your religious festivals; your assemblies are a stench to me.
Even though you bring me burnt offerings and grain offerings, I will not accept them. Though you bring choice fellowship offerings, I will have no regard for them. Away with the noise of your songs! I will not listen to the music of your harps.
But let justice roll on like a river, righteousness like a never-failing stream!
The word of the Lord,
ALL: THANKS BE TO GOD
REVD PATRICK ADETUWO
That sense of justice flowing like a river is contained in our next contribution to worship from Birmingham's own, award-winning Town Hall Gospel Choir.  This is a medley of "water spirituals," arranged by our conductor, Colin Anderson, which at its heart captures the sense of travelling onwards with God.
MUSIC 3 – CHOIR – WATER SPIRITUALS MEDLEY:

REVD LYNN GREEN
'Let no one be a stranger.' The historical narrative reflecting our 200 year relationship is indeed captured in words like 'travel' and 'journey'.  For, in a dramatic reversal of mission flow, many people from the Caribbean were invited to Britain during the 1950's and 1960's to help rebuild the country following World War II.  Many of them were Baptists and too many of them were vilified and rejected because of the colour of their skin, and were treated as strangers. 
So many of these expatriates from the Caribbean, and their descendants, have gone on to make significant contributions to British life - helping to build genuinely multicultural communities.  The church we're in this morning, Cannon Street Memorial Baptist Church, is one such example.  This is a church that rightly prides itself on 'no one being a stranger' - the doorway into the building bears that very message.  Yet, sadly in church and out of church strangers are plentiful.
 
Our prayers of intercession are led by Mark Craig, Director of Communications for the Baptist Missionary Society, in whose name John Rowe went to Jamaica 200 years ago.
MARK CRAIG
COMMUNICATIONS DIRECTOR
BAPTIST MISSIONARY SOCIETY
Let us Pray
Loving God,
You show yourself in those who are vulnerable, and make your home with the poor and weak of this world.  This morning we pray for the people of West Africa, for those grieving the loss of friends and family to the Ebola virus, for the sick whose lives hang in the balance, and for medical personnel and carers treating them.  [Lord, in the midst of despair, let there be hope found to bring this outbreak to an end.  Let the compassion and concern of the global community result in action that will halt the spread of Ebola.] In Christ's name we pray…
ALL: AMEN
Loving God
We turn our hearts and minds towards the Middle East, and we cry out for an end to the warfare and bloodshed that has destroyed the hopes of generations. Stay the hand of those who would do evil.  Strengthen the men and women of peace that they might find a blueprint for a better future.
In Christ's name we pray…
ALL: AMEN
Loving God,
Inspire us to challenge injustice wherever it is found. May we your redeemed people be united in conquering the exploitation of all those who for reasons of gender, sexuality, race or disability, find themselves defined as strangers.
In Christ's name we pray…
ALL: AMEN
[Loving God,
You have created us different sizes, shapes and colours.  Help us to live with diversity in new and transforming ways.  Give us the courage to listen to each other's stories and build communities of wholeness and peace throughout the world - where no one is a stranger - where our Saviour Jesus would be content to live.
In Christ's name we pray…
ALL: AMEN]
REVD PATRICK ADETUWO
God is our Father – and our friend – so we pray together the words he taught us:
ALL:
Our Father who art in Heaven
Hallowed be thy name
Thy Kingdom come
Thy will be done on earth as it is in Heaven
Give us this day our daily bread
And forgive us our trespasses
As we forgive those who trespass against us
And lead us not into temptation
But deliver us from evil
For thine is the kingdom, the power and the glory, for ever and ever. 
AMEN.
MUSIC 4 - HYMN – WHAT A FRIEND WE HAVE IN JESUS

REV PATRICK ADETUWO
Now members of our congregation are going to read from Chapter 25 of St Matthew's Gospel in English AND in Jamaican Patois...
JANETTE MURDOCK
NEW TESTAMENT READING
(Patois):
Matyu 25 :35 -40
35 Kaaz mi di onggri an unu gi mi fuud. Mi chuot did jrai an umu gi mi sitn fi jringk. Unu neehn nuo mi an unu tek mi iin siem wie.
36.Mi neehn av aan no kluoz an unu gi mi kluoz fi put aan. Mi did sil an unu tek kier a mi. Mi did de iina prizn an unu kom luk fi mi
TYRONE WALLACE
For I was hungry and you gave me something to eat, I was thirsty and you gave me something to drink, I was a stranger and you invited me in, I needed clothes and you clothed me, I was sick and you looked after me, I was in prison and you came to visit me.'
JANETTE MURDOCK (Patois):
37 Den di piipl dem we du rait iina Gad yai a-go ansa bak se, ëLaad, a wen wi did si yu onggri an fiid yu,ar a wen fi yu chuot weehn jrai an wi gi yu sit fi jringk?
38 A wen si yu, no nuo yu, an weehn tek yu iina wi ous?
39 A wen wi weehn si yu sik sa, ar a wen yu did iina prizn an wi did kom kom luk fi yu?
40 ìAn di king a-go ansa bak, ëMi tel unu dis,an a chuu mi a taak, di taim dem wen unu weehn du dem sitn de fi wan a mi breda an sista dem we piipl se no wot notn, a laik se a mi unu did dwiíitfaí
TYRONE WALLACE (English):
Then the righteous will answer him, 'Lord, when did we see you hungry and feed you, or thirsty and give you something to drink? When did we see you a stranger and invite you in, or needing clothes and clothe you?  When did we see you sick or in prison and go to visit you?'  "The King will reply, 'Truly, I tell you, whatever you did for one of the least of these brothers and sisters of mine, you did it for me.'
REV'D PATRICK ADETUWO
The essence of any friendship is trust: trust in one another and trust in God – and our sense of trusting in God together over two centuries is reflected in our next piece from the Town Hall Gospel Choir - by Richard Smallwood.
MUSIC 5 - CHOIR PERFORMANCE – TRUST ME
REV'D PATRICK ADETUWO
We're now delighted to introduce the Revd Karl Johnson, General Secretary of the Jamaica Baptist Union, who on a recent visit here recorded this morning's message for us.
REV'D KARL JOHNSON
GENERAL SECRETARY
JAMAICA BAP TIST UNION
PRE-REC'D MESSAGE – LET NO-ONE BE A STRANGER – PART 1
Ours is the generation gifted with the opportunity and privilege to mark a milestone we dare not forget…a milestone which tells a story of strangers becoming friends.  It's a story with elements of evil and good; bondage and liberation; dehumanization and resilience; initiative and partnership interwoven throughout. 
The elements, when viewed together, ultimately make it more than just a story of the triumph of the human spirit over adversity of the most challenging and devastating nature, but make it a God Story!!
And that's what we are celebrating today…we are celebrating the effective intervention of God in Christ by the Holy Spirit into our human life and experience.
It is understandable to question the whereabouts of God's Justice when evil in all its destructive and debilitating manifestations is running unbridled; yes, it was understandable to express our shock and even disgust to God for seemingly not showing up when multiple thousands of Africans were herded across the Atlantic shackled as chattels as part of an enterprise the horror of which defies human description, and the effects of which remain with us to this very day.
Yet, it was out of the depth of such an expression of the wickedness of the human being that we detected initial signs of the finger of God emerging, raising up women and men of vision and purpose who would be in the forefront, challenging the powers to 'Let God's People Go…' We glimpsed God's activity in taking one George Liele, an African American who knew firsthand the experience of slavery, to Jamaica as a free man to proclaim the gospel…this Liele completed a full decade before the launching of the modern missionary movement…; we saw God's leading in moving the Baptist Missionary Society in responding to a 'Jamaican cry for partnership' in the arrival of John Rowe in 1814; we marveled at how God empowered persons such as Samuel Sharpe, burdened down by the despotic system of slavery, to become agents of liberation.
As people of faith we find that there is much to learn from the experience of the biblical community of Israel at the time when they too were a people in bondage and strangers in a foreign land. The first verse in the fifth chapter of Exodus states "…Moses and Aaron went to Pharaoh and said, 'this is what the Lord, the God of Israel says, 'let my people go that they may hold a festival to me in the desert'"
It was God's intention then and now that no one would be robbed of their sense of self and personhood and God is prepared to equip messengers to challenge those in positions of authority to release God's people. 
That is a continuing journey because today in many parts and pockets of the world people are still being treated as strangers: devalued and denigrated by others, by systems, by policies grounded in self-interest and self-centredness. Too many modern day slave enclaves and oppressive tyrants, also called 'backra massas' (in Patois), are 'strutting their stuff' today with the assistance of well-oiled Public Relations machineries that seek to sanitize and even canonize them. In actuality, they are nothing but wolves in sheep's clothing and we have a duty to stand up to them and say 'Let God's people go'...
Let us in our respective spheres and spaces stand up against the dehumanization of any person, irrespective of who they are or their station in life. In a world where the pace has become so hectic that we tend to have eyes and ears only for ourselves, I appeal to us to lift our sights beyond ourselves to those who still go hungry, unvisited, unwelcomed: to the many still being treated with disregard and become a voice for them.  And when we speak up for what is right, Christ himself speaks, and He is listening…
[Straight into music…]
MUSIC 6 – HYMN -  I MUST TELL JESUS
REV'D KARL JO HNSON
PRE-REC'D MESSAGE – LET NO-ONE BE A STRANGER – PART 2
God's vision for us is the same as that which God had for the ancient people of Israel…God wanted to take them from Servitude to Selfhood. The sovereign Lord had a New Reality in store for them and that template is available and relevant for the 21st Century.
It is instructive that God describes the community as 'MY' People…! In so doing God is giving them a new and different Self-Understanding! In that description God is giving them a new identity, visibility and the dignity of which they were robbed.
God invites us, as God invited them, on a journey of self-discovery and self-affirmation. We belong to God…we have status in God…we have a present in God…we have a future in God! Our humanness is not dependent on being accepted or acknowledged by others. It is rooted in God - in Jesus Christ!
That is one of the points made by the New Testament  reading. "I was hungry and you gave me something to eat, I was thirsty and you gave me something to drink, I was a stranger and you invited me in." Our standing in Christ will reflect in many ways how we relate to those who can hardly stand…the weak and marginalized; the least among us; the stranger in our midst. The Gospel challenges us that space must be made for all around God's table and in God's place because all are 'God's People'!
There are many challenges in so doing but we cannot shirk from that mission. It may mean decreasing our space so that someone else may have a place but we have no choice but to do so; we may have to confront deeply entrenched beliefs and practices but we have no choice but do so.
Ours is the calling to offer a model of this New Reality where No One is a Stranger and all realize and experience what it means to Belong!
Amen!
REV'D PATRICK ADETUWO
Thank you to Karl…
'Let no one be a stranger' has been the guiding principle of the two centuries old relationship between Jamaican and British Baptists.
We at Cannon Street Memorial Baptist Church hope and pray that this theme will be a value that is deeply imbedded in our world at large. … Let no one be a stranger. 
ALL: AMEN!
MUSIC 7 – CHOIR & CONGREGATION – JAMAICAN CHORUSES MEDLEY (UNTIL RADIO 4 OUT)