Main content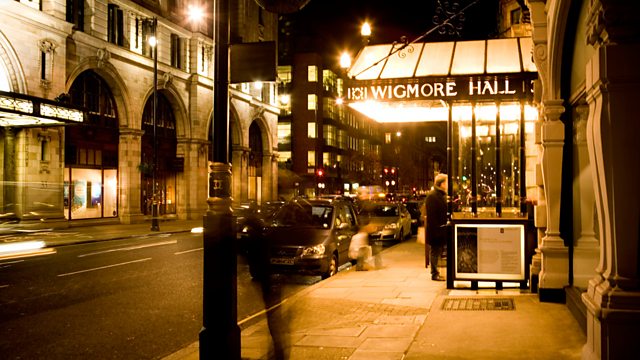 The Prince Consort
Live from the Wigmore Hall, London, The Prince Consort performs ensemble songs by Schumann, including excerpts from Spanisches Liederspiel and Myrthen Lieder-Album fur die Jugend.
Live from Wigmore Hall, London
Presented by Martin Handley
The Prince Consort returns to the music of the composer with whom they made their debut recital in 2003 - Robert Schumann.
Robert Schumann:
Songs from "Spanisches Liederspiel" (op 74):
Erste Begegnung
Intermezzo
Liebesgram
In der Nacht
Es ist verraten
Melancholie
Geständnis
Botschaft
Ich bin geliebt
Songs from "Myrthen" (op 25):
Widmung
Jemand
Hochländers Abschied
Zwei Venetianische Lieder I
Zwei Venetianische Lieder II
Du bist wie eine Blume
Aus den östlichen Rosen
Zum Schluß
8.15 A selection of the many works composed by Robert Schumann for one of the more curious novelties of the musical instrument world - the pedal piano.
8.35pm:
Songs from "Lieder-Album fur die Jugend" (op 79):
Er ist's
Spinnelied
Schneeglöckchen
Lied Lynceus des Türmers
Songs from "Minnespiel" (op 101):
Meine Töne still und heiter
Ich bin dein Baum
O Freund, mein Schirm, mein Schutz!
So wahr die Sonne scheinet
Spanische Liebeslieder (op 138)
Since pianist Alisdair Hogarth founded The Prince Consort in 2003 this group of young singers has gone from strength to strength - exploring both the farther reaches of the 19th-century ensemble song repertoire and commissioning new works for voices. In tonight's concert they return to a composer for whom they have a special affection - Robert Schumann - with a fascinating cross-section of his music for voices - including his rarely-heard Spanish Love Songs of 1849.
The Prince Consort:
Anna Leese (soprano)
Jennifer Johnston (mezzo-soprano)
Andrew Staples (tenor)
Philip Smith (baritone)
Alisdair Hogarth (artistic director, piano)
Malcolm Martineau (piano).
Richard Wigmore compares recordings of Schumann's Op. 25 song cycle, Myrthen.