Main content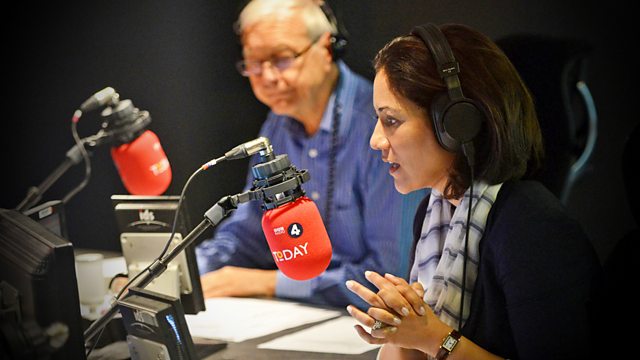 13/11/2014
Morning news and current affairs. Including Sports Desk, Weather and Thought for the Day.
Today's Running Order
Subject to change.
0630
Our Correspondent Kevin Connolly has been to the Golan Heights where a line of separation divides Syria from Israeli-occupied territory to see what the future looks like from there.
0635
The doctor who's been accused of botching sterilisation operations in India and causing the deaths of thirteen women has been arrested. Yogita Limaye reports.
0645
The Government is sending taxpayers a breakdown of taxes by each spending department so they can see where their money goes in any one year. But if you look at the amount of help we get from the state over our entire lives, how different a picture might we have? We hear from John Hills, author of Good Times, Bad Times.
0710
Ed Miliband will give a speech this morning saying he will fight the general election on Labour's "core belief" that "Britain should work for the many, not for the privileged few." We hear from Andy Burnham, the shadow health secretary
0715
Scientists at the European Space Agency are facing an anxious wait to verify that the probe which landed on a comet has stayed in place. Rebecca Morelle reports.
0720
Qatar will be cleared of corruption and wrongdoing in its winning bid to host the 2022 World Cup in a report out this morning. We hear from BBC sports editor Dan Roan.
0730
How should people organise their financial lives? We hear from Sir Hector Sants, the former Barclays bankers and head of the Financial Services Authority who is now working for the Archbishop of Canterbury on credit and debt issues.
0740
Charities have expressed concern about changes to the Cancer Drugs Fund in England. The fund provides treatment which wouldn't routinely be available to thousands of patients -- but NHS England, which runs it, says starting to assess the cost of different drugs provided by the fund is necessary to make sure the fund remains affordable. We hear from Sean Duffy, National Clinical Director of Cancer, NHS England.
0750
Last night's Panorama programme The Fake Sheikh Exposed revealed the face of the undercover journalist Mahzer Mahmood for the first time on television. We hear from Vera Baired, former solicitor general (and now Police and Crime Commissioner) for Northumbria.
0810
In an interview with Mishal, a Hezbollah leader blamed IS for killing more Muslims than its long-time foe Israel. Mohammed Fneish called for the conflict in Syria to be ended through dialogue rather than the use of force. The interview is part of the BBC News Syria Days.
0820
Scientists at the European Space Agency are facing an anxious wait to verify that the probe which landed on a comet has stayed in place. We hear from Andy Fabian, director of the Institute of Astronomy at Cambridge University, former president of the Royal Astronomical Society.
0835
Lutfur Rahman has vowed to stay in the job as Mayor of Tower Hamlets despite widespread criticism. Zoe Conway reports.
0850
Today is the 40th anniversary of the first McDonalds restaurant opening in Britain. We hear from Bee Wilson, food writer and columnist for the Sunday Telegraph and William Sitwell, judge on Master Chef: The Professionals.