Main content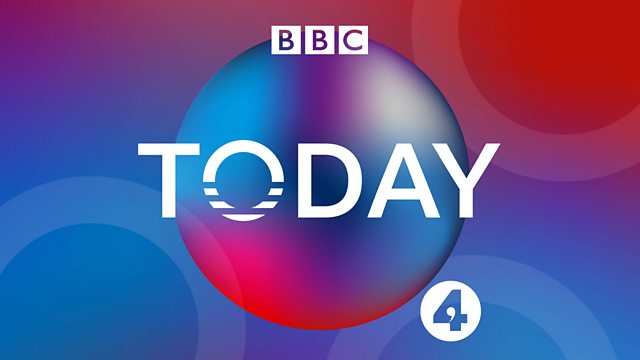 25/10/2014
Morning news and current affairs. Including Yesterday in Parliament, Sports Desk, Thought for the Day and Weather.
Last on
Clips

Today's running order
0709
The governors of New Jersey and New York say they will forcibly quarantine travellers who've had contact with infected, or possibly infected patients in West Africa, including doctors. BBC North America correspondent Aleem Maqbool provides analysis. 
0712
The Paper review. 
0714
Yesterday in Parliament.
0718
On Thursday's programme, the Chief Executive of NHS England Simon Stevens, defended the privatisation of services as a way of helping patients get treatment, while insisting that most work would stay within the National Health Service. So what is the reality behind claims about privatisation of health services? We hear from Nigel Edwards, Chief Executive of the Nuffield Trust and Paul Evans, Director at NHS Support Federation. 
0731
EU finance ministers have agreed to the UK's request for emergency talks about the £1.7bn being demanded by the European Union as a top-up payment. Bill Cash MP is Chairman of the European Scrutiny Committee and Alexander Graf Lambsdorff is MEP from Free Democratic Party of Germany and Vice- President of the European Parliament.
0741
Sir Antony Sher, one of Britain's leading Shakespearean actors, is on tour as Falstaff with the Royal Shakespeare Company at the moment. He is writing a book about playing one of Shakespeare's most memorable characters. BBC correspondent Nick Higham reports.
0747
Thought for the Day.
0749
Johann Lamont has quit as leader of the Scottish Labour Party after accusing the UK party leadership of treating Scotland as a "branch office". James Naughtie speaks to Henry McLeish, former Scottish First Minister.
0810
The governors of New Jersey and New York say they will forcibly quarantine travellers who've had contact with infected, or possibly infected patients in West Africa, including doctors. We hear from Dr Amash Adalja, from the Infectious Disease Society of America and Yvonne Aki Sawyer, from the Sierra Leone War Trust for Children, which recruits volunteers to go to West Africa.
0815
More will be announced about the second phase of the HS2 railway project, but the Bill which sets out the powers needed to build and operate the first phase of HS2 is still going through Parliament, and people living along the proposed route between London and the West Midlands have filed some two thousand official complaints with a Parliamentary committee. Our reporter Zoe Conway has been to meet two groups who've submitted complaints.
0821
As the centenary of one of Wales's favourite poets Dylan Thomas approaches, one man has made it his mission to put Under the Milkwood at the centre of annual event by hosting a supper night - just like the Scots do with Burns night. So could a Dylan Thomas night catch on? Graham Parker, journalist and Custodian of Dylan Night, and Dr Non Vaughan-O'Hagan, Chief Executive of the London Welsh Centre discuss.
0830
David Cameron has insisted the UK will not pay £1.7bn being demanded by the European Union, but Commission President Jose Manuel Barroso has said the demand should "not have come as a surprise" to the UK. Baron Rodger Liddle, Pro Vice Chancellor of Lancaster University and a former Special Adviser to Tony Blair and President of the European Commission, José Manuel Barroso,and Sir Malcolm Rifkind, Former Foreign Secretary discuss.
0846
Hundreds of NHS staff have now volunteered to travel to west Africa and help those affected by ebola but little is really understood of the reality of their experience. One volunteer, Dr Geraldine O'Hara, an infectious diseases specialist from Huddersfield, has recorded a series of audio diaries while she is in Sierra Leone.
0849
An area of ancient woodland near Tamworth, Staffordshire, cited in the Domesday Book is being threatened with destruction for the estimated 9 million tonnes of sand and gravel underneath it. The Woodland Trust says it's the largest threat to a single ancient woodland site in England that the charity has seen in its 42-year history. Austin Brady, Director of Conservation for the Woodland Trust explains the organization's concerns.
0849
As ebooks become more popular, are we seeing the end of second hand physical books which are annotated with personal stories - tales of triumphs, disasters and intimacies which go back decades - and does it matter? Josh Spero, Editor of Spear's Magazine and author of Second Hand Stories, and Erica Wagner, author and former Literary Editor of The Times, discuss.
All subject to change.
Broadcast