Main content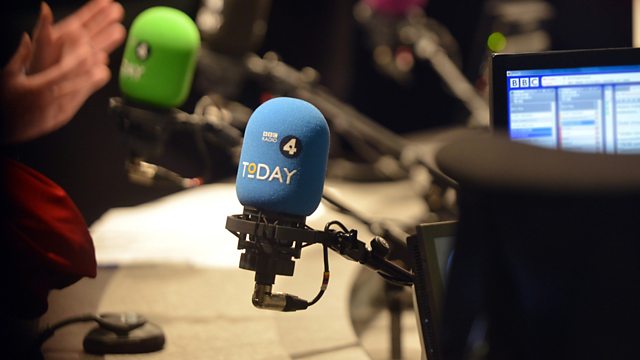 07/11/2014
Morning news and current affairs. Including Sports Desk, Yesterday in Parliament, Weather and Thought for the Day.
Today's Running Order
Subject to change.
0630
The Times this morning suggests that the two leading candidates to replace Ed Milliband should he go 'are said to have spoken about' a post Miliband future. Norman Smith reports.
0634
The director of public prosecutions is under a lot of pressure to explain why a young woman suffering from depression was prosecuted. She killed herself just before her trial was due to start. June Kelly reports.
0638
People who were sexually abused as children are going to meet the panel of experts who run the public enquiry into historical cases for the first time since Fiona Wolf resigned as its chair. Tom Bateman reports.
0640
A man from south Wales -- who died after being stunned by a police taser -- is believed to have been caught in an act of cannibalism. Hywel Griffiths reports.
0650
Britain's disputed £1.7 billion pound European Union contribution will be discussed when EU finance ministers, including the Chancellor George Osborne meet in Brussels today.
0710
It's exactly six months to go until the General Election and things aren't looking good for Ed Miliband. The Labour leader was forced to dismiss reports yesterday that there is growing unrest in the party ranks over his leadership and he called the claims "nonsense". We hear from Mehdi Massan, the UK Political Editor of the Huffington Post and has co-written a biography of Ed Miliband, and Lord Soley, the former chair of the parliamentary Labour Party.
0715
Official documents have revealed that the security and intelligence services have policies allowing staff to access legally privileged communications between lawyers and their clients. We hear from Lord Macdonald, former director of Public Prosecutions and Lib Dem peer.
0720
Police in Nottingham say burglars are raiding houses where cannabis is being grown, as there is a good profit in selling it. Sima Kotecha reports.
0730
The director of public prosecutions is under a lot of pressure to explain why a young woman suffering from depression was prosecuted. We hear from her father, David De Freitas.
0740
Drosophila melanogaster, better known as the common fruit fly has been increasing in numbers. We hear from entomologist Dr Michelle Fountain.
0750
The Prime Minister, David Cameron, has insisted the UK will not pay "anything like" surcharge the European commission has asked to be paid by 1 December. We hear from our political editor Nick Robinson and Ken Clarke MP former Chancellor of the Exchequer.
0810
Some backbenchers have told the chairman of the parliamentary party that Mr Miliband should stand down. We hear from our assistant political editor Norman Smith, and Peter Hain, former Cabinet Minister.
0820
It's 25 years since the Berlin Wall came down. This Sunday there'll be big celebrations in Berlin. Steve Rosenberg reports.
0830
A century on from the First World War a study in the Lancet suggests that in one area of the treatment of people who get injured we have made little progress. Charlie Streather was injured while serving in the army in 1979 and had his left leg amputated below the knee, and Dr Emily Mayhew is a Military medical historian at Imperial College and co-author of the report.
0835
A leading climatologist and earth scientist has told the BBC that there's a direct link between deforestation in the Amazon and a drought affecting Brazil's biggest city. Wyre Davies reports.
0840
Today is the 50th anniversary of the first public information film about Drink Driving. New research from THINK! - the road safety campaign run by the Department for Transport - shows how much attitudes have changed to drink- driving in the last half century. We hear from Shaun Helman, head of transport psychology at the Transport Research Laboratory.
0850
At its St George's Park Training Centre, the FA has just opened a bespoke facility for footballers who can't - or who can only barely - see. Rob Bonnet reports