Main content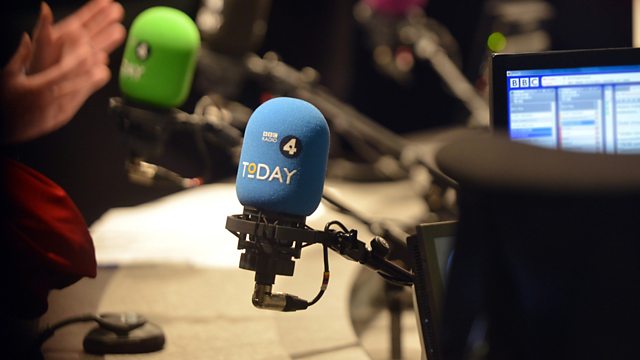 06/11/2014
Morning news and current affairs. Including Sports Desk, Yesterday in Parliament, Weather and Thought for the Day.
Last on
Today's running order
Subject to change.
0630
Britain's new European commissioner, Lord Hill, has said Britain should stay calm over the demand from Brussels for another £1.7bn. He gave us his first broadcast interview yesterday since he took over the job.
0635
The India summit of the World Economic Forum is underway in the country's capital Delhi and the BBC's Yogita Limaye has been there to interview the country's finance minister, Arun Jaitley.
0638
Experts are calling for national rollback targets on antibiotic prescribing to halt the rise in resistance to the drugs which has been described as "one of the major health challenges of our age". Tom Feilden reports.
0650
A chemical responsible for the fruity smell in strawberries, apples, grapes and other fruits could protect vital organs from long-term damage following a heart attack or stroke, according to new research in mice. We hear from Dr Michael Murphy, co-author of research paper from the Medical Research Council Mitochondrial Biology Unit.
0655
Lutfur Rahman, and he's being called on to resign after a damning report this week by auditors into the way he runs the Tower Hamlets council. Zoe Conway reports.
0710
Doctors across the UK could save the NHS £2bn a year by eliminating waste, and have an ethical duty to do so, according to a report from the Academy of Medical Royal Colleges. We hear from Professor Terence Stephenson.
0715
Correspondent Mark Lowen travelled to the Turkish province of Hatay to meet a youngster hoping to become a child soldier for Islamic State.
0720
New technology to help blind and visually impaired people navigate their way around cities has been tested in this country for the first time. Rory Cellan-Jones reports.
0730
The Deputy Prime Minister Nick Clegg will call today for a huge programme of transport improvements in the North of England to begin as soon as possible. We hear from the Deputy Prime Minister himself.
0743
The greatest album that Bob Dylan did not make -- has now been made. The full tape of a set of recordings made in a basement in upstate New York in 1967. We hear from Garth Hudson who played in the band.
0750
We hear from Jayne Lawrence Chief Scientist of the Royal Pharmaceutical Society on the antibiotics problem (outlined in 0638).
0810
Lord Hill is giving his first speech today as Britain's new commissioner in Brussels. Lord Hill interview.
0820
Millions of children have grown up with picture books written and illustrated by Richard Scarry. By the time he died in 1994 he had sold more than a 100 million copies around the world. The designer Sir Paul Smith is creating a new cover for one his books, Cars and Trucks and Things that Go.
0835
The Head of Family Justice Sir James Munby has accused the government of "washing its hands" of the problem that it has created by cutting funds for legal aid for vulnerable parents in child custody cases. We hear from BBC Legal Affairs correspondent, and Rebecca Stevens, a solicitor from Withy King.
0840
Senegal: the West African state counts twice as many cows than the UK and yet its milk production remains extremely low. Our West Africa correspondent, Thomas Fessy, reports from northern Senegal.
0845
The lack of social mobility in the UK is often identified as a big problem. But according to a new research from Oxford University, there is plenty of social movement - it is just that more of it is downwards than we had realised. We hear from Professor John Goldthorpe, a sociologist from Oxford University and co-author of the study.
0850
The 'English question' is at the front of our minds and we still seem to be grappling with what being English really means. We hear from Robert Tombs, Professor of History at Cambridge University and author of The English and their History.
Broadcast