Main content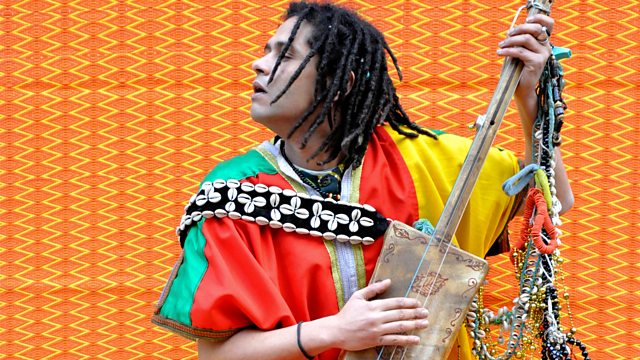 Lopa Kothari - Simo Lagnawi in Session
Lopa Kothari presents new music from around the world and a live studio session from Moroccan gnawa player Simo Lagnawi.
Lopa Kothari presents new tracks from across the globe, and Moroccan Gnawa master Simo Lagnawi plays a live session.
With his band including Samir Nacer, Said Boussaod, Abdelmajid Shili and Griselda Sanderson, singer and guembri player Simo Lagnawi brings the mystical music of the Gnawa to the World on 3 studio. The Gnawa music of Morocco is seen as powerful music for healing, a hypnotic music intended to induce deep trances and a spiritual high. After becoming a Gnawa master in Morocco, Simo moved to London, and has released two albums here. He has been nominated for Best Newcomer as well as Best Artist in the 2014 Songlines Awards.
Programme iPlayer picture by Hassan Hajjaj.
Last on
Music Played
Da Lata

NYJ (feat..Diabel Cissokho)

Da Lata

Unknown (feat..Mayra Andrade)

Jean Emilien

Toliara

Feedback Madagaskar.
ARC Music.

The Fiddletree

Howie Paul's

The Unfathomable Menagerie.
www.fiddletree.com.

Fofoulah

Make Good (feat. Batch Gueye)

Fofoulah.
Glitterbeat.
3.

Katriona Gilmore

Trojan Tree

Songs for the Voiceless.
Haystack Records.
2.

Hillstomp

Henry O My Henry

Strange and Dangerous Times – New American Roots Real Music for the 21st Century.
Trikont.
12.

Malouma

Knou

Knou.
Turn Again Music.
9.

Martir Luali / El Uali

Ejercito de Liberacion

Polisario Vencara – Sahrauis.

Martir Luali / El Uali

Lucha de Masas

Polisario Vencara – Sahrauis.
3.

Namvula

Na Ndayaya (Parts 1 and 2)

Rossy

Madagaskara

Feedback Madagascar.
ARC Music.
1.

Shazalakazoo

Baklava Lover

The Global Beats Party vol.1.
Ayia Napa / ZYX Music.
2.

Ali Farka Touré

Diaraby

Talking Timbuktu.
World Circuit.
10.

Victor Paul & Claudine Langille

Sow 'em on the Mountain

You are my Flower.
CDBaby.
2.
Broadcast