Main content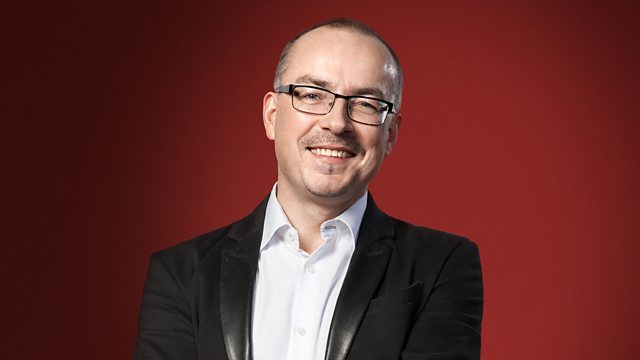 Live from the Free Thinking Festival
With Andrew McGregor. Including Building a Library: Chopin: Preludes, Op 28; recent releases of music by John Dowland; Andrew is joined by baritone Thomas Allen.
9.00am
Rossini: Overtures & Andante e tema con variazioni                                                                              ROSSINI: La scala di seta Overture; Il Signor Bruschino Overture; Il barbiere di Siviglia Overture; La Cenerentola Overture; Semiramide Overture; Le Siege de Corinthe Overture; Guillaume Tell Overture; Andante, e Tema con Variazioni per quattro strumenti a fiato
Carlo Tamponi (flute), Alessandro Carbonare (clarinet), Francesco Bossone (bassoon), Alessio Allegrini (horn), Orchestra Dell'Accademia Nazionale di Santa Cecilia, Antonio Pappano (conductor)
WARNER CLASSICS 2564624344 (CD)
Lang Lang: The Mozart Album
MOZART: Piano Concerto No. 24 in C minor, K491; Piano Concerto No. 17 in G major, K453; Piano Sonata No. 5 in G, K283; Piano Sonata No. 4 in E flat major K282; Piano Sonata No. 8 in A minor, K310; Rondo alla Turca from Piano Sonata No. 11, K331; Allegro in F major, K1c; March in C Major, K408; Klavierstuck in F, K33b
Lang Lang (piano)
Vienna Philharmonic, Nikolaus Harnoncourt (conductor),
SONY 88843082522 (2CD)
Martha Argerich & Daniel Barenboim: Piano Duos
MOZART: Sonata for 2 pianos in D major, K448
SCHUBERT: Variations in A flat major on a original theme, D813
STRAVINSKY: The Rite of Spring
Martha Argerich, Daniel Barenboim (piano duo)
DG 4793922 (CD)
BARRY, G: The Importance of Being Earnest
Barbara Hannigan (Cecily), Peter Tantsits (Jack Worthing), Joshua Bloom (Algernon), Katalin Karolyi (Gwendoline), Hilary Summers (Miss Prism), Alan Ewing (Lady Bracknell), Benjamin Bevan (Lane/Merriman), Joshua Hart (Dr Chasuble), BCMG, Thomas Ades (conductor)
NMC NMCD197 (CD)
Building a Library
Kenneth Hamilton joins Andrew live at Sage Gateshead to compare recordings of Chopin's 24 Preludes Op. 28 and makes a recommendation.
10.15am
Journey to Aldeburgh – Young Britten
BRIDGE arr. Britten: There is a Willow Grows Aslant a Brook
BRITTEN: Introduction and Allegro, for piano trio; The Moon, for violin and piano; Allegro, for piano; Suite for Violin and Pianoforte; Sinfonietta, Op. 1
Chamber Domaine, Thomas Kemp (conductor and violin)
RESONUS CLASSICS RES10139 (DOWNLOAD ONLY)
New Releases
Newcastle University lecturer Kirsten Gibson joins Andrew live at Sage Gateshead to discuss recent releases of renaissance composer John Dowland, including discs from John Holloway, Paul O'Dette and Iestyn Davies.
The Art of Melancholy
DOWLAND: Sorrow, stay; Come again, sweet love doth now invite; Go Crystal tears; Mrs Winter's Jump; I saw my Lady weepe; Flow my teares (Lacrimae); Can she excuse my wrongs? (First Booke of Songes, 1597); Behold a wonder here; Semper Dowland Semper Dolens; In darkness let me dwell; Time stands still; All ye, whom Love or Fortune hath betray'd; Say love if ever thou didst find; Lachrimae, or Seaven Teares; Come away, come, sweet love; Shall I strive with wordes to move?; Burst forth my tears; Fortune my foe; Come heavy sleep; Now, O now, I needs must part; Frog Galliard
Iestyn Davies (countertenor), Thomas Dunford (lute)
HYPERION CDA68007 (CD)
Pavans and Fantasies from the Age of Dowland
DOWLAND: Lachrimae, or Seaven Teares
JENKINS, J: Fantasy a 4 No. 12 in D
LAWES, W: Airs (2) for 4; Fantasy in C major for 5
LOCKE: The Broken Consort: Fantasy for 2 trebles and bass
MORLEY: Canzonets for two voyces: Lamento for 2
PURCELL: Fantasia Upon One Note in F major, Z745
John Holloway (violin, viola), Monika Baer (violin, Renate Steinmann (violin), Susanna Hefti (viola), Martin Zeller (bass violin)
ECM 4810430 (CD)
Mister Dowland's Midnight
DOWLAND: Mrs Winter's Jump; Lady Rich, her Galliard; Lord Strang's March; A Fancy; Queen Elizabeth, her Galliard; Preludium; Lachrimae Pavan, P. 15; Frog Galliard; My Lord Willoughby's Welcome Home; A Coy Joy; Melancholy Galliard; Tarleton's Riserrectione; What If A Day; Fortune; Lady Hunsdon's Puffe; Captain Digorie Pipers Galliard; The King of Denmark, His Galliard; Orlando Sleepeth; Round Battle Galliard; Sir John Smith, His Almain; The Shoemaker's Wife; Mrs Nichols' Almain; Mrs White's Nothing, P. 56; Awake, sweet love; Mr Dowland's Midnight
Christoph Denoth (guitar)
SIGNUM SIGCD382 (CD)
My favorite Dowland
DOWLAND: Lady Hunsdon's Puffe; The Shoemaker's Wife; La Mia Barbara; Sir John Smith, His Almain; A Fancy; Mr John Langton's Pavan; The King of Denmark, His Galliard; Frog Galliard; Lachrimae Pavan, P. 15; Galliard to Lachrimae; Fantasie P1a; Farewell (Fantasie No. 3); Forlorn Hope Fancy (Fantasie No. 2); The Earl of Essex's Galliard; A Coy Joy; Mrs Vaux's Jig, P. 57; Mrs Winter's Jump; Lady Clifton's Spirit; Walsingham; Preludium; A Fancy (Fantasie No. 5); Pavan; The most sacred Queene Elizabeth her Galliard; Semper Dowland Semper Dolens
Paul O'Dette (lute)
HARMONIA MUNDI HMU907515 (CD)
Interview: Thomas Allen
Andrew is joined live at Sage Gateshead by the acclaimed baritone Thomas Allen who earlier this year celebrated his 70th birthday and was awarded the Queen's Medal for music. Speaking within feet of the River Tyne, and in front of an audience in the foyer of Sage Gateshead, he talks to Andrew about his four-decade career in the recording studio.
MOZART: Le nozze di Figaro, K492
Lucia Popp (Susanna), Kiri Te Kanawa (Countess Almaviva), Frederica von Stade (Cherubino), Samuel Ramey (Figaro), Thomas Allen (Count Almaviva), Robert Tear (Basilio), Kurt Moll (Bartolo), Jane Berbie (Marcellina), Giorgio Tadeo (Antonio), Philip Langridge (Curzio), Yvonne Kenny (Barbarina), London Philharmonic Orchestra, Sir Georg Solti (conductor)
DECCA 4101502 (3CD)
Schubert: Winterreise, D911
Thomas Allen (baritone), Roger Vignoles (piano)
VIRGIN CLASSICS 724354507021
Mendelssohn Elijah
Yvonne Kenny, Anne Dawson (sopranos); Anne Sofie von Otter, Jean Rgby (contraltos); Anthony Rolfe Johnson, Kim Begley (tenors);  Thomas Allen (bass I, Elijah) John Connell (bass II), Jamie Hopkins (boy soprano); Academy of St Martin in the Fields; Academy of St Martin in the Fields Chorus; Laszlo Heltay (chorus master); John Birch (organ); Sir Neville Marriner (conductor)
PHILIPS 432984-2
More Songs my Father Taught Me
BALL, ERNEST: Mother Machree
BARRI: The Old Brigade
CLAY: I'll sing thee songs of Araby
COATES, E: I heard you singing; Star of God; The Green Hills o' Somerset
ELLIOTT, A: There's a long, long trail a-winding
HARDELOT: Because
HARRISON, A: In the Gloaming
HATTON: Simon the Cellarer
JACOBS-BOND: Just a-wearyin' for you; A Perfect Day
MOLLOY: Love's Old Sweet Song
MURRAY, A: Will you go with me?
SANDERSON, W: Friend o' mine; Time to go
SHELDON, G M: A Cradle Song
SOMERSET: Echo; A Song of Sleep
SQUIRE: Mountain Lovers
STERNDALE BENNETT: The Songs of Today
SULLIVAN, A: Orpheus with his Lute; Water o' Tyne; Down by the Salley Gardens; The Star of the County Down; She moved through the fair
WALLACE, W V: Yes! let me like a soldier fall
WOOD, HAYDN: Roses of Picardy
WOODFORDE-FINDEN: Kashmiri Song
Thomas Allen (baritone), Malcolm Martineau (piano)
HYPERION CDA67374 (CD mid-price)
TCHAIKOVSKY: Eugene Onegin
Thomas Allen (Eugene Onegin), Mirella Freni (Tatyana), Anne Sofie von Otter (Olga), Neil Shicoff (Lensky), Rosemary Lang (Larina), Ruthild Engert (Filipyevna), Paata Burchuladze (Gremin), Michel Senechal (Triquet), Gunther Emmerlich (Zaretzky), Jurgen Hartfiel (Captain), Staatskapelle Dresden, James Levine (conductor)
DG 4239592 (2CD)
Disc of the Week
Dohnanyi: Piano Quintets Nos. 1 & 2
DOHNANYI: Piano Quintet No. 1 in C minor Op. 1 (1895); Piano Quintet No. 2 in E flat minor Op. 26 (1914)
Gottlieb Wallisch (piano), Enso String Quartet
NAXOS 8570572 (CD budget)