Main content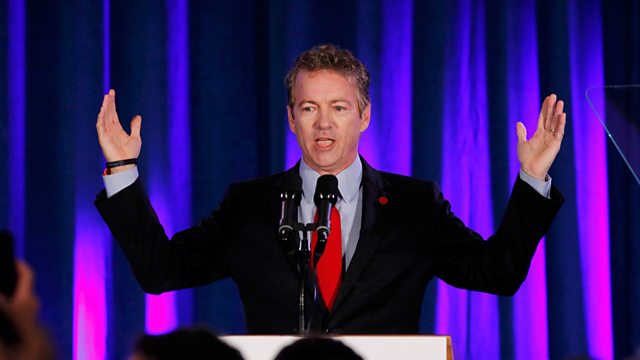 Rand Paul
Senator Rand Paul is a likely challenger to the White House in 2016. Mark Coles asks if the former eye doctor from Kentucky really is the most interesting man in US politics.
This week, with Republicans celebrating mid term election victories, Rand Paul - a Tea Party supporting ophthalmologist from Kentucky with only three years' experience in the Senate is fast emerging as one of the frontrunners to try to wrest the US Presidency back from the Democrats in 2016.
Rand is part of a political dynasty although hardly from the Republican Party establishment.
His father Ron - also a physician turned politician - ran as a Libertarian for the US Presidency twice on a platform championing free markets, small government and a ferocious determination to keep the state out of individuals lives. Rand shares many of his father's ideas but his challenge now is making them palatable to a majority of the Republican party and a majority of people in the country. Many ask if he could pose a serious threat to Hilary Clinton by greatly expanding the Republicans' appeal and reaching out to African Americans and young voters. Some praise Rand Paul for his unconventional yet pragmatic approach - TIME magazine recently called him "the most interesting man in US politics." But some see him as a wolf in sheep's clothing and a dangerous isolationist.
In this edition of Mark Coles asks who exactly is Rand Paul - the man who eschews small talk but embraces loud shirts and turtle neck sweaters?
Last on
Is President Obama's choice to head the CIA, John Brennan, the the right man for the job?
Broadcasts