Main content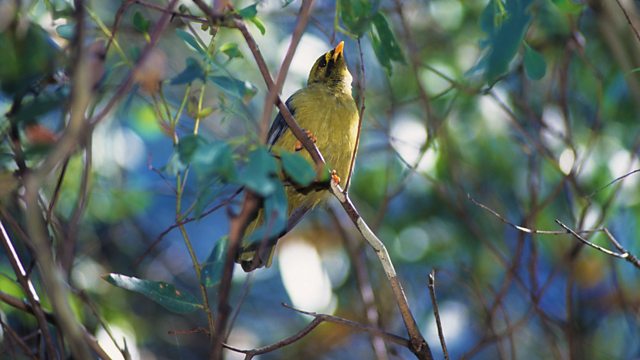 Bell Miner
Chris Packham presents the bell miner of eastern Australia.
Tweet of the Day is the voice of birds and our relationship with them, from around the world.
Chris Packham presents the bell miner of eastern Australia. The sound of a tiny hammer striking a musical anvil in a grove of gum trees signifies that bell miners are in search of sugar. More often heard than seen the bell miner is a smallish olive-green bird with a short yellow bill, with a small orange patch behind the eye. It belongs to a large family of birds known as honeyeaters because many have a sweet tooth and use their long bills to probe flowers for nectar. But the bell miner gets its sugar hit in other ways. Roving in sociable flocks, bell miners scour eucalyptus leaves for tiny bugs called psyllids who produce a protective waxy dome. Bell miners feed on these sweet tasting shelters. Some scientists suggest that Bell Miners actively farm these insects by avoiding over-exploiting of the psyllid colonies, allowing the insects numbers to recover before the birds' next visit. So dependent are they on these psyllids bugs that Bell Miners numbers can often fluctuate in association with any boom-and-bust changes in psyllid population.
Last on
Bell Miner (Manorina melanophrys)
Webpage image courtesy of Roland Seitre / naturepl.com
NPL Ref 01469773 © Roland Seitre / naturepl.com
Recording of bell miner by Cedar A Mathers-Winn / Ref: ML188942
This programme contains a wildtrack recording of the bell miner kindly provided by The Macaulay Library at the Cornell Lab of Ornithology; recorded by Cedar A Mathers-Winn on 4 Oct 2013, at Wivenhoe Lookout, Mt. Glorious, D'Aguilar National Park, Queensland, Australia.
Broadcasts

Podcast
Discover birds through their songs and calls. 265 programmes of 90 seconds, over a year