Main content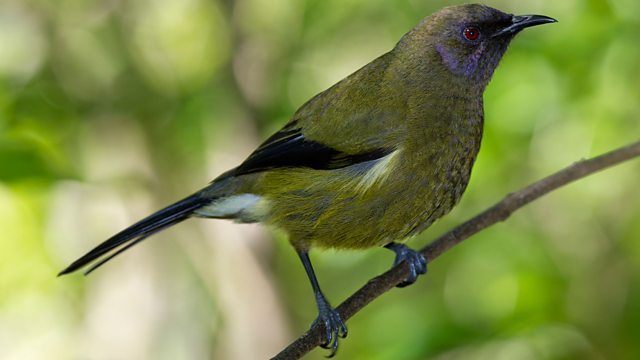 New Zealand Bellbird
Chris Packham presents the New Zealand bellbird.
Tweet of the Day is the voice of birds and our relationship with them, from around the world.
Chris Packham presents the New Zealand bellbird. In 1770, during Captain James Cook's first voyage to New Zealand, an extraordinary dawn chorus caught the attention of his crew "like small bells exquisitely tuned": these were New Zealand bellbirds. New Zealand bellbirds are olive green birds with curved black bills and brush-like tongues which they use to probe flowers for nectar. Like other honeyeaters , they play an important role in pollinating flowers and also eat the fruits which result from those pollinations and so help to spread the seeds. The well camouflaged bellbird is more often heard before it is seen. They sing throughout the day, but at their best at dawn or dusk when pairs duet or several birds chorus together. Their song can vary remarkably, and it is possible hear different 'accents' in different parts of New Zealand, even across relatively short distances.
New Zealand bellbird (Anthornis melanura)
Webpage image courtesy of Brent Stephenson / naturepl.com.
NPL Ref 01369363 © Brent Stephenson / naturepl.com
Recording of New Zealand bellbird by Matthew D Medler / Ref: ML1361111
This programme contains a wildtrack recording of the New Zealand bellbird kindly provided by The Macaulay Library at the Cornell Lab of Ornithology; recorded by Matthew D Medler on 12 Apr 2004, in Te Urewera National Park, Hawkes Bay, New Zealand.
Podcast
Discover birds through their songs and calls. 265 programmes of 90 seconds, over a year