Main content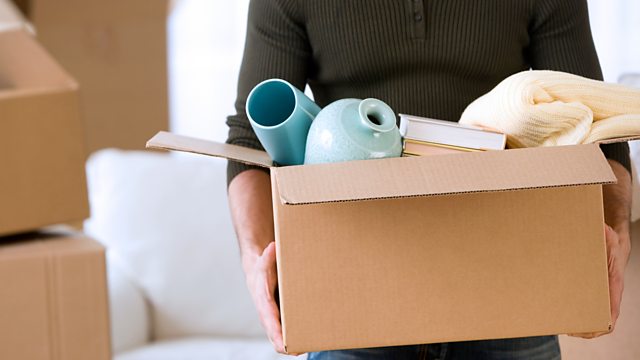 Rosie Millard follows two moving stories. Hannah and John hope a mill in the Yorkshire Dales will set them up for a new life, meanwhile Trudi contemplates sheltered accommodation.
In a brand new series aims to satisfy our fascination with moving, as Rosie Millard charts the progress of people across the UK as they take the plunge and look for a new home - whether out of necessity or just for a change.
Whether contemplating a mansion or a shoe-box, all her subjects have one thing in common - it's a jump into the unknown, somewhere where there is no network of friends waiting for them, no family and no preconceptions.
In the first programme we follow Hannah and John, cycling fanatics, who are hoping to buy a live/work space in a converted mill in the Yorkshire dales. It's a big step for them both as Hannah has always lived in the far South of England, and now contemplates a new life in the North, whilst John, Cumbrian born and bred has, like so many 30 somethings, still kept his room on at his parent's house. Most of the time he just lives out of a kit bag as he travels the world as a cycle guide, and he certainly never contemplated having a mortgage.
Trudi, meanwhile, is facing eviction for the second time in two years, as her run-down flat in Islington has dramatically turned into prime London real estate. "There was a two bed flat across the road went on the market for £770,000. It was sold in a week!"
The notice to quit has arrived, and as a wheelchair user she's facing life on the streets or in sheltered accommodation, something she's none too pleased to contemplate at the age of 55 - "It's like God's waiting room..."
But as Rosie finds out, things don't always turn out for the worst, or the best, in the moving business.
Producer: Sara Jane Hall.
More episodes
Previous
You are at the first episode