Main content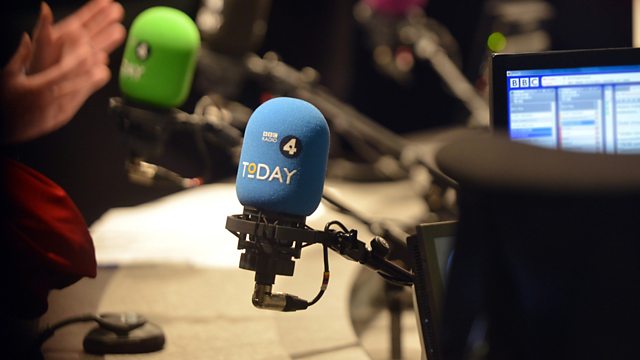 29/10/2014
Morning news and current affairs. Including Sports Desk, Yesterday in Parliament, Weather and Thought for the Day.
Last on
Clips

Today's running order
0632

Is the NHS breaking the military covenant which promises that all military personnel wounded in action will be taken care of for the rest of their lives? That's what two leading experts claim. Sima Kotecha reports. 
0638

A group of Kurdish fighters - peshmerga - have arrived in Turkey and are being allowed to go to the Syrian border town of Kobane - the place where fighters from so called Islamic State are threatening to take over the town. Other peshmerga forces are coming from Iraq. The BBC's Jim Muir is in Beirut.
0645
David Cameron has promised there will be a referendum on Europe if his party wins the election. And there's been an attempt to enshrine the referendum promise into law so whoever wins would have to hold one. But that's failed. Chris Mason is the BBC's political correspondent.
0649
A new dedicated cultural centre for gaming - intended to do for the British gaming scene what the BFI does for film - is to open next year in Nottingham, has just been announced. It's the first cultural centre in the world dedicated to video games. The centre would act as both a tourist and educational centre. Iain Simons, Director of GameCity which is opening the National Videogame Arcade.
0653
The risks and benefits of participating in screening programmes, for conditions or diseases like cancer, are not consistently communicated by either the NHS or private health care providers, according to a report from the Science and Technology Committee today. It is calling on the Government to ensure that a standardised process to produce screening information is introduced and that better communications training is provided to health care professionals. Dr Margaret McCartney is a Glasgow-based GP who gave evidence to the Science and Technology Committee.
0709
How should we treat those people who've fought for their country and been wounded in action? That's no longer a theoretical question. There is a covenant between the state and the military and it is enshrined in law. Has been for the past three years. And according to two leading experts in the field it is not being observed. MPs on the defence select committee will be producing their own report tomorrow on the treatment of veterans. Madeleine Moon is a Labour MP and member of the Defence Select Committee.
0713
Councils pay companies to look after people who need care - but are they turning a blind eye to the way the companies treat those carers? Fail to pay them the minimum wage? Fail, in particular, to pay them for the time they spend travelling from place to place - which of course is part of the job? Unison, the Union, is making the claim today that councils are not behaving properly. Zoe Conway has been speaking to a carer - who wishes to remain anonymous - who says that low pay is leading to poor care.
0716
An unmanned rocket bound for the International Space Station has exploded during its launch from the US state of Virginia. David Whitehouse, is the author and space scientist.
0720
Business news with Joe Lynam.
0723
Teenagers don't seem to do as much skate-boarding as they used to - is it beginning to fade away? But you still see an awful lot of ramps about. What you don't see is those purpose-built concrete constructions they used to build in parks all over the place in the seventies. In fact they're becoming so rare that one of them - built in 1978 - is actually being listed by English Heritage. John Maguire reports.
0732
Scotland gets a new first minister next month. Alex Salmond is packing it in and Nicola Sturgeon is taking over. And she's already making waves. She's making a speech tonight in which she'll say that if there's a referendum on our membership of the European Union and we vote to  leave that will not be the end of the matter. Her party, the SNP, will demand that each of the four nations that make up the UK will have to vote separately for it to happen. Nicola Sturgeon is Scottish First minister designate.
0741
For the first time in the fifty year history of the Disasters Emergency Committee -- there is going to be an appeal for us all to give money to help combat a disease. Ebola. A frightening moment in humanity's history. The charities that are part of the Committee will come together today and be given space by all the main broadcasters to make their appeal. We'll talk to the chief executive in a moment -- but first all this week we've been hearing from Dr Geraldine O'Hara - an NHS volunteer working in an Ebola treatment centre in Sierra Leone with Medecins San Frontieres. She's just over a week into her month-long stay and has recorded another audio diary. Saleh Saeed is Chief Executive of the Disasters Emergency Committee.
0751
We expect a lot from the people who care for elderly and disabled people in their homes. When the carer comes we want them to be efficient and kind and do the job properly. The union Unison is claiming today that they are often not in a position to do the job properly because they are paid under the national minimum wage - not officially, that would be illegal, but because of the weird complications surrounding the payment of time spent getting from job to job, house to house. David Pearson is President of the Association of Directors of Adult Social Services whose members make the contracts with care providers on behalf of councils. And Colin Angel is Policy and Campaigns Director, UK Homecare Association which is the professional association of home care providers.
0810
The war in Afghanistan was enormously expensive - not just in hard cash but, far more importantly, in lost lives: 453 dead. And many more were injured.  The Ministry of Defence has told us that since British forces started fighting there in 2001 nearly 13,000 personnel have been medically discharged. Many of them have lost arms and legs. Many will need help for the rest of their lives. And they're entitled to it. By law. The military covenant, enshrined in law three years ago, is a promise between the state and the armed forces that all those who have served  their country and have been injured will be given priority treatment. But now two senior figures in the field have made the disturbing claim that it is not happening. Sima Kotecha reports.
0820
Forgiveness - we are told - is part of a decent life. Forgive us our trespasses, as we forgive those who trespass against us etc. Loretta Smith from Salford in Greater Manchester has sent money - twenty pounds no less - to twenty-four year old Kevin Derbyshire who broke into her house last year and stole £10,000 worth of jewellery. Her heart softened after he sent her a letter from prison explaining his actions.
0830
The Department for Education is announcing a £2 million package to be offered to schools to help them tackle homophobic bullying. The money will be offered to charitable and not-for-profit organisations that come forward with creative ideas to stamp out homophobic, biphobic and transphobic bullying in our schools. Nicky Morgan is Education Secretary and Minister for Women and Equalities.
0835
The Parliamentary and Health Service Ombudsman has published cases of investigations they carried out which expose some shocking mistakes made in the NHS. Among the cases - which affected a variety of age groups - was that of a one day old baby who suffered permanent brain damage as a result of mistakes made during a blood transfusion. It's hoped that the publication of these cases will allow the public to be more confident in making complaints against services. The Parliamentary and Health Service Ombudsman is the final step for people who want to complain about being treated unfairly or receiving poor service from the NHS in England, or a UK government department or agency. Dame Julie Mellor is Health Service Ombudsman.
0839
What is the perfect way to make a cuppa? Well in India recently one lot of tea has sold for a record price. The BBC's Rahul Tandon has been tasting it and finding out from the man who made it how to make a good cuppa.
0843
Suicide prevention charity Samaritans has launched a new Twitter app that enables users to monitor the accounts of their friends for distressing messages and offer guidance supplied by the charity. Called "Samaritans Radar", the new web app is activated by visiting the Radar website, and once linked to your account will then send you alerts when someone you follow on Twitter posts something deemed worrying. This is done by Samaritans' specially created algorithm, or software, that identifies words and phrases that could suggest depression or suicidal thoughts. Joe Ferns, Executive director of policy, research and development at Samaritans.
0846
It's that time of the year again when the music industry waits with bated breath to be recognised in.... Pop Justice's best British single - of the previous year award. The lucky winner will get £20. ·Peter Robinson from the music website "Pop Justice". Kate Mossman is New Statesman Arts Editor and Mercury Music Prize Judge.
0845
Elle magazine has criticised David Cameron for declining to wear a feminist T-shirt. Nick Clegg and Ed Miliband both agreed to be photographed for the magazine in the shirt with the slogan 'This is what a feminist looks like'. Number 10 did issue a supportive quote from Mr Cameron for the campaign, but Elle editor Lorraine Candy said it didn't bode well for the fight for equality between the sexes 'when the man in charge doesn't engage' on the issue. But should we really be asking men to wear T-shirts like this in the first place? How do such campaigns further the cause of feminism? Holly Baxter is author of "The Vagenda: A Zero Tolerance Guide to the Media" and Tim Samuels hosts Men's Hour on BBC Radio 5 Live.
All subject to change.
Broadcast