Main content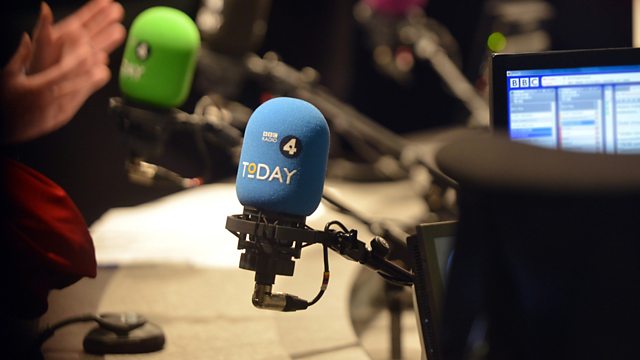 28/10/2014
Morning news and current affairs. Including Sports Desk, Yesterday in Parliament, Weather and Thought for the Day.
Today's running order
0632

Britain is supporting a European policy on illegal immigrants that says if they are at risk of drowning they should not be rescued because that will only encourage others to try their luck. Chris Mason reports.
0634
The president of Italy has been called as witness in a mafia trial. The BBC's James Reynolds is in Rome.  

0645
One of the world's most powerful supercomputers is to be installed at the Met Office in Exeter. At a cost of £97 million, the machine is designed to improve the accuracy of weather forecasts and projections for climate change. The chief executive of the met office is Rob Varley.
0649
We are still almost 90 years away from closing the gender gap in the workplace - according to a new analysis from the World Economic Forum. The research suggests that five Nordic countries have again outperformed the rest of the world, with Iceland leading the way. The Philippines and Rwanda both made it into the top ten. It comes as the BBC World Service unveils its annual 100 Women event - which names emerging opinion-formers around the world who've made a significant contribution to advancing the status of women. Nuala McGovern reports.
0653
The British hostage being held by so called Islamic State has been shown again in another propaganda video. He appears to be in the town of Kobane where the Islamists have been fighting Kurdish forces - right next to the border with Turkey. Frank Gardner is the BBC security correspondent.
0709

Shares in Lloyds Banking Group fell more than 2% on Monday after it passed European stress tests by the narrowest margin of the four UK banks included. Today the bank, which is still a quarter owned by the taxpayer, issues its Q3 results. Around 9000 job losses are expected to be announced - a tenth of its workforce - plus the closure of a number of branches. The Bank will also publish a 'strategic update'. Kamal Ahmed, the BBC's Business Editor.
0712
Success begets success. That's the approach the bigwigs of British sport have been taking over the past few years. If a particular sport does really well on the world scene then it gets more money from the funding body. But now they're having seconds thoughts... and about time too many people will say. Kevin Routledge is Chair of British Basketball Union & Director of the British Basketball League.

0715
Business news with Joe Lynam.
0719
European border officials  are meeting today to talk about illegal immigrants. How to stop them crossing the Mediterranean and getting into EU countries. BBC correspondent Matthew Price has spent a week with the Italian Navy which had the job of trying to stop them, until a new operation came into force.

0730
Who will be the next leader of the Labour party in Scotland? Johann Lamont resigned in pretty spectacular fashion on Friday and lots of names have surfaced .... but many of those have said they don't want the job. Why not? For years Scotland has been one of Labour's strongholds. It sends more than forty members to the Westminster parliament. It used to be the party of government in Scotland. So what's been going wrong? Lorna Gordon reports from Johann Lamont's constituency in Glasgow. Anas Sarwar is Labour MP for Glasgow Central.
0740
A 105 year old British man will collect the "White Lion" today (Tuesday), the highest honour awarded by the Czech Republic, for saving 669 children during the Holocaust. Sir Nicholas Winton is one of the few foreigners who have been awarded the accolade, a reflection of the esteem he is held in by the Czech people.
0749
A new propaganda video of the British hostage John Cantlie - held by the so-called Islamic State - has been posted online, in which he appears to be in the Syrian border town of Kobane.  In it Cantlie delivers a pro-IS assessment of the battle for the town on the Turkish border in the style of a TV news report. He says the militants are "mopping up now" and the battle "is nearly over". Joakim Medin is a freelance journalist who was based in Kobane before being evacuated earlier this month.  
0810

EU border control officials meet in Brussels later to discuss how best to deal with a surge in migrants trying to reach Europe. The conference is taking place as Italy prepares to hand responsibility for patrolling the Mediterranean to a new EU-force, called Operation Triton. Italian warships are estimated to have rescued about a 150,000 migrants over the past twelve months, mostly from north Africa and the Middle East.  About 3,000 migrants have drowned already this year.  Britain has said it will not support the new search and rescue operation, saying it will encourage more migrants to make the dangerous crossing. Daniel Habtey a refugee from Eritrea who lives and works as a Pastor in Huddersfield and Michael Diedring, Secretary General of the European Council on Refugees.
0817

The head of the UN Ebola mission in West Africa has said they still need more people to help them -- doctors nurses, health service managers too.  What might face them if they decide to go?  This week we've been following one of the NHS medics who has travelled to the region to help contain the outbreak. Dr Geraldine O'Hara is an infectious diseases specialist from Huddersfield. She's currently working with Medecins San Frontieres in Sierre Leone at a treatment centre in Kaliahun
0820
Here's a solution to the problem of widespread public dislike of political parties - sweep them away and go back to a happier time in our history when the Whigs battled the Tories - the Tories tried to hold the line but the Whigs fought for progress, parliament ending slavery, and fighting for religious tolerance.    Well the Whigs are back - newly registered as a re-born political party whose leader is Waleed Ghani. Jesse Norman, as well as being a conservative MP is the biographer of one of the great Whigs, Edmund Burke.
0832

Iraqi security forces have claimed significant successes in recent days in the struggle against Islamic State militants, reporting victories both in the north near Mosul and to the West of Baghdad. But the militants continue to inflict heavy losses on civilians in the Iraqi capital itself. On average each month, around 500 people are being killed there mainly by car bombs and suicide attacks. The new government of Prime Minister Haider al-Abadi acknowledges that people deserve better protection from the bombers but still there are blatant security failings such as the continued use of fake British bomb detectors by soldiers and police, as Andrew Hosken reports from Bagdad.  
0837

Yesterday morning we asked whether High Speed rail links would actually bring an economic dividend to cities like Leeds and Manchester. In doing so the experience of Lille was cited, but there's some debate about whether or not it had benefited from its high-speed rail links to Brussels, Paris and London… However one local business leader claims that Lille has done extremely well from the investment. Jean-Louis Guerin, Director General of the Greater Lille Chamber of Commerce and Industry.
0840
It used to be that burglars were after your jewellery, laptops and televisions but in some English cities thieves have increasingly a new target: your cannabis. Police in Nottingham say would be cannabis dealers are raiding houses where its being grown, stealing the stash, and then selling it. But there's a problem: lots of us don't have any cannabis at home - so  in many cases they're raiding the wrong houses, traumatising innocent people and coming away with nothing. Sima Kotecha reports from Nottingham.
0845
We are still almost 90 years away from closing the gender gap in the workplace - according to a new analysis from the World Economic Forum. It comes as the BBC World Service unveils its second annual 100 Women event - which names emerging opinion-formers around the world who've made a significant contribution to advancing the status of women. Laura Bates is Founder of Everyday Sexism Project. Irene Li is an 18 year-old citizen journalist who took part in and documented protests in Hong Kong and Saadia Zahidi is a Senior Director World Economic Forum.


All subject to change.