Main content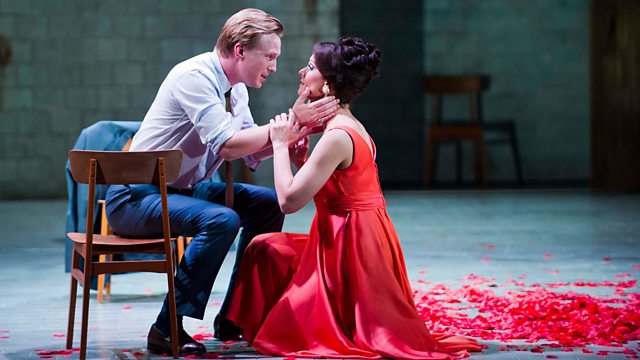 Monteverdi's The Coronation of Poppea
From the Grand Theatre in Leeds, Mary King presents a performance of Monteverdi's historical drama The Coronation of Poppea in a new version by Tim Albery for Opera North.
Mary King introduces a performance of Monteverdi's historical drama, The Coronation of Poppea, recorded at the home of Opera North - the Grand Theatre, Leeds.
Based loosely on actual events in 1st-century AD Rome, The Coronation of Poppea charts the consuming erotic obsession of the Emperor Nero for the beautiful Poppea Sabina. Ruthlessly sweeping aside anyone who stands in the way of their union - including Nero's wife Octavia and the poet and philosopher Seneca - Nero and Poppea triumph over all their opponents and rejoice in one of the most sexually-charged love duets ever written.The moral ambivalence of one of opera's earliest masterpieces ensures that it remains to this day one of the most shocking and compelling.
Tim Albery, who directed the production of Handel's Giulio Cesare for Opera North in 2012, has prepared a new performing version of this dramma musicale about which almost everything is disputed, including its authorship. The cast is led by the American mezzo-soprano Sandra Piques Eddy (Poppea) and the British countertenor James Laing (Nerone). The conductor is Laurence Cummings, one of Britain's most exciting and versatile exponents of historically-informed performance.
Poppea.....Sandra Piques Eddy (Mezzo-Soprano)
Nerone.....James Laing (Countertenor)
Ottavia.....Catherine Hopper (Mezzo-Soprano)
Seneca.....James Creswell (Bass)
Ottone.....Christopher Ainslie (Countertenor)
Drusilla.....Katherine Manley (Soprano)
Arnalta.....Fiona Kimm (Mezzo-Soprano)
Fortuna / Valletto.....Ciara Hendrick (Mezzo-Soprano)
Virtù.....Claire Pascoe (Mezzo-Soprano)
Amore.....Emilie Renard (Mezzo-Soprano)
Liberto.....Daniel Norman (Tenor)
Lucano.....Nicholas Sharratt (Tenor)
Famigliari.....Owen Willetts (Countertenor)
Famigliari.....Warren Gillespie (Tenor)
Famigliari.....Dominic Barberi (Bass-Baritone)
Opera North
Laurence Cummings (music director).
Synopsis
Cupid, the god of Love, sets out to prove to the goddesses of Fortune and Virtue that in the affairs of mortals, Love will always triumph.
The Emperor Nerone wishes to be rid of his wife, the Empress Ottavia, and to marry his mistress Poppea.
His most trusted advisor Seneca counsels against the plan, but Nerone will not listen to reason. Urged on by Poppea, he orders Seneca's death.
Poppea's former lover Ottone turns his affections to Drusilla, who has always loved him.
Ottavia decides to murder Poppea and forces Ottone to carry out the killing. He is aided in the attempt by Drusilla, but the plot fails when Cupid intervenes.
Nerone banishes Drusilla and Ottone. With Ottavia also banished, Nerone marries Poppea and crowns her Empress.
Love is triumphant.