Main content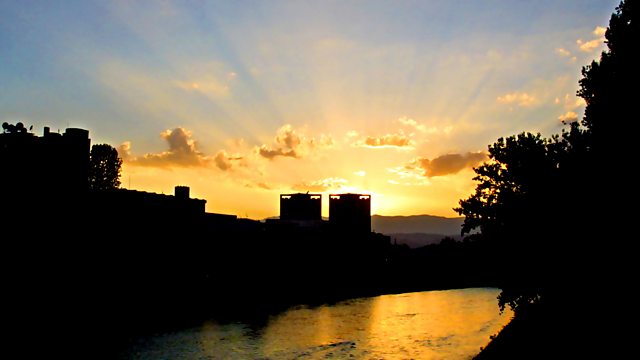 Light!
Texts and music inspired by light, with readers Cheryl Campbell and William Houston. With Shakespeare, Dickens and Whitman, plus Mahler, Beethoven, Mozart, Strauss, Finzi, Debussy.
On the day that the clocks fall back an hour after Daylight Saving - Cheryl Campbell and William Houston present a montage of music and speech inspired by ideas of Light. Featuring words and music from a diverse body of writers: William Shakespeare, Charles Dickens, Walt Whitman, Emily Dickinson, Werner Heisenberg, Arthur C Clarke, Apsley Cherry-Garrard, Henry Vaughan, and Dante; and from the Talmud and Rig-Veda. And composers: Gustav Mahler, Benjamin Britten, Ludwig van Beethoven, Toru Takemitsu, Henry Purcell, Claude Debussy, Morten Lauridsen, Gyorgy Ligeti, Franz Schubert, Philip Glass and Carl Orff.
The programme weaves a tapestry of different illustrations, understandings, and poetic interpretations about light: light as a metaphor for love, birth, innocence, and purity; as a fundamental particle of science; as an expression of the presence of the Divine, of God's munificence; or quiet simply, as a marker of the cyclical day.
Music Played
Timings (where shown) are from the start of the programme in hours and minutes
Percy Bysshe Shelley

Hymn of Apollo, read by William Houston

Anon

Rig Veda - Hymn 50 "Surya" (Cheryl Campbell)

Pablo Neruda

"Ode To An Enchanted Light", read by Cheryl Campbell

Apsley Cherry-Garrard

The Worst Journey In The World, read by William Houston

Henry Vaughan

The World, read by Cheryl Campbell

Dante

The Divine Comedy - Paradise - Canto XXXIII, read by William Houston

Stephen Spender

"I Think Continually Of Those Who Were Truly Great", read by Stephen Spender

Peter Ackroyd

Brief Lives - JMW Turner, read by William Houston

Walt Whitman

"Crossing Brooklyn Ferry", read by Cheryl Campbell

Werner Heisenberg

Physical Principles of the Quantum Theory - "Introduction", read by Cheryl Campbell

Arthur C Clarke

2001 - A Space Odyssey, read by William Houston

Anon

The Talmud, read by Cheryl Campbell

Hans Christian Andersen

The Little Match-Seller, read by Cheryl Campbell

Dylan Thomas

"Light Breaks Where No Sun Shines", read by William Houston

William Shakespeare

Romeo and Juliet - Act 2 Scene 4, read by Cheryl Campbell

Emily Dickinson

"We Grow Accustomed To The Dark", read by William Houston

Alexander Pope

The Dunciad - Book IV, read by Cheryl Campbell

Charles Dickens

Great Expectations - Chapter 8, read by William Houston

Eugéne Ionesco

Present Past - Past Present, read by Cheryl Campbell

Dylan Thomas

"Do Not Go Gentle Into a That a Good Night", read by Dylan Thomas

John McGahern

The Barracks - Chapter 7, read by Cheryl Campbell

Producer's Note

For the weekend in which we reset the clocks and brace ourselves for winter and a lack of daylight, I thought of Light as a timely theme for Words & Music. The subject is a rich one. Ideas about light - both literal and poetic - fill the pages of literature across the world, and it is not difficult to find the same mirrored in music.

The programme begins with the image of Apollo, ancient god of the sun, (as described by Percy Shelley) and also with his equivalent in the ancient Vedic Hymns of India. Benjamin Britten's brilliant youthful tone poem for piano and strings, "Young Apollo" acts as a fanfare for the "maker of the light". Light is all pervading, "refulgent o'er the world of men", a catalyst for life. Pablo Neruda leads the mind's eye beneath the canopies of the great tropical forests; and Aspley Cherry-Gerrard, who was part of Robert Scott's fateful party on his last expedition to the South Pole, discovers the beautiful, numinous qualities of the great Aurora in one of the world's most extreme and inhospitable places. A landscape as remote as it is possible to find, but one remarkably captured in music by Ralph Vaughan-Williams. 

Light of course, plays a major role in the language of religion. In the climax to Dante's great 14th Century spiritual journey, The Divine Comedy, the poet stands in Paradise before the presence of God, made manifest by an intense, penetrating light. The spiritual purity and truth as conveyed by light has fired the musical imaginations of composers throughout history and I've represented this with an epic forty part motet by Alessandro Striggio, and from our own time, by the music of John Tavener. 

Light illumines further. A metaphor for knowledge and understanding. This certainly exercised the imaginations of Mozart and Beethoven, and so much music by the latter especially, is said to trace a musical argument from darkness to light. I was really pleased to find an archive recording of Stephen Spender reading his poetic tribute to great minds such as these. It seemed appropriate to juxtapose this with a recording of Solomon playing Beethoven's last sonata. Solomon - one of the greatest interpreters of Beethoven - was Spender's neighbour in London for many years. The programme also acknowledges the visual arts with Peter Ackroyd's portrait of JMW Turner - the "painter of light".

Werner Heisenberg gives us a scientist's interpretation of light, but even he has to admit that here words are not enough. American composer Philip Glass's piece The Light takes as its source, the pioneering scientific work of Michelson and Morley to determine its exact speed. Then there is the light and rememberance; the light that comes from love, and here I've turned to Dickens and Shakespeare. Light can also be a source of warmth as well as memory - something not lost on Hans Christian Andersen's Little Match Seller. 

Finally, I come to the realm where light is notable by its absence. The night. Just as light is the bringer of life, so with its passing is death. John McGahern's beautifully moving novel The Barracks is suffused with images of light and darkness. Elizabeth's final moments are beautifully conveyed I think - as she struggles to comprehend the light, that for her literally fading away, on what is a beautiful summer's afternoon. 

On thinking of how to draw this programme to a close, I thought of Haydn and his Farewell Symphony. The fifth and final movement is a slow one, and in it, the members of the orchestra depart one by one, even before the piece is finished, until at the very end the orchestra consists of just two single violins. When it was first performed each player on departing, folded their music and symbolically blew out the candle by their music-stand. 

My special thanks to my wonderful readers Cheryl Campbell and William Houston.

Producer: Chris Wines

The hidden history of plant-based diets