Main content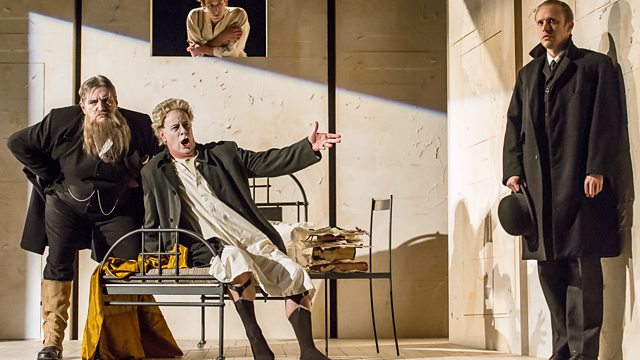 Philip Glass's The Trial
Tom Service presents a performance given at the Royal Opera House's Linbury Studio Theatre of Philip Glass's new opera The Trial, specially created for Music Theatre Wales.
Presented by Tom Service
Philip Glass's new opera The Trial, specifically created for Music Theatre Wales and recorded at the Royal Opera House's Linbury Studio Theatre.
Written by Glass in collaboration with the playwright and screenwriter Christopher Hampton, The Trial is based on the 1925 novel of Franz Kafka. It tells the story of Josef K, a bank employee who is arrested on an unspecified charge on his 30th birthday and forced to defend his innocence, and ultimately journeys towards a violent death.
Amanda Forbes -. Fraulein Burstner/ Leni Frau
Rowan Hellier - Grubach/ Washerwoman
Paul Curievici - Titorelli/ Flogger/ Student
Michael Bennett - Franz/ Block
Johnny Herford - Josef K
Gwion Thomas - Magistrate/ Assistant/ Lawyer
Nicholas Folwell - Willem/ Usher/ Clerk/ Priest
Michael Druiett - Inspector/ Uncle
Conductor Michael Rafferty
Music Theatre Wales Ensemble.
Last on
The Trial - Synopsis
The Trial - Act I
Someone must have slandered Josef K., for one morning without having done anything wrong, he was arrested.
And so begins The Trial. It is Josef K.'s 30th birthday. Two men appear in his apartment to tell him he has been arrested. No explanation is offered, but everyone seems to know why they are there. People are already watching. K. tries to laugh it off, but nobody finds it funny. After the Inspector has informed him of his arrest and observed his reaction, K. is allowed to go to work.
Later that evening K. apologies to his housekeeper for the extra work he has caused her. He decides to tell another resident, Fräulein Bürstner, about his arrest. She is drawn to his case and he impulsively kisses her.
K. finds his way to the Court, located in an obscure domestic block. He is led into the room by a Washerwoman only to discover that everyone is waiting for him. K. remonstrates against the Court but is interrupted by a sudden cry from the Washerwoman. A man is seen pressing himself up against her. K. tries to defend her and accuses the entire Court of being corrupt.
K. returns for a second hearing but the Court is not in session. The Washerwoman reveals she is married to the Court Usher but offers herself to K., saying she liked his speech but that her interruption had stopped him just in time. K. looks at the Magistrate's books only to discover they are pornography, and as he continues to be seduced, the Student arrives to carry the Washerwoman off. Again K. wants to defend her but Berthold disappears with the Washerwoman. At that moment the Usher appears. He hates them for constantly taking his wife away and suggests K. could beat the student up for him – because as a defendant he has nothing to lose. K. is lost and needs help to get out of the Court room.
K is in his office when his Uncle arrives to admonish him for not revealing his arrest and to offer him help by taking him to a Lawyer. K isn't convinced this is necessary but accepts. On his way out he hears strange noises from a cupboard and discovers the Guards who arrested him are being flogged. As he closes the door his Assistant asks what the noise is - "Only a dog" is K's response.
The Trial – Act 2
K. and his Uncle visit the Lawyer, Huld. The maid, Leni, tells them the Lawyer is ill. K. can't keep his eyes off her and she returns his lingering glances before she is asked to leave. Much to K.'s surprise, Huld knows all about his case. He finds K.'s case far too interesting to ignore and begins to reveal how well connected he is in legal circles. In fact, the Clerk of the Court is sitting right there in his room! K. takes the sound of a breaking plate as an excuse to leave. It turns out Leni did this on purpose to draw him to her, and as she starts to seduce him, she recommends he visits the painter Titorelli to get more advice. After they have made love, K.'s Uncle bursts in and scolds him for his outrageous behaviour with Leni, who also happens to be Huld's mistress.
K. visits Titorelli in his hot and chaotic loft, which is besieged by noisy girls. Titorelli advices K. he has three options: Genuine acquittal, Apparent acquittal or Postponement. Genuine acquittal is unheard of. Titorelli sells him a number of identical paintings then suggests he climbs out through a different exit. K. recognises it as the corridor to the Court – "There are law courts in practically every attic in the city" says Titorelli - K escapes the girls.
Leni is with Block, another client of Huld. K. sees them together. He and Block agree to share a secret with each other. Block reveals he has six lawyers, none of which he believes are actually helping his case. He now spends all his time and all his money working on his case, anxiously waiting for any help he can get. K. reveals he is going to dispense with Huld's services. When K. tells Huld, the Lawyer seems unconvinced. He knows all about Block's deception and Leni's promiscuity and tries to make an example of Block, humiliating him in order to show K. how well he has been treated by comparison.
K. finds himself in the cathedral. It is dark and cavernous. A priest appears. He knows who K. is and explains "The verdict is not suddenly pronounced. The verdict slowly evolves from the proceedings." The Priest tells the story of The Door of the Law, a strange parable which hints at the impossibility of K.'s situation.
One year after his arrest, K. is led to a deserted place by the Guards. Fräulein Bürstner passes by. Someone is watching. The Guards exchange glances and pass a knife between them, quietly they kill K. "Like a dog."
© Michael McCarthy
Broadcast