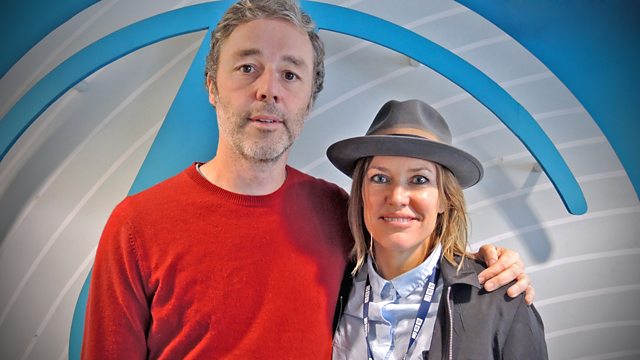 Baxter Dury and (almost) National Apple Day
Cerys Matthews is joined by the musician Baxter Dury to talk about his new album It's A Pleasure.
She'll also be chatting to Adrian from Common Ground about all things Apple related ahead of National Apple Day.
Last on
Melted Caramel Centred Spiced Apple Muffins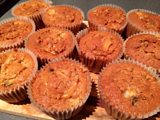 Melted caramel-centred spiced apple muffins are the perfect autumnal treat.
Here's the recipe:
6oz butter<?xml:namespace prefix = o ns = "urn:schemas-microsoft-com:office:office" />
6oz caster sugar
6oz self-raising flour
2 large eggs
1 tsp cinnamon
1 tsp ginger
¼ tsp nutmeg
1 tsp vanilla essence
1 granny smith apple, cut 1cm chunks
1 small cooking apple, cut into 1cm chunks
100g sultanas, soaked for 1 hour in chai tea
For the caramel:
1 tin condensed milk
1 tbsp lemon juice
Pinch salt
Method:
1.       Pre-heat the oven to 170c on fan
2.       Cream the butter and sugar together
3.       Add the eggs one at a time, getting as much air into the mix as possible
4.       Add the spices and vanilla essence
5.       Fold in the flour
6.       Fold in the apple chunks
7.       Add the sultanas which have been soaked in chai tea to make them plump and spicy
8.       Fill 12 muffin cases
9.       Cook until golden brown a knife slides out clean.  Approx. 35 mins
10.   For the caramel, boil a tin (sealed) of condensed milk for 1 hour, taking care that the pan doesn't boil dry.
11.   Open carefully and fold stir in the salt and lemon juice into the thickened caramel.
12.   Once the muffins are cool, pipe the caramel mix into the centre of each muffin.  Alternatively, make a butterfly-wing cut into the muffins, fill the centre and return the top.
13.   Microwave the muffins for 40 second on high to bring out the spices and melt the caramel centre when you're ready to devour them! Take care though – fruit is always very hot when it comes out of the microwave!