Main content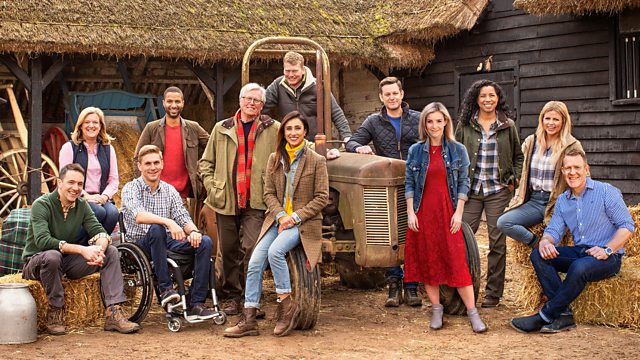 Music Compilation
John Craven explores the life and work of the composer Ralph Vaughan Williams and looks back at some other best bits of Countryfile that featured music.
In this edition of Countryfile, John Craven explores the life and work of one of our greatest ever composers, Ralph Vaughan Williams. He meets world-renowned conductor Christopher Warren-Green, who plays Vaughan Williams' best-loved work, The Lark Ascending, on the lawn at Vaughan Williams' childhood home. He also meets a maker of traditional instruments like the dulcimer and psaltery, instruments which had an influence on the music Vaughan Williams made.
John spends time with the acoustic ecologists stringing violins from trees and burying microphones in the forest floor, using the landscape to make their music. And in a rousing finale, John presents Christopher Warren-Green with Ralph Vaughan Williams' very own baton with which to conduct the Capel Choral Society in their rendition of Vaughan Williams' Linden Lea.
John also looks back at some of the best bits of Countryfile that have featured music, like the time Matt got a lesson in bell ringing or when Julia went on the trail of Benjamin Britten in Sussex.
Ralph Vaughan Williams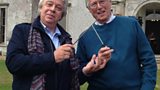 John Craven travels to the leafy Surrey Hills and finds the spirit of Ralph Vaughan Williams at Leith Hill Place, where the composer grew up.  John meets Christopher Warren-Green, whose passion for Vaughan Williams' music led to a career which includes conducting the London Chamber Orchestra at the Royal Wedding of Prince William and Catherine Middleton. Christopher fulfils a lifetime ambition playing The Lark Ascending, one of the nation's most treasured tunes, at the home of his musical hero.
Leith Hill Musical Festival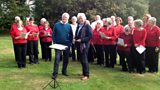 Vaughan Williams believed music was for everyone and for nearly 50 years he conducted local village choirs at the Leith Hill Musical Festival.  John meets members of the Capel Choral Society, one of the founding festival choirs, which has taken part every year since 1905.  They sing Linden Lea, his first published work, which according to local stories was inspired by Vaughan Williams' walk between Leith Hill Place and the nearby village of Coldharbour. 
Folk music and hymns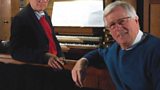 At Christ Church in Coldharbour organist Martin Hall shows John how Vaughan Williams collected folk songs and transformed them into some of our most well-known hymns. Vaughan Williams used to practice the organ here and found songs in local villages. From Forest Green came The Ploughboys Dream, which ended up as the tune to "Oh Little Town of Bethlehem".
Medieval inspiration
Vaughan Williams was inspired by the music of Tudor England. The most popular ballad of the time was Greensleeves. Vaughan Williams' "Fantasia on Greensleeves" was played at the Royal Wedding, but John finds out how it sounds on a period instrument of Tudor times, - the Dulcimer. But this Dulcimer is special, not only is it played by woodsman Mervyn Mewis - he made it too! Mervyn's passionate about hand crafting ancient instruments and John has a go at recreating another popular Tudor sound, by playing the unusual Bowed Psaltery.
Acoustic ecology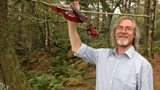 John takes a 'sound walk' and learns to listen to the landscape. With the help of acoustic ecologist Dr Matt Sansom he starts to picture the slopes of Leith Hill through the noises he hears. Acoustic ecology studies the aural relationship between people and places, looking at the interactions between the sounds around us and the sounds we make. Matt says learning to listen helps people to appreciate the natural environment in a different way. His colleague Dr Bennett Hogg shows John how he is taking music back to its roots, by bringing violins into the woods. Hanging a violin in a tree, Bennett's plan is to let the wind play its super length strings. But water too plays its part, as a river ripples over instruments creating a cutting edge version of water music.
Dawn chorus
Back in the spring Ellie Harrison was up with the lark, at Nagshead in the Forest of Dean, to catch a front row seat at the Albert Hall of birdsong. She spots these feathered singers with the help of the RSPB's Mark Eaton. As dawn breaks she finds out how to record this orchestra and brings the results to a man who has his own unique take on the dawn chorus.
Benjamin Britten
Julia Bradbury follows in the footsteps of one of our most famous composers, Benjamin Britten. She walks The Sailors Path alongside the River Alde in Suffolk where stirring curlew calls became the motif for Britten's Curlew River Opera. Chris Milton who's passionate about his music explains how Britten would walk for hours among the fenland and shingle beaches, absorbing the watery and mysterious landscape. Julia also visits Britten's studio in the Red House, still furnished with his belongings, and meets Britten's friend and conductor Steuart Bedford who worked with him in his later years. 
Alex James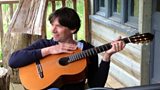 Musician Alex James swapped city life for rolling acres when he moved to a farm rural Oxfordshire. With a change of scenery came a change in musical tastes - the bass player with Britpop band Blur found himself looking at the landscape and listening to classical music. Alex reveals his favourite melody, the medieval "Sumer is Icumen" which celebrates the changing season and the arrival of the cuckoo. Alex gives us a glimpse of his developing passion for classical themes, playing guitar with neighbour and composer William Lovelady. 
Arthur Butterworth
Ellie Harrison treks over Haworth Moor in West Yorkshire to meet a man whose music is steeped in the dramatic landscape. Arthur Butterworth is a composer and trumpeter, whose career spans more than 70 years. He's written over one hundred pieces of classical music, but it's his fascination with the moors which lead to "A Dales Suite", a major work for brass bands. Ellie learns how Arthur studies the shape and mood of the landscape, translating what he sees into melody and harmony.
Bell ringing
The timeless sound of an English village, at St Mary's in Painswick the bells are rung by the Ancient Society of Painswick Youths. But as Matt Baker finds out its trickier than it looks. The huge tenor bell takes its toll as Matt is literally swept off his feet during a bell ringing lesson. The "Youths" are the oldest club in the village, formed in 1686. They preside over a bell tower that outshines all its competitors as the wealth of the wool trade brought prosperity to the village. Today there are 14 bells, according to Tower Captain Deborah Foreman, more even than Westminster Abbey.
Credits
| Role | Contributor |
| --- | --- |
| Presenter | John Craven |
| Presenter | Ellie Harrison |
| Executive Producer | William Lyons |
| Series Producer | Joanna Brame |