Main content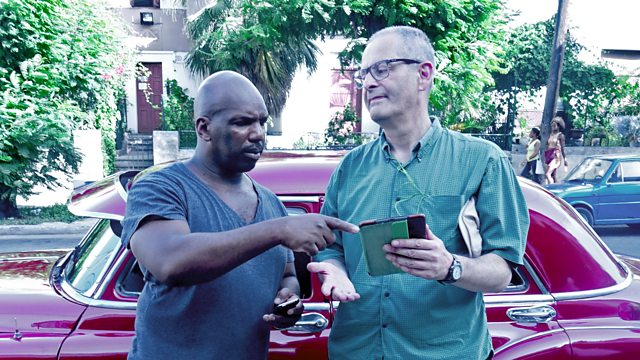 Cuba Offline
Hardly any Cubans have home connections; only a small elite can access the internet. Nick Baker and Arnaldo Hernandez Diaz find out what will change when Cuba gets fully online.
Cuba is one of the last pre-internet cultures on the planet. Partly as a result of the US blockade, partly because of the Cuban government's policy, only a small elite can get online. Most people over school age have never experienced the internet. But as Nick Baker finds out with the aid of Anglo-Cuban journalist Arnaldo Hernandez Diaz, things are beginning to change.
Nick and Arnaldo go to state-run internet cafés, speak to bloggers, and visit one of the country's first estate agents. It has a dot com address but, however modern it looks, it isn't really online. A staff member has to shell out for expensive hotel Wi-Fi to update the website. Nick and Arnaldo also learn about the lively unofficial market in downloaded TV and movies, circulating door to door rather than digitally.
If and when the internet becomes widely accessible, the effect on Cuba's economy might be more significant than the impact on freedom of speech. The programme also looks at the American attempt to infiltrate Cuba's fledgling mobile phone and text service, and what the state is doing to defend itself from 'harmful outside influences'.
Speakers include Cubans queuing for hours to get email service on their phones and people who would dearly love to get connected, to spread their opinions or advertise their services.
There's no question Cuba is preparing itself for increased internet access, and it will have a major effect on social, cultural and media life there. Nick and Arnaldo consider the potential damage to Cuba's very personal social culture, and the political impact of Cuba finally getting online.
Produced by Nick Baker
A Testbed production for BBC Radio 4.
Last on
Broadcast