Main content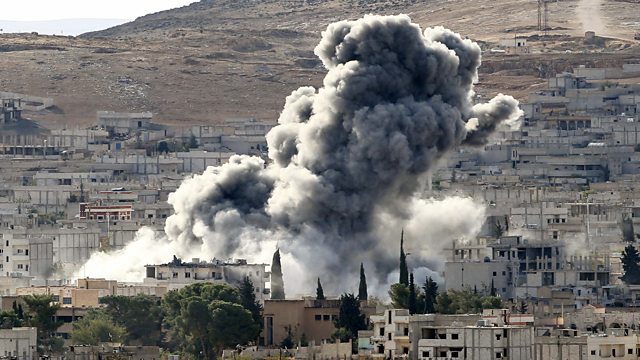 Can the PM Go to War?
Joshua Rozenberg asks whether the prime minister needs to seek consent from Parliament before committing Britain to military action overseas.
The House of Lords votes this week on a government proposal to increase the sentence for internet trolling to two years. We ask Baroness Deech QC - herself a victim of trolling - what she thinks of the idea.
Also: with British military aircraft now deployed against the forces of Islamic State in Iraq, we ask whether the Prime Minister needs to seek consent from Parliament before committing British forces to action overseas.
Did the vote in the House of Commons in 2013 rejecting military action against President Assad of Syria create a convention that should now be followed in all cases? We hear from Sir Malcolm Rifkind, chair of the House of Commons Intelligence and Security Committee, and Gavin Phillipson of Durham University.
The Minister of Justice and Lord Chancellor, Chris Grayling, gave evidence last week to the House of Lords Constitution Committee. He was asked whether the Lord Chancellor should be a lawyer. Mr Grayling, who is not a lawyer, didn't think so. But what do others think? And does it matter?
And TV justice: we talk to the criminal barrister Robert Rinder who, as "Judge Rinder", is attracting large audiences to his ITV show, in which he adjudicates on real disputes.
Presenter: Joshua Rozenberg
Producers: Keith Moore and Tim Mansel
Editor: Richard Knight.
Last on
Joshua Rozenberg investigates government powers to strip Britons of their citizenship.

Should the laws of war ban 'drones'? Plus, illegal immigrants who can't be deported.

Joshua Rozenberg reveals how laws relating to chemical weapons stretch back 2,000 years.
Chapters
Trolling

Should the sentence for internet trolling be increased to two years?

Duration: 05:22

Lord Chancellor

Should the Lord Chancellor be a lawyer?

Duration: 06:42

Going to War

Does Parliament need to agree before the Prime Minister sends troops overseas?

Duration: 09:11

TV Justice

We talk to "Judge Rinder" whose ITV show sees him adjudicating on real disputes.

Duration: 05:55

Broadcasts